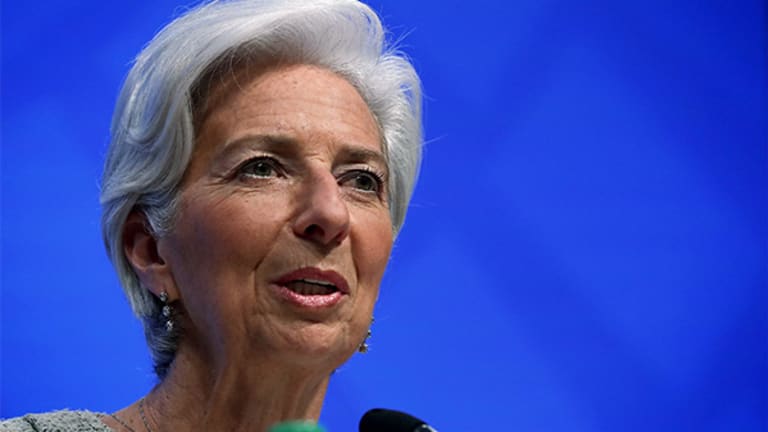 IMF Trims U.S. and U.K. Growth Forecasts as Stimulus Bets Fade
U.S. GDP growth forecast cut to 2.1%
The International Monetary Fund lowered growth expectations for the U.K. and U.S. economies Monday amid expectations of a pullback in government stimulus. 
The IMF sees the U.S. economy growing at 2.1% clip this year and next, down its prediction of 2.3% and 2.5% respectively that it published three months ago in its regular World Economic Outlook report.
"While the markdown in the 2017 forecast reflects in part the weak growth outturn in the first quarter of the year, the major factor behind the growth revision, especially for 2018, is the assumption that fiscal policy will be less expansionary than previously assumed, given the uncertainty about the timing and nature of U.S. fiscal policy changes," the Funds said. "Market expectations of fiscal stimulus have also receded."
The U.S. dollar pulled back Monday to a near 13-month low as political turmoil dampened hopes for quick passage of President Donald Trump's stimulus and tax reform agendas. The dollar index, which tracks the greenback against six major currencies, was little changed at 93.887, after touching 93.823, its lowest since June 2016.
The growth forecast for the U.K. was revised down for 2017 on weaker-than-expected activity in the first quarter. The Fund now expected the U.K. economy to grow by 1.7% down from April's 2% prediction. U.K. growth forecasts for next year remain unchanged at 1.5%, the IMF said.
The pound was little changed, trading at $1.30 up 0.08% on the day against the greenback.
The IMF predicted global growth would come in at 3.5% in 2017 and 3.6% in 2018, these however are still below pre-crisis levels, especially for the most advanced economies.
The organization also revised up its expectations for the many euro area countries, including France, Germany, Italy and Spain, where growth for the first quarter was generally above expectations.
The euro was steady at $1.1668 after inching up earlier to a 23-month high of $1.1684.