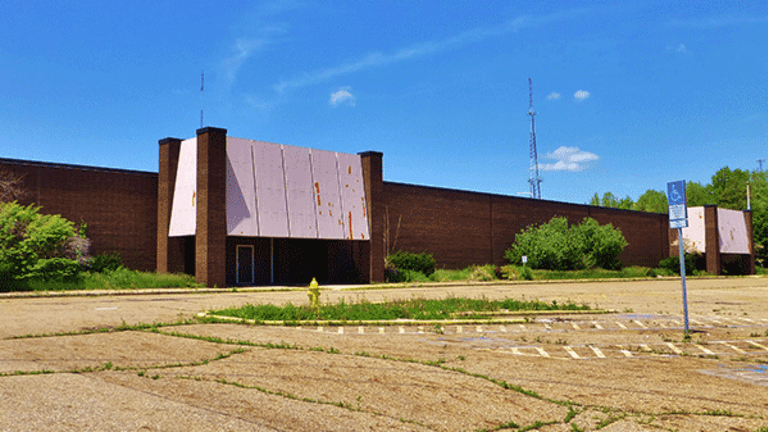 The Retail Apocalypse Is About to Descend on Wall Street This Coming Week
The focus remains on earnings while the season winds down.
The majority of S&P 500 companies have already reported earnings so far this season -- from Apple Inc.  (AAPL) - Get Free Report to Xerox Corp. (XRX) - Get Free Report -- with just 80 left to open their books.
Meanwhile, the news coming out of Washington increases in intensity. The Trump administration is on the defense after Robert Mueller, special counsel, impaneled a grand jury to investigate Russia's interference in the 2016 election. With President Donald Trump embarking on a 17-day vacation and Congress on recess, the administration won't have any legislative wins to distract from the Russia investigation.
Even so, Wall Street will likely shrug off any new developments as it has done so far, explained Ken Mahoney, president of Mahoney Asset Management. The earnings season will still drive market direction in the near-term.
Apple Is Making a Watch That Can Connect to the Internet -- Here Are the Biggest Winners and Losers
"It is all about earnings," he said in a call. "All these shocks that are happening ... around the world or here in D.C. [don't] impact earnings. I think all the market really cares about is earnings."
More than 80% of S&P 500 companies have reported earnings so far. Of those, 72.9% have exceeded earnings estimates, while 68.5% have topped sales forecasts, according to Thomson Reuters data. Analysts anticipate blended earnings growth of 12% this quarter.
Retail will get its chance to shine in the coming week. Retailer earnings include Fossil Group Inc.  (FOSL) - Get Free Report , Ralph Lauren Corp.  (RL) - Get Free Report , Michael Kors Holdings Ltd.  (KORS) , CVS Health Corp. (CVS) - Get Free Report  and Wayfair Inc. (W) - Get Free Report on Tuesday, Aug. 8; Kohl's Corp. (KSS) - Get Free Report , Macy's Inc. (M) - Get Free Report  and Nordstrom Inc. (JWN) - Get Free Report on Thursday, Aug. 10; and J.C. Penney Inc. (JCP) - Get Free Report on Friday, Aug. 11.
In media earnings, CBS Corp. (CBS) - Get Free Report , Discovery Communications Inc.  (DISCA) - Get Free Report , Walt Disney Co.  (DIS) - Get Free Report  and Lions Gate Entertainment Corp.  (LGF)  will report on Tuesday; Twenty-First Century Fox Inc.  (FOXA) - Get Free Report on Wednesday, Aug. 9; and News Corp. (NWSA) - Get Free Report on Thursday.
Other earnings of note include Booz Allen Hamilton Holding Corp. (BAH) - Get Free Report , Tenet Healthcare Corp.  (THC) - Get Free Report , Tyson Foods Inc.  (TSN) - Get Free Report on Monday, Aug. 7; Dean Foods Co. (DF) - Get Free Report , GoDaddy Inc. (GDDY) - Get Free Report , Priceline.com Group Inc.  undefined , SeaWorld Entertainment Inc.  (SEAS) - Get Free Report  and Valeant Pharmaceuticals International Inc.  (VRX) on Tuesday; Mylan NV (MYL) - Get Free Report , Vitamin Shoppe Inc.  (VSI) - Get Free Report  and Wendy's Co.  (WEN) - Get Free Report on Wednesday; and Blue Apron Holdings Inc.  (APRN) - Get Free Report , Noodles & Corp. (NDLS) - Get Free Report , Nvidia Corp. (NVDA) - Get Free Report , Petrobras (PBR) - Get Free Report  and Snap Inc. (SNAP) - Get Free Report on Thursday.
Fedspeak will come back into the spotlight in the coming week with investors eager for further clues as to when the central bank could begin unwinding its balance sheet. The Federal Reserve currently holds $4.5 trillion in Treasurys and mortgage-related bonds on its balance sheet. Unloading those would likely tighten monetary conditions in the same way an interest rate hike would. Economists largely expect the process to begin in September.
On Monday, St. Louis Fed President James Bullard discusses monetary policy at an event in Nashville, while Minneapolis Fed President Neel Kashkari participates in a Q&A in Sioux Falls, South Dakota. Chicago Fed President Charles Evans discusses the economy on Wednesday, New York Fed President William Dudley addresses economists on Thursday, and Dallas Fed President Robert Kaplan speaks at the University of Texas on Friday.
Prepare for a snapshot of inflation trends in the coming week. Producer and consumer prices for July will be released on Thursday and Friday morning, respectively. Producer prices are expected to rise by 0.1% month on month for July, keeping at the same pace as in June. Core producer prices are forecast to rise by 0.2%, double June's increase.
Consumer prices are expected to pick up, rising to 0.2% growth from a flat reading in June. Core prices are also expected to increase by 0.2%, up from 0.1% growth in June. Year on year, core prices are expected to have increased 1.8%, edging closer to the Fed's 2% inflation target.
More of What's Trending on TheStreet:
Teva Is Still Being Pounded After Horrific Week
Apple and Bitcoin Make These Monday's Hot Tickers: AAPL, AMD, NVDA, S, TSLA
Microsoft Has Been Reborn Under CEO Satya Nadella -- Here Are His 6 Crowning Achievements
There Is an Element of Fatal Attraction in This Part of the Stock Market: Market Recon