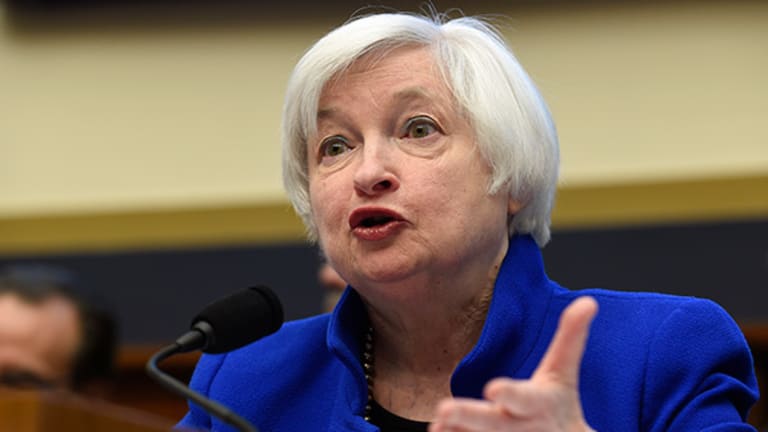 Federal Reserve Chair Janet Yellen indicated the odds of an interest rate increase "has strengthened in recent months," according to BlackRock's weekly market commentary.
BlackRock states that low volatility and low trading volumes characterized the financial markets last week, running up to Yellen's remarks last Friday in Jackson Hole, Wy., with U.S. equities recording their least volatile 30-day trading period in more than two decades.
"I believe the case for an increase in the federal funds rate has strengthened in recent months," Yellen noted at the Fed's annual monetary policy conference last week.
Stock futures prices are sank lower after the speech, as Wall Street watchers say Yellen is sending a mixed "see-saw" message on interest rates.
Karissa McDonough, chief fixed income strategist at People's United Wealth Management, in Bridgeport, Conn. says Yellen is trying to restore the credibility of the Fed, while navigating the perils of volatile and a precarious economy.
"The clearest takeaway from Janet Yellen's speech is that the Fed remains in the camp of trying to jawbone its way to higher policy rates, without having to vote on record with a hiking decision which could lead to criticism of the way the FOMC has navigated this current environment," McDonough says.
McDonough also notes the Federal Reserve has done much of the heavy lifting to shore up the financial system after the financial crisis, and now it finds itself in new territory, where it wants to dial back the use of unconventional monetary tools, especially asset purchases and extended forward rate guidance.
"Yellen is trying to have it both ways," McDonough states. "Yes, we're getting serious about hiking, given economic data, but we can't be specific about timing. So the cautionary language hangs out there, with the intent of letting air out of any potential asset bubbles that this extended period of low rates may be causing."
"Consequently, the range of reasonably likely outcomes for the federal funds rate is quite wide," McDonough adds.
Kevin Mahn, chief investment officer of Hennion & Walsh, in Parsippany, N.J., generally agrees with the "mixed bag" message from Fed watchers, indicating that Yellen is most likely edging to the more aggressive side of the rate hike issue.
"While I believe the Federal Reserve would like to have adopted more of an increasingly hawkish stance, given solidifying economic data in the U.S. and mounting inflationary pressures this year, they have instead taken more of a dovish tone," Mahn notes. "However, this hawkish/dovish stance from the Fed appears to be now be leaning more towards a hawkish stance. That's because Janet Yellen recently stated that she feels the case for an increase in the federal-funds rate has strengthened in recent months, while Kansas City Fed President also recently suggested that it is time to move rates."
Mahn believes the Fed will likely embark upon a gradual and protracted period of tightening when it does commence upon a cycle of interest rate increases - similar to what occurred during the 2004 to 2006 timeframe when the Fed raised the Fed Funds target rate seventeen different times, in 25 basis point increments.
"The only difference during this round of tightening is that the Fed may also consider starting to slowly shrink the size of their U.S. Treasuries and government agencies securities balance sheet over time, in conjunction with increases to the Federal Funds target rate," he notes. "So, instead of just considering raising rates further after each Federal Open Markets Committee meeting, they may consider some form of a gradual "one-two" punch of rate increases and sales of U.S. Treasuries."
As a result, Mahn believes that investors would be wise to consider asset classes and sectors that have historically performed well during previous periods of gradual and protracted interest rates increases, such as the 2004 -2006 period. To Mahn, energy, utilities and telecommunications top that list.
For the short-term, however, experts say that interest rates will remain low, especially before the U.S. presidential election. "Rates are likely to stay flat the rest of the year," says Christopher J. Lester, president of Professional Planning Services, in Somerset, N.J. "Yellen was noncommittal and only left the option for rates to stay put or raise if circumstances continue to warrant."
That doesn't help money managers looking for clarity on rates - meaning the long term view for futures investors is as cloudy as ever.