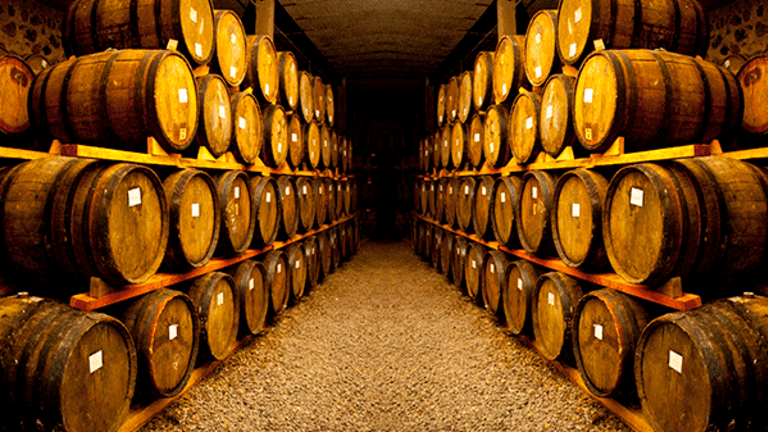 Here's Why You Should Savor Bordeaux Futures
We've heard it through the grapevine that wine contracts from Southwestern France are mighty delectable. It may be high time to get your portfolio under the influence of Bordeaux.
We've heard it through the grapevine that wine contracts from Southwestern France are mighty delectable. It may be high time to get your portfolio under the influence of Bordeaux.
You can buy futures contracts on just about any commodity these days - wheat, corn, coffee, hogs, even orange juice.
So it should be no surprise that there is a futures market for wine.
A futures contract basically is an agreement to buy or sell assets today at a fixed price, knowing the commodity will be delivered in the future.
The wine futures market works the same way. It originated in Bordeaux, France, back when their most expensive, premiere wines - dubbed the First Growths by Napoleon III in 1855 -- were hard to find.
Bordeaux futures -- or en primeur, as the pros call it -- are sold in the spring when the wine is still in the barrel. The wine is delivered approximately two years later.
Like all future contracts, for Bordeaux futures to make sense, consumers must have a reasonable expectation they will pay less today than they would two years from now, notes Antonio Galloni, wine critic and founder of Vinous, one of the world's premier wine publications. 
The Good Ol' Days
And at one point, that was an easy trade. It was presumed that the initial price offered by the vineyards (a.k.a. the chateaux) would be the cheapest price consumers could get - especially if the vintage proved to be a rockstar.
By the time the bottled wines reach retail shelves, the cost could be much higher, the top wines would be harder to find and the futures trade was in the money.
But like all things in the market, greed took over. The en primeur prices for the 2009 and 2010 top Bordeaux wines rocketed - and then fell.
Even worse, you probably can find these wines at your local wine shop, cheaper today than the original futures' price.
So that, coupled with some not-so-great vintages, created much hesitation to trade en primeur.
Mother Nature and the Market
Thankfully, things have changed. The weather was great in Bordeaux in 2015. The wine critics started tasting the wines back in March 2016, while it was still in the barrel. And they were pleased. 
"So the hype started to build," says Jon Visser , French wine buyer for Gary's Wine & Marketplace in Wayne, N.J., who tasted the wines in April.
And thanks to pent-up pressure in the market, the 2015 Bordeaux vintage has generated more demand than the wine has seen since 2010.
"Though still not at the levels we saw five and six years ago," says Visser.
So with all that, should you buy the 2015 Bordeaux wine futures now or wait until the wines are bottled and available in 2018? 
Like all trades, you need to do your homework to figure that out.
Research Your Wines
"Wine is no different than any other asset class," says Galloni. "You have to be well-informed, and you can almost always be certain that someone else knows more than you." 
While ideally, you need to begin your research in February or March, there are still many wines that haven't been released, so its not too late to get in, says Jeff Zacharia, president of Zachys Wine and Liquor in Scarsdale, N.Y. 
But be careful. The French have gotten smart. They don't release all their inventory anymore, often so they can sell those bottles later themselves. But that purposeful lower supply artificially increases demand. In addition, many wait to see how other chateaux price their wines -- and then price higher.
So the futures contracts may already be overpriced.
And while 2015 was a great harvest, the quality is inconsistent, so choose carefully, warns Galloni, whose detailed reports of just about every winery rival any stock report out there.
So read the chat boards. Check out the fine wine analysis at the Liv-ex blog from the London International Vintners Exchange, a global fine wine marketplace. 
Educate yourself.
Be Careful Whom You Trade With
Like all your brokers, make sure the retailer you buy your futures from will be around in two years when the wine is delivered.
Recently, Premier Cru, a wine shop outside of San Francisco, found itself in a $45 million hole, basically for selling the wine short and never delivering it.
Retailers like Gary's and Zachys are honest and legit and have been doing this for years.
"We'll tell you if its not worth the trade," says Visser from Gary's.
But you have to be honest with them. Looking to add to your wine collection, is very different than looking to make a fast trade.
Zacharia also offers wine storage in Bordeaux for those futures purchases. Leaving the wine there can help keep the cost down and thereby increase the profit on the secondary market.
The Future Looks Bright
So while the days of doubling or tripling your money in the wine futures market may be over, there is still opportunity to make money.
Especially if you buy bigger bottles, like magnums (which are two standard bottles), because they are much rarer. 
And the good news is the 2016 vintage looks great, too. So the Bordeaux futures market may have a future after all.