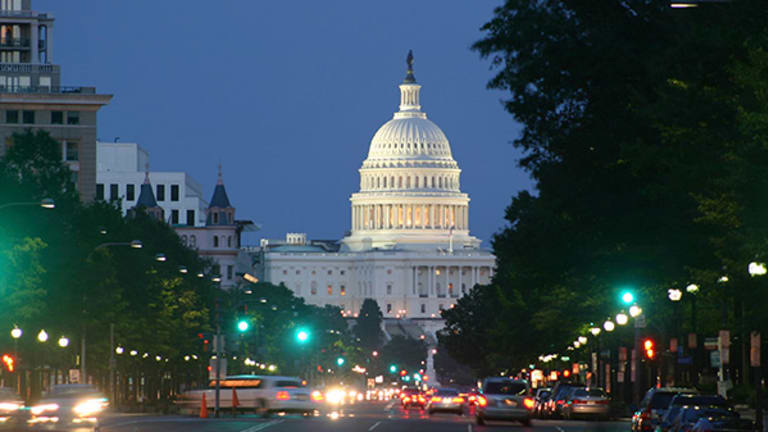 Healthcare and Tax Reform Crowd the Final Week of September
It's a busy week of politics in the final week of September. Republicans' final push for healthcare in the Senate and tax reform details should keep markets on their toes.
It's a busy week of politics in the final week of September.
First, congressional Republicans will continue to give healthcare the old college try ... for the third time this year. This appears to be the final shot Republicans have of repealing Obamacare and Senate Majority Leader Mitch McConnell is pushing for a vote this week before the Sept. 30 deadline when their ability to do so along a party-line vote expires.
Already, the odds are looking impossible. They grew even more so Friday afternoon when Sen. John McCain of Arizona announced his opposition to the bill, joining at least two other Senate Republicans -- Sen. Rand Paul of Kentucky and Sen. Susan Collins of Maine. The bill's architects, Sen. Bill Cassidy of Louisiana and Sen. Lindsey Graham of South Carolina, will reportedly target changes toward Sen. Lisa Murkowski of Alaska. Murkowski's spokeswoman told Politico on Friday that she was still considering how the bill would impact her state. 
The Graham-Cassidy bill, released earlier in September, repeals the individual and employer mandates and turns federal funding into block grants for states. The bill would also taper Medicaid expansion. 
To pass, the bill would need to get to 50 votes. Republicans hold 52 seats in the Senate. 
The Congressional Budget Office's score on the bill is likely to be only partial with just the cost, not number of people losing coverage, made available. That means senators who vote for the bill will be doing so blindly.
Second, details of the Trump administration's highly coveted tax reform plans will finally be made public in the coming week. The Big Six -- a group of officials from the White House and Capitol Hill -- will likely scrap a previous plan to cut the corporate tax rate to 15% and instead aim for a rate between 20% to 23% in final legislation, according to Politico. The Big Six group includes Treasury Secretary Steven Mnuchin, House Speaker Paul Ryan, and McConnell. 
On the economic calendar this week, the S&P Corelogic Case-Shiller Home Price Index for July, new home sales for August, and consumer confidence for September are scheduled for Tuesday; durable goods orders and the pending home sales index for August on Wednesday, Sept. 27; the final reading on second-quarter GDP and international trade in goods for August on Thursday, Sept. 28; and personal income and outlays for August, Chicago PMI for September, and the final reading for consumer sentiment for September on Friday, Sept. 29.
Earnings in the coming week include Ascena Retail Group Inc. undefined  and Red Hat Inc. (RHT) on Monday; Darden Restaurants Inc. (DRI) , FactSet Research Systems Inc. (FDS) , Micron Technology Inc. (MU)  and Nike Inc. (NKE) on Tuesday; Jabil Inc. (JBL) , Pier 1 Imports Inc. (PIR) , Progress Software Corp. (PRGS)  and Worthington Industries Inc. (WOR) on Wednesday; and Accenture PLC (ACN) , BlackBerry Ltd. undefined , ConAgra Brands Inc. (CAG) , KB Home (KBH) , McCormick & Co.  (MKC) , Rite Aid Corp. (RAD)  and Vail Resorts Inc. on Thursday, Sept. 28.