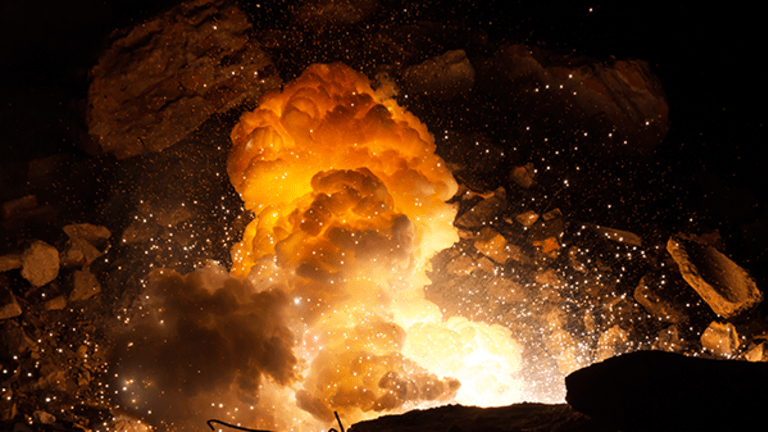 Healthcare Stock Rally Can't Save S&P 500 From Another Bad Day
Healthcare leads markets after the release of the Senate health plan.
A solid rally in healthcare stocks couldn't save the S&P 500 and Dow Jones Industrial Average from their third day of losses. 
The two benchmark indexes fell into the red in the final moments of Thursday, June 22. The S&P 500 fell 0.04%, the Dow Jones Industrial Average was down 0.06%, and the Nasdaq gained 0.04%. The S&P 500 and Dow had logged losses over Tuesday, June 20, and Wednesday, June 21. 
Healthcare stocks were higher following the release of the Senate Republicans' healthcare plan. The Senate bill suggests deep cuts to Medicaid and allows states the option to drop benefits coverage, including maternity care and mental health care. The Senate GOP wants to have a vote on the bill before the July 4 recess. 
Details of the plan have been worked out in secret with no public hearings nor amendments from across the aisle. The Congressional Budget Office is expected to release its notes on the bill next week. The CBO found that the House Republicans' bill would have left 24 million more people uninsured.
Healthcare stocks were the best performers on Thursday. Celgene Corp. (CELG) - Get Report , Gilead Sciences Inc. (GILD) - Get Report , Regeneron Pharmaceuticals Inc. (REGN) - Get Report  and Biogen Inc. (BIIB) - Get Report were all higher, while the Health Care Select Sector SPDR ETF (XLV) - Get Report increased 1.1%.
The healthcare sector made large gains on Wednesday on high hopes for eased regulations in the industry. The Trump administration is reportedly drafting an executive order to ease regulatory burdens on drugmakers to drive down drug prices, according to The New York Times. The iShares Nasdaq Biotechnology Index ETF (IBB) - Get Report increased 4% on Wednesday, and was up 1.3% on Thursday.
Crude recovered after a two-day selloff sent prices to their lowest level in 10 months. Crude oil prices moved into a bear market, after having fallen more than 20% from a late February high. Oil had been lower on worries over global oversupply and ballooning production. 
On Thursday, West Texas Intermediate for August delivery rose 0.5% to $42.74 a barrel.
"Market attention remains focused on rising production from the U.S., Libya, and Nigeria with [Organization of Petroleum Exporting Countries] and non-OPEC representatives meeting to review compliance seemingly at a loss for any fresh measures," Tim Evans, energy futures specialist at Citi, wrote in a note.
The number of new claims for unemployment benefits rose in the past week, though remained near multi-year lows. U.S. weekly jobless claims climbed by 3,000 to 241,000 in the past week. The less-volatile, four-week average increased by 1,500 to 244,750. 
U.S.-based shares of Novartis AG (NVS) - Get Report  rose 4.5% after the pharmaceuticals group said its Canakinumab drug helped reduce the risk of cardiovascular issues in patients who had previously suffered a heart attack. Novartis said it will now initiate discussions with regulators for treatment approval of Canakinumab, anti-inflammatory, following the completion of a trial that involved 10,000 patients and lasted more than six years.
Oracle Corp.  (ORCL) - Get Report   reported stronger-than-expected fiscal fourth-quarter earnings and revenue. The company earned 89 cents a share in the quarter on revenue of $10.9 billion, topping Wall Street forecasts that called for earnings of 78 cents a share on revenue of $10.46 billion. During its fourth quarter, Oracle's SaaS (software as a service) cloud revenue rose 67% from a year earlier to $964 million. Non-GAAP SaaS fourth-quarter revenues jumped 75% to $1 billion.
"We continue to experience rapid adoption of the Oracle Cloud led by the 75% growth in our SaaS business in Q4," said Oracle CEO Safra Catz. " This cloud hyper-growth is expanding our operating margins, and we expect earnings per share growth to accelerate in fiscal 2018.
Oracle has moved from value status to growth status, Jim Cramer said over on our premium site for investors, Real Money. Get his insights with a free trial subscription.
Barnes & Noble Inc. (BKS) - Get Report  increased after reporting a narrower fourth-quarter loss than anticipated. The bookstore retailer reported a net loss of 19 cents a share, narrower than 42 cents a share a year earlier. Analysts anticipated a net loss of 23 cents. Revenue also came in above estimates. 
Hain Celestial Group Inc. (HAIN) - Get Report found no need to make any material changes to previously reported earnings after an audit and investigation that lasted more than a year found no discrepancies, CNBC reported. Shares of Hain fell 27% in one day last August when the organic food brand missed full-year guidance and delayed its financial disclosures on accounting concerns. 
Private-equity firm Sycamore Partners is in advanced talks to acquire Staples (SPLS) following an auction for the U.S. office supplies retailer, Reuters reported, citing people familiar with the matter. The deal could top $6 billion, according to Reuters. Sycamore is working to finalize a debt financing package for its bid for Staples after it prevailed over another private-equity firm, Cerberus Capital Management, three sources told Reuters. 
An agreement could be announced as early as next week, though negotiations between Sycamore and Staples are continuing and there is still a possibility that talks could fall apart, the sources added.
Visit here for the latest business headlines.
Don't miss these top stories from TheStreet:
Apple Is Among the List of Big Tech Stocks You Must Sell Before the Summer Correction
Advanced Micro Devices New Epyc Super Chip Could Rake in $1 Billion in Sales By 2020
Kroger Thinks Amazon Will Make One Massive Change to Whole Foods
'Walmart Rx' Takes Center Stage as Walgreens Rite Aid Saga Nears Long Overdue End