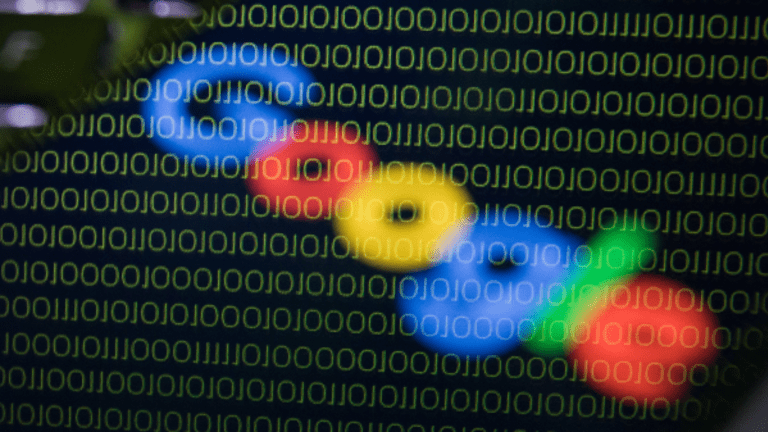 Google Fires Diversity Memo Author -- Here's What Top Experts Are Saying
Google CEO Sundar Pichai wades into controversy.
Alphabet Inc.'s (GOOGL) - Get Alphabet Inc. Class A Report Google has fired the employee that authored a controversial memo that suggested men were better suited for tech jobs than women.
The 10-page memo, titled "Google's Ideological Echo Chamber" went viral within Google last week and was first reported externally by the tech blog Motherboard. In it, the author says that women are underrepresented in tech because of inherent psychological differences between men and women.
Alphabet shares were little changed in after-hours trading at $945.10 after closing at $945.75 each in New York Monday.
Google CEO Sundar Pichai Monday evening wrote to staff saying the memo violated the company's code of conduct and "cross the line by advancing harmful gender stereotypes in our workplace."
"To suggest a group of our colleagues have traits that make them less biologically suited to that work is offensive and not OK," Pichai wrote. "It is contrary to our basic values and our Code of Conduct, which expects 'each Googler to do their utmost to create a workplace culture that is free of harassment, intimidation, bias and unlawful discrimination.'"
Google has not publicly named but Bloomberg reported that software engineer James Damore confirmed in an email that he had been let go for "perpetuating gender stereotypes" and was exploring legal action against the company. Internal discussions boards seen by Bloomberg suggest that multiple employees supported the dismissal of the employee and said they would choose not to work with him.
The memo also criticized the company's diversity programs and questioned whether differing views could be said freely within Google.
"Many points raised in the memo-such as the portions criticizing Google's trainings, questioning the role of ideology in the workplace, and debating whether programs for women and underserved groups are sufficiently open to all-are important topics," Pichai wrote. "The author had a right to express their views on those topics-we encourage an environment in which people can do this and it remains our policy to not take action against anyone for prompting these discussions."
He added that Google needs to find a way to debate issues on which there is disagreement but within the lines of the code of conduct.
To be sure, the memo has ignited a firestorm of debate on diversity in the workplace.
Watch:5 Times You Were Glad That You Don't Work in P.R.
Such a memo demonstrates "explicit bias and unconscious bias," said Sharon Jones, CEO of the global consulting firm on diversity and inclusion initiatives, Jones Diversity, in an interview with TheStreet. Jones said the biological claim is an explicit bias because the author is saying women are not fit biologically to be engineers or coders at Google; the author's unconscious bias stems from his reliance on stereotypes, such as female characteristics, throughout the memo. She also thought that the engineer was rehashing past views on biological differences, something that as a country "we have rejected."
Danielle Brown, Google's recently installed vice president of diversity, integrity and governance, issued a statement regarding the memo saying it advanced incorrect assumptions about gender, adding that it is "not a viewpoint that I or this company endorses, promotes or encourages."
"We are unequivocal in our belief that diversity and inclusion are critical to our success as a company, and we'll continue to stand for that and be committed to it for the long haul," Brown said.
Google VP Ari Balogh, whom the engineer reported to, also felt compelled to respond.
"One of the aspects of the post that troubled me deeply was the bias inherent in suggesting that most women, or men, feel or act a certain way," Balogh wrote. "That is stereotyping, and it is harmful." He said building an open, inclusive environment is core to Google and is the right thing to do.
More of What's Trending on TheStreet:
Another former Google engineer, Yonatan Zunger, said that the memo was "incredibly stupid and harmful."
"The author does not appear to understand the consequences of what he wrote, either for others or himself," Zunger wrote on Medium.
Jennifer Brown, the founder of Jennifer Brown Consulting, a strategic leadership, diversity and inclusion consulting firm, echoed Zunger's sentiment, telling TheStreet that the "memo feels very harmful to many people who are already doubtful as to whether they belong and question their own merits."
"If the workplace is more suitable for masculine characteristics, then we have to revisit the norms of the workplace," Jennifer Brown said. "Women bring a balance to leadership skill sets that would positively impact the workplace."
The male engineer also claimed that Google created discriminatory practices through its programs, mentoring and classes for people with certain gender or race, which both Jennifer Brown and Jones disputed.
Jennifer Brown said the memo criticizes some of the critical support structures aimed at helping those people feeling left out. Jones, meanwhile, said affinity groups "are an inclusion strategy and a best practice."
"If you are a leader in any organization, it's important that people who are isolated can find a community because they will stay with the community longer," Jennifer Brown said. "It's a retention mechanism."
According to the Google website, there is a Women@Google group that is comprised of more than 10,000 female employees. Furthermore, women make up 31% of the company's overall workforce and 25% of the leadership team, Google reported citing data from January 2017. In tech, about 20% of employees are women; this percentage grows to 48% for non-tech positions.
Going forward, Jennifer Brown said that companies need to operate from the premise that everyone has a diversity story, even white, straight men.
Jones suggested that the company connect and tie its business goals to diversity and inclusion, "so that employees see the two as one."
The controversial memo circulated across the tech company with market capitalization of $648 billion as Google's parent company, Alphabet Inc., deals with a wage discrimination investigation by the Department of Labor. In mid-July, an administrative judge for the DoL issued a recommended decision and order as to the Office of Federal Contract Compliance Programs' (OFCCP) demand for data. The company said it will comply with the order, assuming the recommended decision becomes final. The Action Alerts PLUS holding disagrees with the agency's allegations.
Alphabet is a holding in Jim Cramer's Action Alerts PLUS Charitable Trust Portfolio. Want to be alerted before Cramer buys or sells GOOGL? Learn more now.
Watch More with TheStreet: