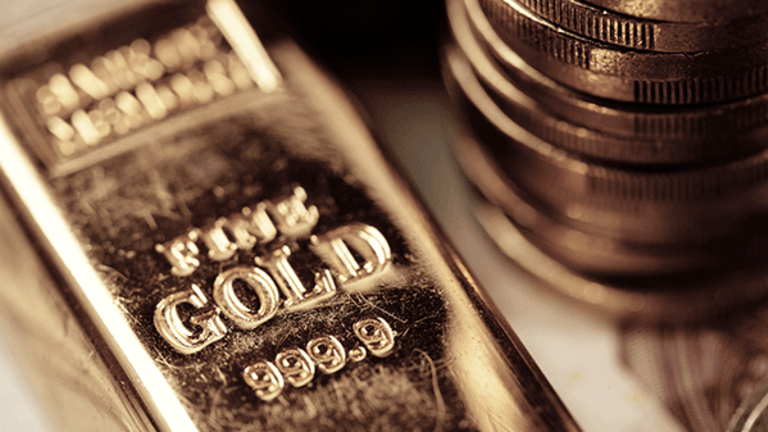 Gold Suffers Sixth Straight Weekly Setback: Where Do Prices Go From Here?
Higher interest rates and a stronger dollar are giving commodities investors pause in the last two weeks of 2016.
Gold futures were up over $3 on Monday, for December, January, and February contracts, according to CMW prices, to $139, $139, and $140, respectively.
That comes after stock futures sank late last week when the Federal Reserve boosted benchmark interest rates by 0.25% - the first rate hike since December 2015.
As of Monday, December 19, gold prices were trading at $1,142 an ounce, as commodities investors mull over the Fed Rate hike, and the impact of a stronger dollar on gold prices down the road. Gold prices had traded as low as $1,129 an ounce last Wednesday, and gold futures contract settlements were at a ten-month low.
Gold watchers are particularly concerned over the Fed's openness to hiking interest rates two or three times in 2017. That, and the prospect of a continued sturdy dollar, could give pause to yellow metal investors who just saw gold's decline price six weeks in a row, ending the week of December 16. Historically, a stronger dollar and higher interest rates are big red flags for gold investors, as both signal a stronger economy. (Gold is denominated in dollars and typically underperforms when lending costs spike upward in a higher rate environment.)
Then there's the uncertainty of the incoming Trump administration, which has helped boost the stock market in the short term but still has Wall Street observers concerned about economic policy and stable U.S. government management across the board.
"Gold prices have been in a sideways channel, because the market has largely been waiting to judge the impact of the Trump presidency," says Michael S. Young, chief executive officer of Mediatory Capital. "Clearly the markets have rallied heavily post-election, offering a brief stint of price volatility on gold the evening and the day after the election. Since then, however, gold has been in a sideways channel, if not a slow decline in value."
Young, who sees a robust dollar and an accelerated economy ahead, says cautious optimism are the watchwords going forward. "What we have seen has been a phenomenal market reaction to what pragmatists would consider an affirmation of the policies proposed by the President-Elect," he states. "With this bullish expectation, and if for nothing other than a clear change from typical Washington D.C. policies regardless of party, there is a fresh sense in the international community that something is going to happen."
"Right now, that something is being weighed in the courts of the market opinion positions the U.S. for a long awaited accelerated growth track," Young adds.
Young says his firm expects to see a rising trend in gold prices by the second quarter of 2017. "Right now is a good time to buy and hold," he says.
In the meantime, keep an eye on the U.S. dollar as an indicator of gold price direction, says Walter Pehowich, vice president of investment services at Dillon Gage Metals.
"A close eye needs to be on the activity in the dollar index, as gold seems to react to any movement in the dollar," he offers. "Helping gold and silver stabilize Friday and Monday is a slightly weaker dollar and treasury yields off their previous highs of last week. Not helping matters, however, is the spike up in mortgage rates seen in the last few weeks."
The best move right now for gold traders is to wait to see the economic data released in the first quarter 2017, says Pehowich. "Also, look to see how welcome Trump's first 100-day economic policies are received by both Congressional houses in D.C.," he adds. "I'm sure the honeymoon won't last too long between Trump and the mainstay Republicans and Democrats."