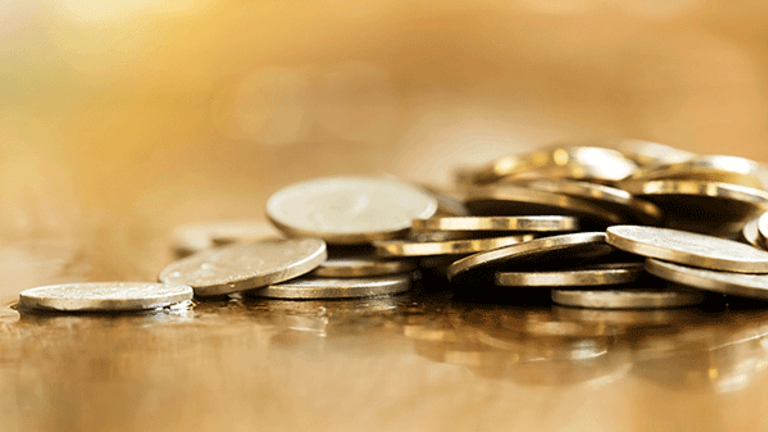 Gold Prices Plummeting to $1,200: Will Selloff Continue?
Gold prices are going in the opposite direction than experts had predicted after the election. Things could stay that way for a while.
The conventional wisdom had gold prices skyrocketing in the immediate aftermath of the U.S. presidential election, which put Donald Trump into the White House.
But that hasn't been the case, with gold future sliding through November, with two consecutive weekly price declines leading up to November 19. Last week, December gold futures slid by $7.60, to just over $1,200 per ounce - a nine-month low.
Gold prices rebounded moderately in Monday trading, gaining back 0.4%, to $1,213 an ounce. But a stronger dollar (at a 13-year high) and an imminent Federal Reserve rate hike have gold gurus taking a skeptical tone on the precious metal.
"The low prices have induced some interest in the physical market," offers Daniel Hynes, a commodities analyst at ANZ. "However, the dollar has got some momentum behind it and until there's a turnaround, it is going to be difficult for gold prices to recover."
Many gold investors concur, with some seeing prices fall below $1,100 by the end of the year as the so-called "Trump effect" kicks in.
"We believe the gold price will fall further, and it's not just a knee-jerk reaction to the election," says Jonathan Monjazi, founder of Monjazi Capital in San Diego. "You will soon have the most anti-Federal Reserve, anti-low interest rate president since Ronald Reagan, and maybe even Andrew Jackson. President-elect Trump has publicly criticized the Fed's low rate policies and (Fed Chair) Janet Yellen. If Trump's rhetoric about the Fed matches his policies, gold has nowhere to go but down."
Even if President Trump has difficulties turning his agenda into actual policy, gold prices shouldn't see much traction, anyway.
"I think there's a good chance for gold falling to the low $1,100 range but not much lower than that because fundamentally the national debt is not going any lower under Trump's presidency," says Amine Rahal, founder of IronMonk Solutions, a digital marketing agency, and a gold investor.
"The current low price is, in my opinion, just a mere reflection of the Republican sentiment that Obama is finally gone and that Republicans have taken control again," he adds. "But soon enough, all pro-Trump investors will realize that the Donald won't fix the national debt issue, and his policies will probably accelerate the rise of the debt, due to his conservationist approach to international trade."
Josh Strauss, portfolio co-manager at Appleseed Fund, and co-president of Pekin Singer Strauss Asset Management, says that while his fund "does not have a specific target price for gold for 2017," he does see gold prices going higher next year.
"With President-elect Trump igniting inflationary embers with his aggressive goals of lower taxes, increased defense spending and a massive infrastructure program, gold prices should rise over the intermediate period ahead," Strauss says. "Of course, that assumes real inflation rates remain low, which appears likely."
Gold prices typically perform admirably in periods when real inflation rates are low, Strauss adds. "The risk with gold is a Goldilocks economy that has strong real economic growth but with inflation in check -- a scenario we simply do not see in the tea leaves," he states. Appleseed had gold in its portfolio since the fund's inception ten years ago, and will likely continue to do so.
Some gold investors say that limiting one's view of gold prices to the U.S. political and economic picture is a mistake.
"The chances that gold prices continue to slip below $1,200 per ounce are relatively low," says Joe Yaffe, co-owner at Gainesville Coins, in Gainesville, Fla.
Yaffe says "strong technical support" has formed around the $1,200 pricing level and that one major factor that should keep the gold price above water is that demand in India and China tends to spike when prices dip. "For instance, many families in India held off on making planned gold purchases when prices were above $1,300 per ounce," he states. "Now, there are reports that gold jewelers in India sold 250 kilograms of gold in a matter of hours last week. Thus, a reasonable bottom price for the yellow metal next year is the recent low of $1,210. Spot prices haven't managed to fall below this point even during last week's rash selloff."
For now, gold is going in the opposite direction than the expert predicted.
No surprise, really - there's a lot of that going around lately.