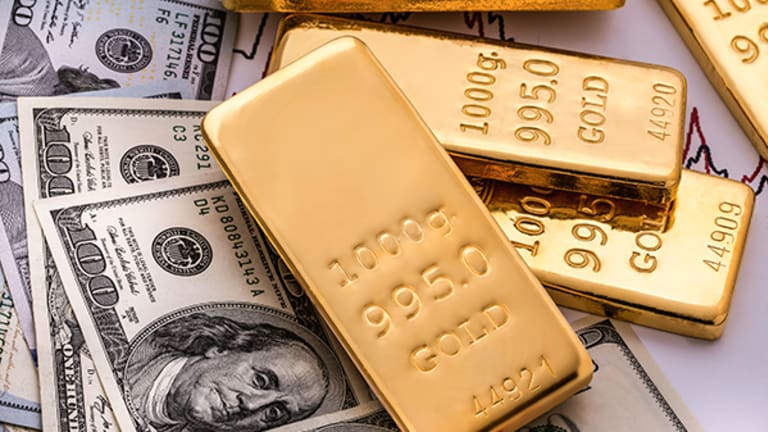 Gold Futures: Outlook For Precious Metals Shiny For '17
Analysts say 2017 could be a magical year for gold investors.
Gold bugs could be in a feeding frenzy come 2017, as analysts are calling for the precious metal to crest $1,500 an ounce next year.
Let's start with Credit Suisse, which states that gold, currently trading at $1,335 per ounce, will rise to $1,500 per ounce early in 2017. That would be a significant pricing upgrade, as gold futures contracts for February 2017, are trading at $1,344 per ounce, while April 2017 contracts are trading at $1,348 per ounce. The financial giant is also calling for gold to be trading at $1,475 per ounce by December 2016.
Credit Suisse, which had correctly pegged gold's rise to over $1,350 per ounce earlier this year, says the hangover from Brexit is boosting gold's value - a trend that should continue in 2017.
"The common argument we hear from gold participants is that gold is currently benefitting from a fear trade on Brexit, and that may indeed be the case," states Credit Suisse in a recent research note. "But we think this recent fear trade leads to something more enduring as the surprise Brexit vote has solidified and intensified macro and political uncertainty and extended the time frame for a negative real rate environment in the U.S. and potentially abroad."
Credit Suisse also points to "uncertainty" over the upcoming U.S. presidential election, and a possible Federal Reserve interest rate hike as key factors impacting the price of gold.
ABN AMRO also recently weighed in on gold pricing trends, calling for a hike in the trading price to $1,450 by the end of 2017, while RBC Capital Markets states that gold prices will reach $1,500 per ounce in 2017 and 2018, but will fall back to $1,350 by 2020. RBC, too, points to expected Federal Reserve rate hikes, along with a weaker economic climate across the globe, as the driving force behind rising gold prices.
"We believe the economic environment is more favorable for gold with a dovish outlook by the U.S. Fed, declining (U.S. dollar) real rates, global central bankers looking to negative real rates for economic stimulus and steady fundamental demand for physical gold," the Canadian-based investment bank states in a recent research note.
In the short-term, gold prices have fallen in the past few trading sessions, related to uncertainty about Federal Reserve Chair Janet Yellen's speech this Friday that some say could reveal a hike in interest rates.
But that price decline seems temporary, experts note.
"Gold prices are likely to soften over the next few weeks," says CPM Group in an August, 2016 white paper. "While the medium and longer term fundamentals remain supportive of higher gold prices there is little in terms of fresh news in the market to drive gold prices strongly higher in the near future. That said, any weakness in gold prices is expected to be shallow and short-lived. Key support levels for gold prices are at $1,320 and $1,300. If these levels are breached there could be some further profit taking from investors, which could drive gold prices to a possible low of $1,280."
At the investor level, Joseph Yaffe, co-owner of Gainesville Coins, in Gainesville, Fla., says he's "bullish" on gold futures, too.
"Everyone should be focused on safety rather than increasing their risk exposure, with so much uncertainty around the markets, the global economy, and monetary policy," he says. "The fact that the 10-year bonds of several of the world's largest economies, like Japan and Germany, have negative yields, yet remain in high demand, means that investors are so worried about safe harbor for their portfolios they're willing to park that money at a loss."
Yaffe says investors aren't finding much upside in traditional assets like stocks and bonds. "With U.S. stock indices at all-time highs while earnings are in a slump, it seems unlikely that risk appetite will remain so strong," he says. "Throw in negative interest rates in many places and you've got a perfect recipe for gold to continue to rise. It's already risen by 27% in 2016. Since it has traditionally served as a safe haven for investors, gold figures to outperform over the next 18 months as equities top out and the bond market overcrowds."
"I expect the gold market to continue to rise next year," he adds.
Vic Sperandeo, president and CEO of EAM Partners, which developed the Trader Vic Index, a collection of futures contracts in commodities, currencies and U.S. interest rates, says the biggest driver behind gold prices is its negative correlation to the dollar. "Gold made a high in September 2011, followed by a bear market that ran through December 2015," he says. "Since, it has returned to a bull market, and this will continue in 2017. A declining dollar, along with slowing global growth as the IMF lowers world growth rates -- and the possibility of recession in some countries -- will cause gold to appreciate through the next year. And this appreciation will continue until underlying challenges are resolved."
Yaffe and Sperandeo aren't alone. Consequently, futures investors can look to 2017 and 2018 as boom years for the precious metal and will likely go along for the ride to $1,500.