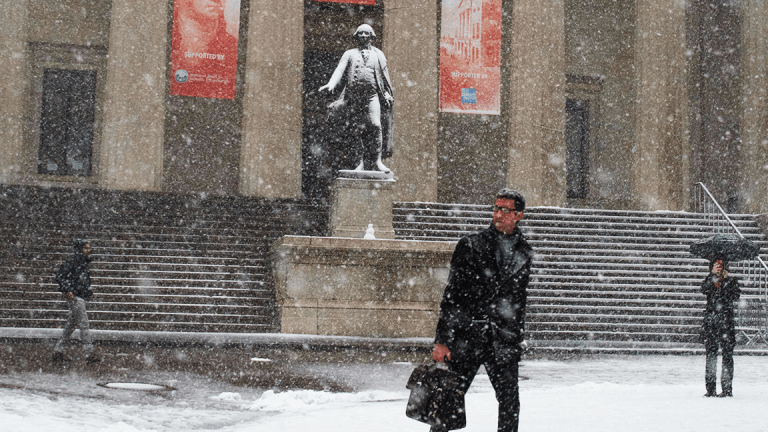 Publish date:
Gary Cohn, ADP Jobs Report, Oprah and Weight Watchers - 5 Things You Must Know
U.S. stock futures sink after Gary Cohn, the head of Donald Trump's National Economic Council, resigns; ADP to release its private payrolls report; Oprah Winfrey sells some shares in Weight Watchers.
U.S. stock futures sink after Gary Cohn, the head of Donald Trump's National Economic Council, resigns; ADP to release its private payrolls report; Oprah Winfrey sells some shares in Weight Watchers.
Here are five things you must know for Wednesday, March 7: 
1. -- Stocks Sink on Cohn's Departure
U.S. stock futures were sinking Wednesday, March 7, after Gary Cohn, the head of Donald Trump's National Economic Council, resigned and investors braced for what could be an escalating global trade war.
Contracts tied to the Dow Jones Industrial Average fell 329 points, while those linked to the S&P 500 declined 29 points.
Cohn abruptly left the White House on Tuesday, March 6, after failing to convince Trump to reverse plans for import tariffs on steel and aluminum.
Stocks in Europe were mixed while Asian shares tumbled following the departure of Cohn, a staunch advocate for free trade who has clashed with the president on a number of issues during his tenure at the White House. Cohn reportedly was unable to publicly support Trump's plans to slap a 25% levy on imported steel and a 10% tariff on non-American aluminum.
TheStreet's founder, Jim Cramer, told Action Alerts Plus investment club members that Cohn's departure will "put a lot of pressure" on the market, revealing several reasons why here.
Stocks finished slightly higher on Tuesday, but moved between gains and losses for much of the session amid optimism over reports that North Korea was willing to accept denuclearization if Kim Jong Un's regime could be guaranteed safety and as Wall Street weighed the possibility of a global trade war.
Earnings are expected Wednesday from Abercrombie & Fitch Co. (ANF) - Get Report , Costco Wholesale Corp. (COST) - Get Report , Dollar Tree Inc. (DLTR) - Get Report , Sears Holdings Corp. (SHLD) , Tronc Inc. (TRNC) and Caesars Entertainment Corp. (CZR) - Get Report .
If you'd like to receive the free "5 Things You Must Know" newsletter, please register here.
2. -- ADP to Release Jobs Report
The economic calendar in the U.S. on Wednesday includes the National Employment Report for February from ADP at 8:15 a.m. ET, International Trade for January at 8:30 a.m., Oil Inventories for the week ended March 2, at 10:30 a.m., and the Federal Reserve's "Beige Book" at 2 p.m.
The ADP private payrolls report will give traders a first peak at whether the market remains petrified of inflation and subsequently higher interest rates. If the ADP headline number comes in above the expected 195,000 jobs, stock could fall on fears of hot wage data when the official U.S. jobs report for February is released on Friday, March 9.
3. -- Oprah Winfrey Sells Some Shares in Weight Watchers
Oprah Winfrey sold some of her stock in Weight Watchers International Inc. (WTW) - Get Report and donated a small portion to her philanthropic foundation.
Winfrey, a Weight Watchers board member, retains more than 75% of her holdings in the company and won't sell additional shares this year, said a statement from Harpo Inc., Winfrey's production company.
The sale is part of a normal diversification of her investment portfolio, the statement said.
"I am deeply committed to Weight Watchers and continue to see a bright future for the company," Winfrey said. "I believe in Weight Watchers and I'm inspired every day by the millions of people around the world who are leading healthier and more fulfilling lives."
Weight Watchers shares fell 1.5% in after-hours trading on Tuesday.
4. -- Urban Outfitters Takes Tax Hit
Urban Outfitters Inc. (URBN) - Get Report  fell 4.8% in premarket trading on Wednesday after the company reported fourth-quarter adjusted earnings that topped Wall Street forecasts but a bottom line that slumped because of the new U.S. tax law.
Net income in the fourth quarter was $1.3 million, or 1 cent a share, down sharply from year-earlier earnings of 55 cents.
The retailer recorded a $64.7 million tax charge for repatriation and a write-down of deferred tax assets related to changes in U.S. tax law.
5. -- Weinstein Company Buyers Pull Out
A group of investors pulled out of a deal to buy the Weinstein Co. on Tuesday after discovering tens of millions of dollars in undisclosed debt, the Associated Press reported, citing people familiar with the negotiations.
Businesswoman Maria Contreras-Sweet, who has been leading the group of buyers along with billionaire investor Ron Burkle, said in a statement that "disappointing information about the viability of completing this transaction" had led her to call off the sale.
She didn't offer further details. But two people familiar with the proceedings said the buyers came across documents showing liabilities beyond the $225 million the buyers had been prepared to take on, the AP reported.
This article has been updated from 5:56 a.m. ET.