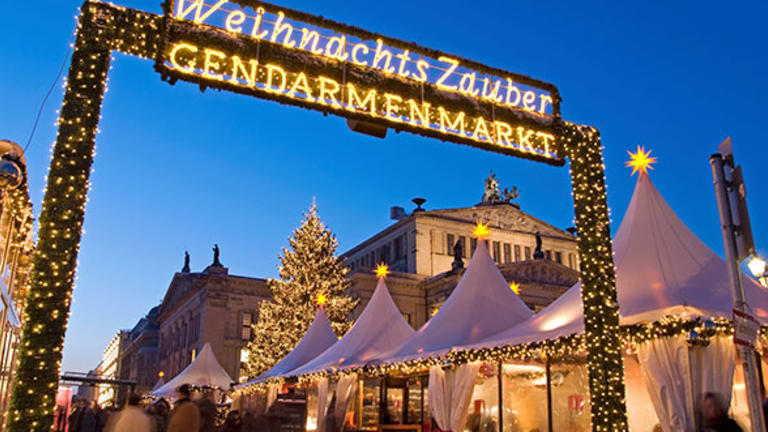 Futures Point North; Asia Mixed, Despite European Attacks
Markets look set to continue their election rally as violence casts a pall over Europe.
Futures for U.S. markets pointed toward a higher opening Tuesday despite a series of unrelated terror attacks across Europe Monday evening.
The S&P 500 added 0.05%, the Dow Jones Industrials, 0.04%, and Nasdaq, 0.09%, at 8:56 p.m. EST.
A gunman killed Russia's ambassador to Turkey, Andrey G. Karlov, in an Ankara art gallery Monday evening, and a bus plowed through a Christmas market in the German capital of Berlin, killing at least 12 people and wounding dozens more in what government officials said looks like a planned attack. A gunman also wounded three people at a mosque in Zurich.
The Ankara gunman was killed following the attack by security forces, while Berlin police arrested a suspect in the Christmas market incident. Swiss police said they had found a body near the mosque shooting, hinting it may have been the shooter, but provided little additional information about a suspect.
The attacks occurred mostly after markets closed in Europe. Germany's Dax ended the first trading day of the week 0.02% higher, while the FTSE in London added 0.08%. France's Cac pared 0.22%.
Meanwhile, markets in Asia were mixed following predictions that Chinese growth would slow to a 25-year low next year and as Japanese investors await news from the Bank of Japan's monthly meeting -- the central bank isn't expected to take any action. The Nikkei and Hang Seng in Hong Kong were both off 0.03% at 9:06 p.m. EST, while the ASX in Australia added 0.65% and the Kospi in South Korea rose 0.23%.
In energy, a barrel of industry standard Brent crude traded at $54.90, a decline of 0.04%, while its North American counterpart went for $51.97, or 0.29% lower, at 8:51 p.m. EST. Both are futures for delivery in February and January, respectively.
The dollar index, which measures the currency against a basket of rivals, slipped 0.05% at 8:54 p.m. EST.
In an otherwise quiet after-hours session, shares of Conatus Pharmaceuticals (CNAT) - Get Conatus Pharmaceuticals Inc. Report more than doubled, adding $2.44 to $4.40 after the small drug company unveiled a licensing agreement with Switzerland's Novartis.
San Diego-based Conatus would receive a $50 million upfront payment to jointly develop a drug to fight fatty liver disease. Conatus' experimental emricasan fights nonalcoholic steatohepatitis (NASH) with advanced fibrosis and cirrhosis, an ailment for which no treatments exist.
Conatus would also receive various milestone payments under the agreement.