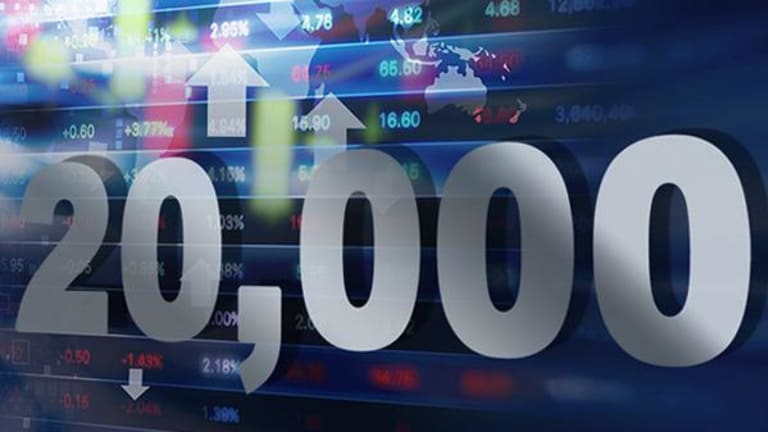 Futures Point Lower Ahead of Economic Data; Asia Mixed
The final GDP figure will be out Thursday, but will it be enough for Dow 20k?
Futures for U.S. markets were in the red late Wednesday after a lackluster day of trading. And investors were wondering if economic data set for release Thursday could provide a much-needed pre-holiday kick.
The Dow Jones Industrials and S&P 500 both lost 0.06% while Nasdaq pared 0.04% at 8:50 p.m. EST.
Investors have sparse earnings data to base trades on while looking forward to the Christmas break. Thursday will see the release of a handful of economic data, most notably revised Q3 GDP, which is expected to gain a slight upward adjustment.
Markets ended Wednesday lower with the Dow losing 0.16%, the S&P, 0.25%, and Nasdaq, 0.23%.
Europe ended Wednesday mixed with Frankfurt's Dax adding 0.03% despite the inability of German authorities to locate the key suspect in Monday's Christmas market terrorist attack in Berlin. Meanwhile, the Cac in Paris lost 0.33% and the FTSE in London, 0.04%.
Asia also traded mixed early Thursday with the Nikkei off 0.28% and the Hang Seng in Hong Kong, 0.15%, while the ASX in Australia gained 0.44% at 8:56 p.m. EST.
Oil recovered some of its losses from Wednesday in early trade with industry standard Brent crude up 0.29% to $54.62 and West Texas crude up 0.23% to $52.61 at 8:45 p.m. EST. The prices represent per-barrel futures for delivery in February.
In after-hours trade, shares of Micron Technology (MU) gained 9.91% to $22.62 after the chipmaker reported better-than-expected results for the first quarter of fiscal 2017 and issued a positive outlook for the second quarter. It credited rising average selling prices for DRAM and increasing sales volumes in both DRAM and NAND.
For the first quarter, the Boise, Idaho-based chipmaker reported adjusted earnings of 32 cents per diluted share on revenue of $3.97 billion, which was up 23% year over year. Analysts surveyed by FactSet expected earnings of 26 cents per share on revenue of $3.95 billion.
In losers, shares of Red Hat (RHT) slipped 10.15% to $71.69 in extended trade after the open-source software company reported fiscal 2017 third-quarter revenue that missed analysts' expectations and cut its full-year revenue forecast.
The Raleigh, N.C.-based company also announced that Frank Calderoni, the company's CFO and executive vice president, would step down from his role in late January 2017 to take a CEO position at another company, whose identity wasn't revealed.
Red Hat posted revenue of $615.0 million, which was below Wall Street's projected $618.5 million. The company reported adjusted earnings of 61 cents per share, higher than analyst estimates of 58 cents per share.