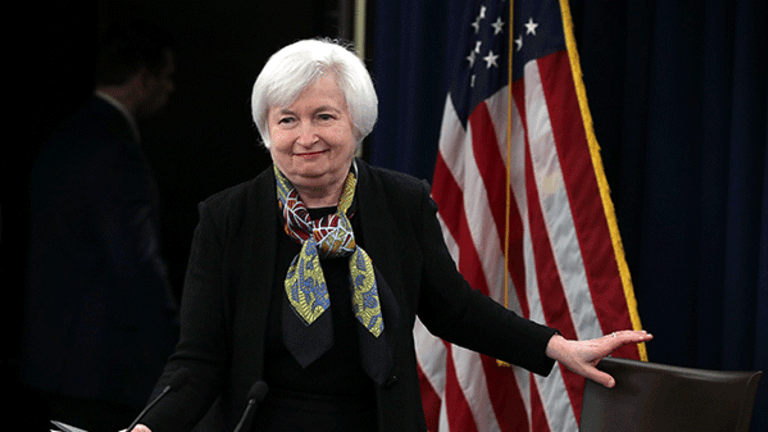 Futures Point Downward on Fed; Asia Mixed on Yen
Janet Yellen's remarks are likely coloring futures more than Donald Trump's new job.
Janet Yellen's remarks are likely coloring futures more than Donald Trump's new job.
Futures for U.S. markets pointed downward late Thursday as investors reassessed their positions after a renewed day of enthusiasm for the election of Donald Trump and after fresh indications the next rate rise was just weeks away.
The Dow Jones Industrials lost 0.1%, the S&P 500 0.13% and Nasdaq 0.05% at 9:01 p.m. ET.
All three indices closed higher Thursday as the Trump rally continued and investors bet his low-regulation, low-tax proposals would be good for the economy. The gains came despite testimony by Federal Reserve chair Janet Yellen in front of Congress that indicated that a much-expected December rate increase is likely to become reality.
The euphoria pushed the Dow up 0.19%, the S&P 0.47% and Nasdaq 0.74% Thursday. Europe was also in a good mood Thursday as President Barack Obama continued his European tour with a stop in Berlin. Germany's Dax gained 0.2%, the FTSE in London 0.67% and the Cac in Paris 0.59%.
Asia opened mixed on the final trading day of the week with Japan's Nikkei up 0.76% at 9:12 p.m. ET as the yen continued to weaken against the dollar, improving prospects for exporters. Australia's ASX also gained, adding 0.18% while the Kospi in South Korea pared 0.46% and the Hang Seng in Hong Kong 0.15%.
In currencies, the yen added 0.12%, to ¥110.366, against the dollar while the pound gained 0.18%, to £0.8067, at 9:15 p.m. ET.
Over in energy, a barrel of industry standard Brent crude slipped 1.03%, to $46.01, while a barrel of its U.S. counterpart slipped 1.1% at 9:03 p.m. to $44.92. The prices represent futures for delivery in January and December, respectively.
In after-hours trade, shares of Salesforce.com (CRM) - Get Report gained 5.51%, to $79.33, after the cloud computing company reported better-than-anticipated results for the third quarter of fiscal 2017 coupled with a positive outlook.
Adjusted earnings for the quarter were 24 cents a share, while revenue jumped 24% year-over-year to $2.14 billion. Analysts surveyed by FactSet were forecasting adjusted earnings of 21 cents per share on revenue of $2.12 billion.