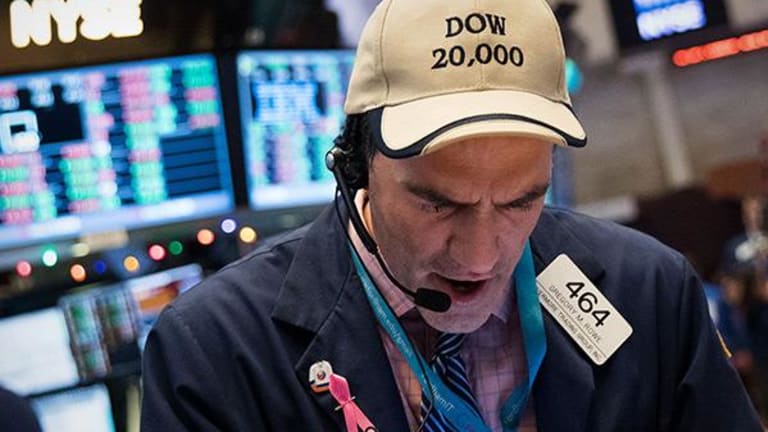 Futures Mixed and Asia Higher; Could the Dow Be Primed for 20K?
Futures for the Dow are higher but will Wednesday be the day?
Futures for U.S. markets were mixed late Tuesday. But that variability could mean investors may be antsy to nudge the Dow Jones Industrials over the magic 20,000 mark after a record Tuesday.
The S&P 500 was off 0.01%, while the Dow added 0.06% and the Nasdaq, 0.01%, at 9:21 p.m. EST.
The Dow set a new intraday high within 13 points of the 20K mark Tuesday. Investors appeared to shrug off Monday's attacks in Europe to keep the Trump rally intact even as volume was waning ahead of Christmas.
The Dow gained 0.46% Tuesday as the S&P added 0.36% and Nasdaq, 0.49%.
European shares also closed higher Tuesday despite the apparent terror attacks in Turkey, Germany and Switzerland Monday. Germany's Dax added 0.33%, the Cac in Paris, 0.56%, and the FTSE in London, 0.38%.
Asia was also higher early Wednesday, spurred on by the bubbly U.S. markets. Japan's Nikkei added 0.25%, the Hang Seng in Hong Kong 0.43%, the ASX in Australia, 0.62%, and the Kospi in South Korea, 0.25%, at 9:27 p.m. EST.
In energy, crude oil continued its ascension as Asia awoke with industry standard Brent up 0.62% to $53.63, while West Texas crude added 0.52% to $55.64. The prices represent futures for barrels with delivery in February and were current as of 9:16 p.m. EST.
The dollar index, which measures the greenback against a basket of currencies, slipped 0.2% at 9:18 p.m. EST.
In after-hours trade, shares of FedEx (FDX) lost 3.34% to $192.11 after the delivery services giant reported second-quarter earnings that missed analyst expectations during the firm's important holiday shipping season.
Memphis-based FedEx reported adjusted earnings per share of $2.80 on $14.9 billion in revenue. Analysts surveyed by FactSet had expected earnings of $2.90 on $14.9 billion in revenue.
Revenue in FedEx's express and ground segments increased by 2% and 9% year over year, respectively, to $6.74 billion and $4.42 billion. The company chalked up its growth in express to higher package volume and base rates and in ground to higher volume and yields.