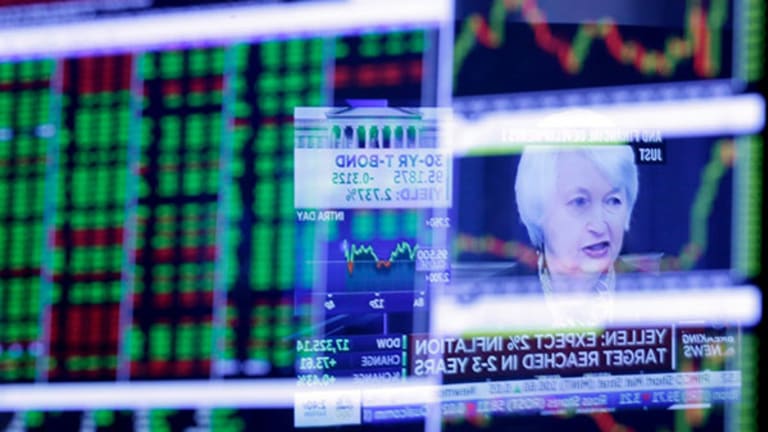 Futures Mixed After Rate Increase, Asia Lower
The interest rate hike behind them, investors can now focus on how they see the markets under Trump.
Futures for U.S. markets were mixed late Wednesday with the December rate increase out of the way and knowing the Federal Reserve expects to continue raising rates in the foreseeable future.
The S&P 500 gained 0.02% and the Dow Jones Industrials 0.07% while Nasdaq shaved off 0.08% at 9:23 p.m. EST.
The Fed on Wednesday raised interest rates an expected 0.25% and said it would likely hike rates again three times in 2017 and again in 2018. Investors can now continue pricing in the economic advantages they see with a Donald Trump presidency with some certainty over borrowing rates.
Still, the increase left all three major indexes lower Wednesday after a record Tuesday. The S&P and Nasdaq both pared 0.5% while the Dow lost 0.6%. In anticipation of the rate increase, European bourses also fell Wednesday with Germany's Dax off 0.35%, France's Cac 0.72% and the FTSE in London 0.28%.
Asia opened mixed following the rate increase, but all indexes traded lower at 9:47 p.m. EST with the Nikkei in Tokyo off 0.19%, the ASX in Australia 1.06% and the Hang Seng in Hong Kong 1.56%.
In energy, a barrel of industry standard Brent crude lost 0.15%, to $53.82, while a barrel of its U.S. counterpart slipped 0.37%, to $50.85. Both prices represent futures for delivery in February and January, respectively, and were current as of 9:37 p.m. EST.
The dollar index, which measures the greenback against a basket of currencies, continued its ascension above 2003 levels, adding 0.46% at 9:42 p.m. EST.
In after-hours trade, shares of Mondelez (MDLZ) - Get Mondelez International Inc. Report surged 6.47%, to $45.60, following a report it was in talks to be bought by Kraft Heinz (KHC) - Get The Kraft Heinz Company Report .
Swiss magazine Bilanz reported Wednesday, citing an unnamed "very well-informed source from the food industry," that Kraft, backed by shareholder 3G Capital, is close to a deal for the rival foodmaker. The magazine said that Berkshire Hathaway (BRK.A) - Get Berkshire Hathaway Inc. Report would "probably" co-invest with the Brazilian private equity firm, as it did when the two companies brought together Kraft Foods and H.J. Heinz to form Kraft Heinz.
The Brazil Journal blog reported in November that 3G was raising $8 billion to $10 billion to fund a major acquisition. That report, too, sent shares of Mondelez, a perennial takeover target, soaring.
, which Cramer co-manages as a charitable trust, is long KHC.