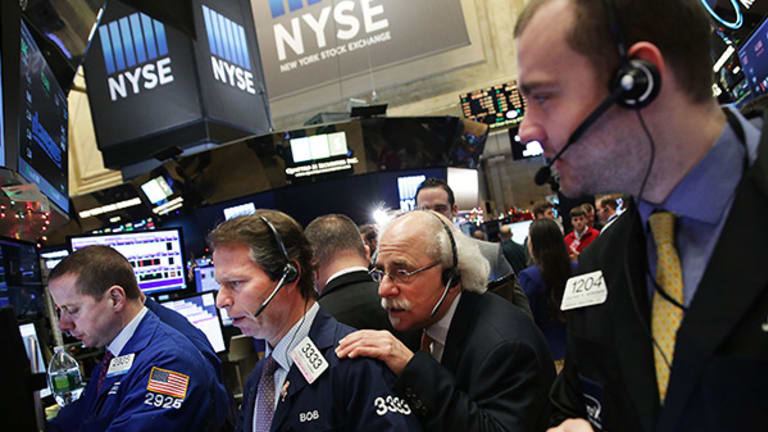 Publish date:
Futures Mixed After Historic Trifecta, Euphoria Contagious in Asian Open
The major U.S. indices closed Thursday at record highs as investors await Friday's retail figures.
The major U.S. indices closed Thursday at record highs as investors await Friday's retail figures.
Futures for U.S. markets were mixed Thursday evening after all three major U.S. indices hit new record closes earlier in the day and as investors await Friday's retail sales figures.
Futures for the Nasdaq gained 0.03% and the Dow Jones Industrials 0.02% while futures for the S&P 500 were a slight 0.01% lower at 9:11 p.m. EDT.
Investors are awaiting Friday's report on retail sales which are expected to show that while consumers are still spending, they've let up considerably since the second quarter, where retail sales gained about 3%. Oil is also in view after fears over an intervention by OPEC pushed shorts to cover.
J.C. Penney (JCP) - Get Report is adding to the interest in retail by also releasing its second-quarter figures on Friday.
Still, Thursday was the first time since 1999 that all three major indices ended the day at historic highs. The Nasdaq finished up 0.46% at 5,228.40 points, the Dow 0.64% at 18,613.52 and the S&P 0.47% at 2,185.79.
Asia also opened higher across the board, helped by the higher oil prices. The Nikkei in Japan gained 0.94% while South Korea's Kospi added 0.53% and Hong Kong's Hang Seng 0.96% at 9:33 p.m. EDT.
The good mood started in Europe as oil began its recovery. Germany's Dax gained 0.86%, London's FTSE 0.7% and France's Cac 1.17%.
OPEC on Thursday said it might intervene if prices remained weak, sparking investors short on oil futures to cover their positions and push industry standard Brent crude up 4.3% in U.S. trade. In early Friday trade, Brent futures for October delivery gained 0.15%, to $46.11 per barrel at 9:24 p.m. EDT while U.S. crude futures gained 0.32%, to $43.63 for delivery next month.
The pound slipped in Europe on Thursday but began to recover Friday, up just 0.09%, to $1.2965, while the yen gained 0.1541% against the dollar to ¥102.066 at 9:32 p.m. EDT.
In extended trading, takeover talk reigned. News of a possible deal pushed shares of Brentwood, Tenn.-based petroleum refiner and retailer Delek (DL) - Get Report up 16.19%, to $17.30. Rival CVR Energy (CVR) - Get Report , controlled by billionaire Carl Icahn, is mulling a bid, according to the New York Post.
And shares of Silicon Graphics Int'l (SGI) leapt 28.76%, to $7.70, after Hewlett-Packard Enterprise (HPE) - Get Report said it would buy the Fremont, Calif.-based computer equipment maker for $7.75 a share, valuing the offer at $275 million. The target also beat analyst estimates of second-quarter earnings per share of 1 cent on revenue of $120.69 million by posting 8 cents per share with $123 million in revenue.
Earnings still weighed on decliners in extended trading. Little Rock, Ark.-based department store Dillard's (DDS) - Get Report saw its stock slide 3.03%, to $64.40, after it said late Thursday that profits slumped more than 50% year over year in the second quarter.
Revenue came in at $1.45 billion, which missed Wall Street's projected $1.48 billion, while Dillard's earnings of 35 cents per share surpassed analysts expected 31 cents per share.
Total merchandise sales fell 4% for the period and comparable same-store sales decreased 5%.