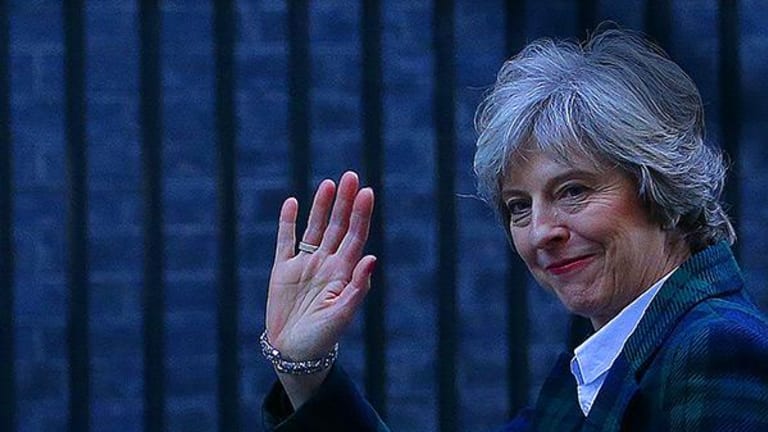 Futures Head Lower, Asia Mixed as Investors Mull Trump
All eyes will be on the Republicans and President Trump on Friday as a strategy session ends and the U.K. prime minister lands.
Futures for U.S. markets indicated a lower open late Thursday after a turbulent political day and a number of high-profile earnings reports, including Starbucks (SBUX) and Alphabet (GOOGL) , that fell short of investor expectations.
The S&P 500 lost 0.03% while both Nasdaq and the Dow Jones Industrial Average fell 0.04% at 9:03 p.m. EST.
Despite continued earnings releases and fourth-quarter GDP figures Friday, investors are likely to focus more on news from the Republicans' strategy retreat in Philadelphia and President Trump's meeting with U.K. Prime Minister Theresa May. Trump's team Thursday said it was mulling a 20% border tax on Mexican products after Mexican president President Enrique Pena Nieto cancelled a planned meeting next week.
The turbulent political conditions coupled with mixed earnings left Wall Street equally mixed Thursday. The S&P slipped 0.07% and Nasdaq 0.02% while the Dow added 0.16%. Europe was equally wavy Thursday with Germany's Dax adding 0.36% while the FTSE in London lost 0.04% and the Cac in Paris 0.21%.
Not to be left out, Asia was also mixed early on the final trading day of the week. Japan's Nikkei added 0.25%, the ASX in Australia 0.73% and the Kospi in South Korea 0.81% at 9:05 p.m. EST. Meanwhile the Hang Seng in Hong Kong pared 0.08%.
And not even oil was immune to the mixed virus--a future for a barrel of industry standard Brent crude delivered in March slipped 3 cents, to $56.21, at 8:53 p.m. EST. Its West Texas counterpart, meanwhile, gained 5 cents, to $53.83.
The dollar index gained 2 basis points, keeping the index above 100 at 100.55 at 8:59 p.m. EST. The index weighs the dollar against a number of currencies. The peso continued to suffer on a potential trade war with the U.S., slipping 0.43%, to 21.3044 pesos per dollar, at 9:07 p.m. EST.
In after-hours trade, shares of Starbucks fell 3.95%, to $56.15, after the coffee giant reported weaker-than-anticipated revenue and comparable-store sales for the 2017 fiscal first quarter and gave guidance that trailed expectations.
After the closing bell, the Seattle-based company posted revenue of $5.73 billion, below analyst estimates of $5.85 billion. Global comparable-store sales rose 3%--the weakest growth since 2009--while analysts had projected growth of 3.8%. U.S. comparable-store sales increased 3%, which fell short of Wall Street's forecasts for an increase of 4%.
Domestic same-store sales were made up of a 5% jump in average ticket and a 2% decline in transactions. Adjusted earnings of 52 cents a share were in line with Wall Street's expectations.
Shares of Google pared 2.11%, to $856.98, after its parent, Alphabet, reported revenue of $26.1 billion (up 22% annually) and adjusted EPS of $9.36. The former beat a $25.3 billion consensus analyst estimate, but the latter missed a $9.64 consensus.
, which Cramer co-manages as a charitable trust, is long SBUX and GOOGL.