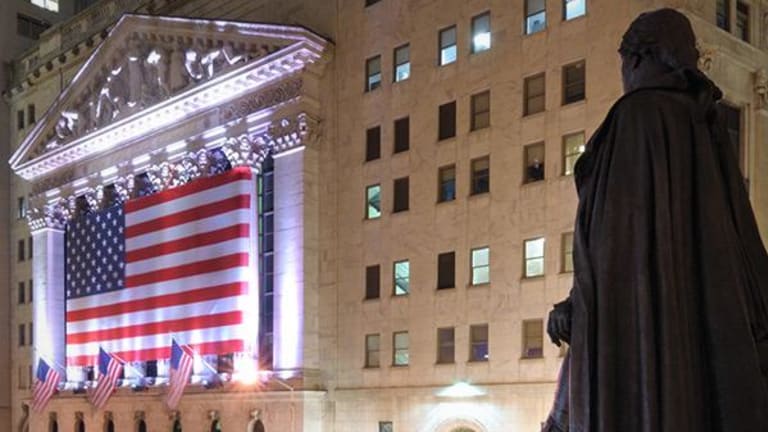 Futures Foment Trump Trade's Return; Asia Higher, Too
Investors are likely to push markets higher Wednesday, either on optimism for the new administration in Washington or strong earnings.
Futures for U.S. markets hinted at a higher opening Wednesday and a sustained resurgence of the Trump trade after both the S&P 500 and Nasdaq closed at record highs Tuesday.
The S&P and Dow Jones Industrial Average added 0.07% at 9:02 p.m. EST, while Nasdaq gained 0.12%.
In addition to having new president, investors will have a raft of earnings news to fall back on Wednesday. Analysts have said they expect earnings overall to have climbed in the final quarter of 2016. Still, traders are wondering what kind of tax and regulation relief the Donald Trump's administration will offer and when it will come. 
The optimistic mood boosted the S&P 0.66% to 2,280.07 and Nasdaq 0.86% to 5,600.96 Tuesday. The Dow rose 0.57% to 19,912.71. Continental exchanges were also positive Tuesday with Germany's Dax adding 0.43% and the Cac in Paris 0.18%, but the FTSE in London slipped a slight 0.01% as the country lurches toward its Brexit process.
Still, Wall Street's mood was contagious and Asia traded higher earlier Wednesday with the Nikkei in Japan up 1.34%, the Hang Seng in Hong Kon, 0.31%, the Kospi in South Korea, 0.01% and the ASX in Australia, 0.32%, at 8:56 p.m. EST.
The dollar index, which weighs the currency against a gaggle of others, slid 0.06% to 100.21 at 8:45 p.m. EST.
In energy, futures for oil delivered in March retreated as Asia awoke. A barrel of industry standard Brent crude traded at $55.29, a 15 cent decrease, while West Texas crude lost 19 cents to $52.99 at 8:45 p.m. EST.
In after-hours trade, shares of food company Bob Evans Farms (BOBE) shot up 15.75% to $55.50 after it succumbed to pressure from an activist investor and agreed to sell its restaurant chain while also opting to buy a potato supplier.
Financial investor Golden Gate Capital Tuesday said it would buy the chain for $565 million after activist Tom Sandell's Sandell Asset Management pressed Bob Evans to separate the chain from its BEF packaged food business and sell off the restaurants. New Albany, Ohio-based Bob Evans also unveiled the $115 million acquisition of Pineland Farms Potato Company.
Shares of Seagate Technology (STX) also spooled up 12.15% to $41.99 in extended trading after the storage device maker exceeded analyst earning expectations for the quarter ended Dec. 31, its fiscal second quarter.
Cupertino, Calif.-based Seagate said quarterly earnings nearly doubled to $1 a share from 55 cents a share a year earlier, which equates to adjusted earnings of $1.38 a share. Still, revenue slipped to $2.89 billion from $2.99 billion in the year-earlier period. FactSet analysts had forecast $1.08 a share on revenue of $2.83 billion.