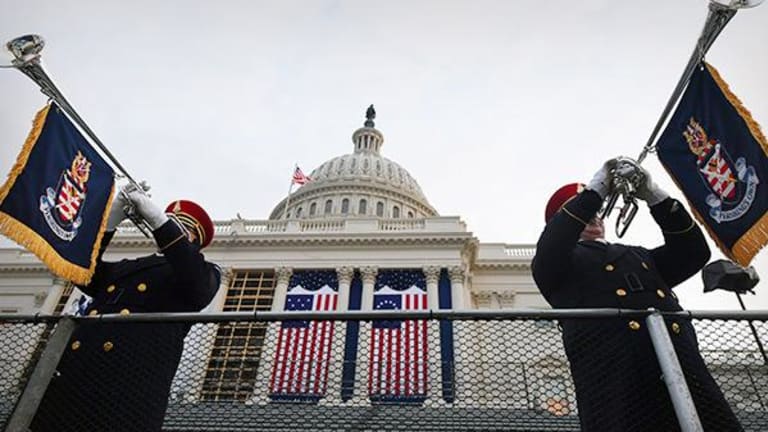 Futures, Asia Mixed as Investors Ponder the New President
Many are ready to seal in gains as Donald Trump becomes the 45th president of these United States.
Futures for U.S. markets pointed to a mixed open for the final trading day of the week and the first day of Donald Trump's presidency as doubts mount over just how good the erstwhile reality TV star will be for the economy.
The S&P 500 gained 0.08%, while Nasdaq added 0.13%, but the Dow Jones Industrial Average slid 0.12% at 9:04 p.m. EST.
Investors are wondering whether to take profits from the Santa and Trump rallies or to hold on for a bigger payout. The markets are unsure of whether a President Trump will deliver the broad infrastructure spending and tax and regulation cuts promised by candidate Trump.
The concerns pushed all three indexes down Thursday with the S&P off 0.36%, Nasdaq 0.28% and the Dow 0.37%.
Europe also fretted over the Trump presidency Thursday with Germany's Dax off 0.02%, the Cac in Paris 0.25% and London's FTSE 0.54%.
In early Friday trade, Asia was as mixed as Wall Street futures as investors digested Chinese GDP figures that were slightly better than expected. The Nikkei in Japan added 0.03%, while the Kospi in South Korea, the Hang Seng in Hong Kong and the ASX in Australia all posted bigger losses at 0.21%, 0.57% and 0.68%, respectively, at 9:01 p.m. EST.
The whipsawing dollar index was off 0.26%, to 100.91--it uses a grip of currencies as a yardstick for the greenback. Meanwhile a dollar bought ¥114.698 or £0.809.
In energy, a future for a barrel of industry standard Brent crude delivered in March went for $54.33 at 8:50 p.m. EST, an increase of 0.31%. At the same time, a similar future for West Texas crude delivered next moth changed hands for $51.55, a 0.35% gain.
In after-hours trade, the FDA's approval of a constipation drug pushed Synergy Pharmaceuticals undefined shares up 5.46%, to $6.76. The FDA cleared Trulance for use in idiopathic constipation in adults, and the New York-based drug company said it hoped to have the treatment on the market before the end of the quarter.
It's also investigating if Trulance is effective against irritable bowel syndrome.
Action Alerts PLUS, which Cramer co-manages as a charitable trust, has no positions in the stocks mentioned.