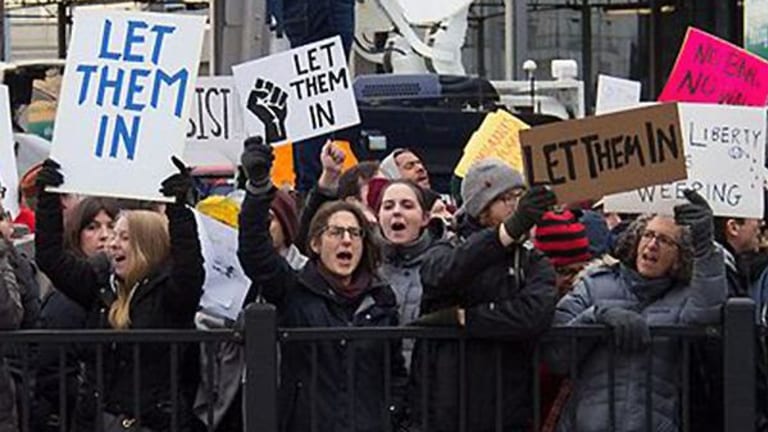 Futures, Asia Lower As Trump Uncertainty Weighs Ahead of Earnings
The weekend's political chaos following Trump's executive order might get overshadowed by earnings.
Futures for U.S. markets pointed toward a lower open Tuesday as investors remain concerned about the turmoil caused by President Donald Trump's executive order on immigration.
The S&P 500 pared 0.25%, the Dow Jones Industrials 0.25% and Nasdaq 0.24% at 11:08 p.m. EST, ahead of Tuesday when a host of companies are set to report earnings.
The political turmoil spooked investors Monday, Trump has fired acting attorney general Sally Yates, but they are likely to change their focus to earnings Tuesday - barring any unexpected late-night tweets. Tech giant Apple (AAPL)  , a holding in Jim Cramer's Action Alerts PLUS charitable trust, and oil major Exxon (XOM) are among the heavyweights reporting on the final day of January.
Still, the weekend upheaval left markets lower Monday, which some analysts said was a much-needed correction following the run-up over the past two months. The S&P slid 0.54%, the Dow 0.56% and Nasdaq 0.83% Monday.
European shares also slipped on Trump's executive order with a 1.14% decrease in France's Cac followed by a 1.12% decline in Germany's Dax and a 0.92% drop in the FTSE in London.
Asia also followed suit, Japan's Nikkei was off 1.01% in early trade, the Hang Seng in Hong Kong 0.06%, the Kospi in South Korea 0.23% and Australia's ASX 0.6% at 8:49 p.m. EST. The Bank of Japan is also meetingTuesday but no action is expected there.
In oil, a future for a barrel of industry standard Brent crude fell 7 cents to $55.16 at 8:53 p.m. EST, while a future for a barrel of West Texas crude fell 13 cents to $52.50 at 9:06 p.m. EST. Both futures would be delivered in March.
In after-hours trade, Rambus (RMBS) shares lost 5.44% to $13.22 after the computer chip maker slipped to a loss in the fourth-quarter after turning in a profit in the same quarter a year earlier.
Sunnyvale, Calif.-based Rambus said it slipped to a fourth-quarter loss of 3 cents per share after posting profit of 11 cents per share in the final quarter of 2015. In adjusted earnings, the company said it posted eps of 16 cents per share, down from 18 cents a year earlier.
Revenue in the final three months of 2016 gained 27% over the same period a year earlier to $97.6 million.