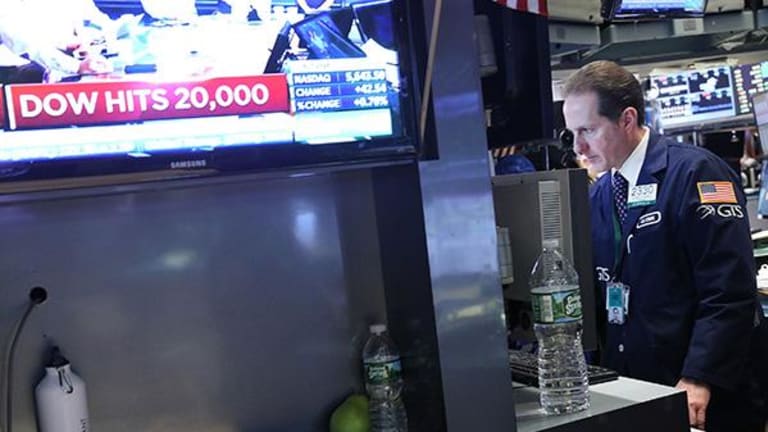 Futures, Asia Higher After Record Wednesday
Thursday looks set for another record day as earnings and faith in the new government's policies remains strong.
Futures for U.S. markets indicate a higher open Thursday after a record Wednesday as investors cheer the new administration's policies and are buoyed by the latest earnings season.
The Dow Jones Industrial Average added 0.09%, the S&P 500 0.04% and Nasdaq 0.14% at 9:07 p.m. EST.
Trading this week has shown that investors believe President Trump will be good for business. Earnings that are better-than-expected are also helping make optimism frothy and will likely push markets higher Thursday following Wednesday, where all three indices reached new records.
The Dow ended Wednesday 0.78% higher at 20,068.51 while the S&P added 0.8% to 2,298.37 and Nasdaq gained 0.99% to 5,656.34. Europe was also euphoric about the latest earnings season with Germany's Dax gaining 1.8%, the FTSE in London 0.2% and the Cac in Paris 0.99%.
Asia also caught the fever early Thursday with Japan's Nikkei gaining 1.45%, the Hang Seng in Hong Kong 1.23% and the ASX in Australia 0.38%.
After slipping Wednesday, oil gained as Asia awoke with a future for a barrel of industry standard crude delivered in March gaining 0.58% to $55.40 at 9:14 p.m. EST. A future for a barrel of its West Texas peer also delivered in March gained 0.61% to $53.07 at the same time.
The dollar didn't do so well. The dollar index, which uses other currencies as a yardstick for the greenback, slipped 3 basis points to 99.88 after spending most of the year above 100.
In after-hours trade, eBay (EBAY) shares added 8.8%, to $32.84, after the company did slightly better than Wall Street expected in the final quarter of 2016.
After the market close, eBay posted adjusted earnings of 54 cents per share, beating analyst projections by a penny. Revenue came in at $2.39 billion, which matched analyst estimates.
Gross merchandise volume, or the value of all products sold on its platform, increased 5% year-over-year to $22.3 billion, but fell slightly below Wall Street's expected $22.4 billion. The San Jose, Calif.-based company said it added 2 million active customers across its entire platform, totaling 167 million active buyers, which was higher than Wall Street's estimated 162 million.
In decliners, shares of Mattel (MAT) dropped 10.65%, to $28.20, after the toy company had a disappointing Christmas season. The company said it earned 50 cents per share in the fourth quarter, down from 63 cents a year earlier and well off the 71 cents expected by FactSet analysts.
El Segundo, Calif.-based Mattel said sales were $1.83 billion, below the $2 billion in the same quarter a year earlier and also missing the $1.96 billion Wall Street wanted.
Gross sales of Fisher-Price products were down 3% worldwide, and Barbie gross sales fell 2% globally.
Action Alerts PLUS, which Cramer co-manages as a charitable trust, has no positions in the stocks mentioned.