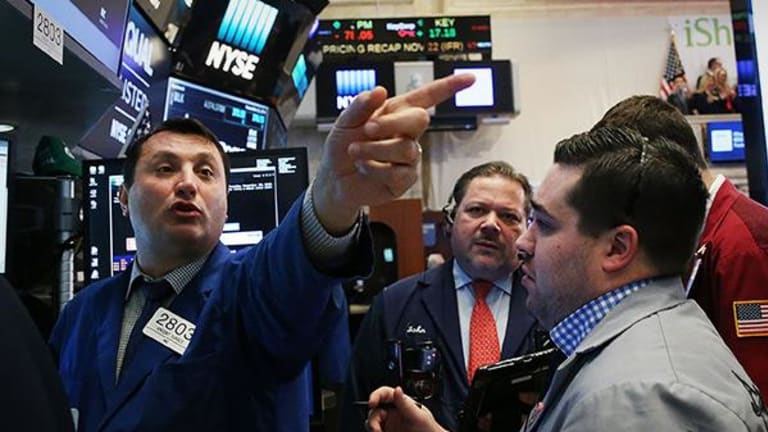 Futures, Asia Down on Calm Before Earnings Storm
Investors are looking for concrete signs of Trump's economic policy while waiting for companies to divulge how the fourth quarter went.
Futures for U.S. markets were lower late Monday as investors await the latest earnings season and wonder if the Trump rally hasn't pushed markets too high.
The S&P 500 lost 0.9%, the Dow Jones Industrial Average,0.7%, and Nasdaq,0.6%, at 9:35 p.m. EST.
Although Nasdaq hit a new record Monday, other indices closed lower as investors began to ponder what will be President-elect Donald Trump's economic policies and what they will mean for equities. Computer and iPhone maker Apple (AAPL) also got a bump on the 10th anniversary of its game-changing smartphone.
The Nasdaq added 0.19% to 5,531.82 Monday, while the S&P slid 0.35% and the Dow lost 0.38%. Europe was also mixed Monday with continental bourses down: Germany's Dax pared 0.3% and the Cac in Paris, 0.45%, while the FTSE gained 0.38% as the pound recovered.
Asia also traded lower early Tuesday after a drop in oil. The Nikkei in Japan fell 0.03%, the Hang Seng in Hong Kong, 0.3%, the Kospi in South Korea, 0.15%, and the ASX in Australia, 0.84%, at 9:56 p.m. EST.
Oil recovered as Asia awoke after falling nearly 4% Monday. A future for a barrel of industry standard Brent crude delivered in March cost $55.04 at 9:43 p.m., an increase of 0.18%. Meanwhile, a future for West Texas crude delivered next month gained 0.19% to $52.06.
The dollar index, which uses a number of currencies as a yardstick for the greenback, slid 0.2% to 101.64 at 9:59 p.m. EST after hitting a high near 104 last week.
In after-hours trade, shares of Barracuda Networks (CUDA) jumped 8.12% to $25.70 when gaining 4.35% in the regular session after the cloud-computing company beat analyst expectations for its the fiscal third quarter. Campbell, Calif.-based Barracuda reported adjusted third-quarter earnings of 22 cents a share on revenue of $88.8 million. FactSet analysts wanted earnings of 14 cents a share on revenue of $86.6 million.