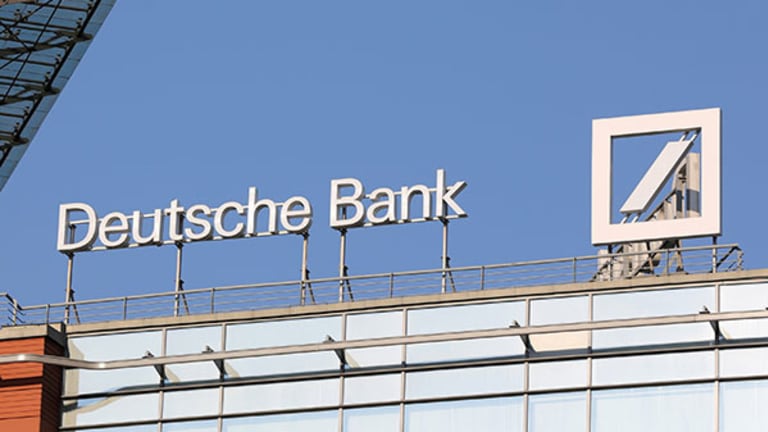 Futures and Asia Are Lower Because of Deutsche Bank
Fears Deutsche Bank may not be the only bank in trouble are weighing on investor minds and global stock markets.
Fears Deutsche Bank may not be the only bank in trouble are weighing on investor minds and global stock markets.
Futures for U.S. markets were strongly negative late Thursday, tracking sharply lower Asian markets, as a renewed drop in shares of Germany's Deutsche Bank (DB) - Get Report continued to rattle investor nerves.
The S&P 500 and Dow Jones Industrials were off 0.3% and the Nasdaq 0.36% at 9:00 p.m. EDT.
New York-listed shares of Frankfurt-based Deutsche Bank slipped 6.67% Thursday to an all-time low of $11.48 as investors question the health of the biggest listed bank in Europe's biggest economy. The bank's troubles are the first major test of banking regulations and rescue pacts crafted after the 2007 credit crisis -- Chancellor Angela Merkel has said Berlin won't rescue the lender.
The concerns pushed the S&P and Nasdaq 0.93% lower Thursday followed by a 1.07% dip in the Dow.
Asia also showed concern as the week's final trading day got underway with Japan's Nikkei falling 1.64%, South Korea's Kospi 0.99%, Australia's ASX 0.89% and the Hang Seng in Hong Kong 1.28% at 9:04 p.m. EDT.
Earlier in the day, only Germany was concerned about Deutsche with the Dax off 0.31%, while France's Cac gained 0.26% and the FTSE in London gained 1.02%.
After climbing Thursday, oil started the Asian trading day with a pull back. Industry standard Brent crude slipped 0.16%, to $49.16, for a barrel delivered in November, while West Texas crude slid 0.21%, to $47.73, for an equivalent future at 9:26 p.m. EDT.
Over in currencies, the pound slipped below the psychological $1.30 market, losing 0.07%, to $1.2958, while the yen slipped 0.041% against the dollar to ¥101.046 at 9:26 p.m. EDT.
In after-hours trade, Pier 1 Imports (PIR) - Get Report gained for a second day, adding 4.47% to $4.67 after adding 4.93% in regular trade. Investors are betting a looming battle with a financial investor may prove lucrative.
The unprofitable Fort Worth retailer Wednesday adopted retention bonuses for three executives as well as a poison pill over fears Alden Global Capital, which recently took 9.5% of the company, might be planning major changes. Alden criticized the measures and said it merely wanted to participate in the search for a CEO to replace outgoing Alex Smith.
Shares of hotelier Extended Stay America (STAY) slipped 3.65%, to $14, in extended trading after the company said it was planning a secondary offering of 13 million shares paired with shares from its real estate investment trust wing, ESH Hospitality. The shares would come from existing financial investor shareholders including Centerbridge Partners, Paulson & Co. and Blackstone Group.