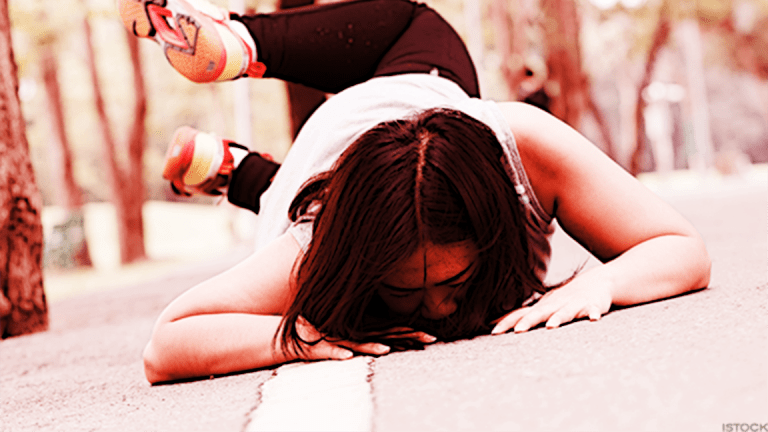 Nasdaq on Pace for Worst Day in Three Months After Another Sudden Tech Selloff
The Nasdaq is sharply lower as a selloff in the tech sector accelerates.
The Nasdaq is sharply lower as a selloff in the tech sector accelerates.
The Nasdaq was on pace to close with its worst losses in three months on Wednesday, Nov. 29, as another snap selloff in tech stocks weighed on the index. 
The Nasdaq fell 90 points, or 1.3%, in its worst day since Aug. 17. 
Financials stocks kept the Dow Jones Industrial Average afloat, pushing the index 78 points higher and on track for another record close. The S&P 500 was caught in the middle, falling by just 2 points. 
A day earlier, the Dow rose almost 256 points to 23,836.71 on Tuesday, surpassing the previous record close set on Tuesday, Nov. 21. The S&P 500 added nearly 26 points to 2,627.04 and the Nasdaq increased just over 33 points to 6912.36, both beating records set on Friday, Nov. 24.
Autodesk Inc. (ADSK) - Get Report was one of the worst performers on the S&P 500 and Nasdaq and dragged the rest of the tech sector lower. The software developer was sharply lower after announcing plans to restructure, including more than 1,000 layoffs. In a statement, the company said restructuring "seeks to streamline the organization and re-balance resources to better align with the company's priorities." The cuts are equivalent to around 13% of its workforce. CEO Andrew Anagnost said the move was not to reduce costs but to refocus the company during a "growth phase."
Other tech stocks in decline included Snap Inc. (SNAP) - Get Report , Facebook Inc. (FB) - Get Report , Netflix Inc. (NFLX) - Get Report , Apple Inc. (AAPL) - Get Report , Microsoft Corp. (MSFT) - Get Report , Adobe Systems Inc. (ADBE) - Get Report  and Micron Technology Inc. (MU) - Get Report were all lower. 
Apple, Microsoft and Facebook are holdings in Jim Cramer's Action Alerts PLUS Charitable Trust Portfolio. Want to be alerted before Cramer buys or sells those stocks? Learn more now.
The Technology Select Sector SPDR ETF (XLK) - Get Report decreased 2%, its worst day since June 9. The tech sector has been particularly susceptible to selloffs since the middle of the year following a steep run-up over the past 18 months. 
"We don't see this selloff in technology as anything truly transformative, but could continue in the short term," Jeremy Bryan, CFA and portfolio manager at Gradient Investments, told TheStreet. "On the opposite side, several stocks that have been weak over the prior few months, like telecom and retail, are reacting positively. Today's action would indicate some profit-taking on stocks that have run aggressively and reallocation towards these lower performing sectors."
In economic news, the U.S. economy grew at a faster pace in the third quarter than initially estimated, according to a second estimate of gross domestic product released Wednesday. Economic growth was raised to 3.3% from 3% and came in above an expected upward revision to 3.2% growth. While business equipment investment rose, consumer spending came in weaker than initially thought. The headline third-quarter number was the strongest in three years.
"For many, this is further confirmation that the U.S. economic current is flowing at a more than healthy clip," said Mike Loewengart, vice president of investment strategy at E*TRADE. "With holiday retail sales looking strong, jobs numbers robust, tax reform seemingly nigh, and the market pushing new boundaries, there's a whole lot to be happy about... you better believe that Fed officials still have a rate increase in December squarely their crosshairs."
The economy grew at a modest to moderate pace over the six weeks from early October to mid-November, according to the Federal Reserve's latest Beige Book. All districts reported an expansion in manufacturing conditions. The Fed's Beige Book also found a "slight improvement in the outlook." The release is an anecdotal reading of economic conditions in the 12 Fed districts published eight times per year. 
The chances of the Senate tax bill's passage looked a little more certain after the Senate Budget Committee voted on Tuesday, Nov. 28, to advance the bill to a Senate floor later in the week, a vote split along party lines -- two Republican holdouts, Sen. Bob Corker and Sen. Ron Johnson flipped their votes in time for the bill to proceed.
In a floor vote, the Senate GOP can only afford two nay votes from its own party. A number of Republican senators have voiced concerns over the bill, including that tax cuts would significantly raise the deficit -- the Congressional Budget Office has calculated that the Senate's tax plan increases the federal deficit by more than $1.4 trillion over the next decade. Even so, the chances those holdouts can be flipped with just small revisions looks increasingly likely. 
"If there is not adequate support for passage, we would expect the vote to be delayed," said Goldman Sachs analysts in a note. "However, it's much more likely in our view that the vote on Friday will be successful."
UnitedHealth Group Inc. (UNH) - Get Report led the Dow after a series of analysts' price target updates. Deutsche Bank kept a buy rating, but upped its price target to $224, Jefferies increased its target to $248, and Raymond James boosted its own to $250. Shares fell a few days earlier after the health insurer guided for a below-consensus 2018. 
Financials stocks were some of the best performers on the Dow and S&P 500. Dow components JPMorgan Chase & Co. (JPM) - Get Report  and Goldman Sachs Group Inc. (GS) - Get Report climbed, while Citigroup Inc. (C) - Get Report led the S&P 500. The Financial Select Sector SPDR ETF (XLF) - Get Report increased more than 2%. 
Federal Reserve Chair Janet Yellen was on Capitol Hill on Wednesday to discuss the state of the economy and the economic outlook. Yellen gave testimony to the Joint Economic Committee at 10 a.m. 
In prepared remarks before her address, Yellen pushed for legislative policies that could trigger economic growth in what has been "disappointingly slow" progress since the recession. Yellen said, "Congress might consider policies that encourage business investment and capital formation, improve the nation's infrastructure, raise the quality of our educational system, and support innovation and the adoption of new technologies." Yellen cited an ageing population and weak productivity growth as possible causes of a slow economic recovery. 
Yellen's testimony comes a day after Jerome Powell, President Donald Trump's pick to replace her, testified before Congress for his confirmation hearing. Powell will replace Yellen when her term expires in February.
Crude oil fluctuated after a sharper drop in crude stockpiles than expected. Inventories fell by 3.4 million barrels in the past week, according to the Energy Information Administration, sharper than an anticipated decline of 2.3 million barrels. Gasoline and distillates stockpiles both rose.
Oil prices were lower earlier ahead of a meeting of Organization of Petroleum Exporting Countries on Thursday, Nov. 30. OPEC and non-OPEC producers will meet to discuss extending cuts beyond their March 2018 expiration date. Traders hope that the oil cartel and other countries can agree upon an extension, though Russia is widely considered a wild card at this point.
West Texas Intermediate crude was down 1.7% to $56.96 a barrel on Wednesday. 
Pending home sales rose at a better-than-expected pace in October, far exceeding analysts' consensus. The number of sales in which a contract has been signed but a deal not yet closed rose by 3.5% in October, according to the National Association of Realtors. Analysts expected a 1% increase after a 0.4% dip in September. 
Just hours after breaking through $10,000, the value of Bitcoin has exceeded $11,000 for the first time. The value of the world's benchmark cryptocurrency has even topped some of the most well-known companies in U.S. history.
Bitcoins were currently at $10,677 each, up 7% on the day. The cryptocurrency breached $9,000 just two days ago. 
The moves also put bitcoin's "market cap," the theoretical value based on 16.7 million coins that have been verified by blockchain miners, at $180.7 billion, a figure that would place it 14th in the ranking of valuations on the Dow Jones Industrial Average, ahead of Walt Disney Co. (DIS) - Get Report ($156 billion), International Business Machines Corp. (IBM) - Get Report ($141 billion), McDonald's Corp. (MCD) - Get Report ($149 billion) and just below Verizon Communications (VZ) - Get Report ($199 billion).
Walmart Stores Inc. (WMT) - Get Report was upgraded to sector perform from underperform at RBC Capital. Its stock price target was increased to $96 from $92. The firm said it sees investments paying off in the long term, putting it on far stronger footing with Amazon.com Inc. (AMZN) - Get Report . 
Tiffany & Co. (TIF) - Get Report  topped quarterly estimates over its recent three-month period. Net income of 80 cents a share beat expectations by 4 cents. Revenue increased 3% to $976.2 million and surpassed consensus of $958.3 million. However, same-store sales fell 1%, a much steeper decline than an expected drop of 0.2%. By region, America sales gained 1%, Asia-Pacific sales increased 15%, and Japan sales dropped 8%.   
Nuance Communications (NUAN) - Get Report was sharply higher on Wednesday after topping profit and sales estimates. Adjusted earnings of 20 cents a share topped expectations by a nickel. Revenue dipped 7.4% to $474.7 million but beat by $19 million. 
Chipotle Mexican Grill Inc. (CMG) - Get Reportsurged after announcing that current CEO Steve Ells will assume the position of executive chairman, leaving the chief executive role open. Ells currently also acts as chairman. In a statement, Ells said the company needs to "execute better to ensure our future success." 
Updated from 1:24 p.m. ET, Nov. 29. 
More of What's Trending on TheStreet: