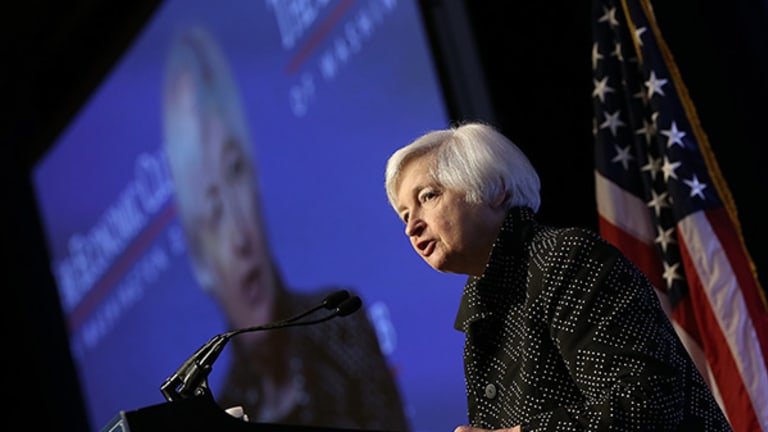 Fed Funds Futures Contracts Are on the Rise in New Interest Rate Environment
Interest rate hedge gets new life from Fed rate decision.
Fed fund futures rose ahead of Federal Reserve Chair Janet Yellen's announcement that interest rates would rise in December. They began to spike last week in the run-up the Federal Reserve's announcement Wednesday that rates be raised a quarter point.
Trading on the Chicago Mercantile Exchange, Fed funds futures are a bet on the central bank's interest rate policy. Wednesday's volume on December contracts was just over 9,700 on the CME Globex, with a high of $99.4675, but volume on January contracts jumped to over 76,039 with an intraday high of $99.36--just a cent off the $99.35 low.
Post-financial crisis regulations have encouraged investors to use futures to hedge against rate increases rather than use interest rate swaps or forward rate agreements, which are less liquid.
According to the CME, the three busiest days in Fed funds futures history happened in 2016: November 9 following the election of Donald Trump; September 21 following a meeting of the Federal Open Market Committee (FOMC), which sets Fed interest rates; and June 24, following the U.K. referendum which voted to take Great Britain out of the European Union.
The Fed futures contracts spike was also aided by a series of speeches and comments by Fed officials, particularly Fed chair Yellen who said last week that the U.S. central bank may raise rates in the near term and that increases would be gradual.
"Were the FOMC to delay increases in the federal funds rate for too long, it could end up having to tighten policy relatively abruptly to keep the economy from significantly overshooting...the Committee's longer-run policy goals," Yellen said in testimony before the House and Senate Joint Economic Committee in Washington on December 7. "Moreover, holding the federal funds rate at its current level for too long could also encourage excessive risk-taking and ultimately undermine financial stability," Yellen said.
In her post-rate increase remarks, Yellen said that more than 15 million jobs had been added to the U.S. economy and that inflation was moving toward the Fed's 2% target. Longer range expectation for an inflation rise, she said, were "little changed." GDP was "a shade stronger" and unemployment "a shade lower" than expected, making it sound like there was little choice but to lift rates, heralding an end to seven years of cheap money.
She also said that the Fed's rate policy would continue "until the normalization of the Fed funds rate is well underway."
The rate was unanimous among the Federal Open Market Committee's members. A total of three hikes are anticipated in 2017. Of today's hikes, Nigel Green, CEO of the DeVere Group, a U.K.-based financial advisor said, "It is significant, because it gives further weight to the argument that the era of very low interest rates may be ending. And not just in America, but globally, as the policies pursued by central banks since 2008 come under attack."