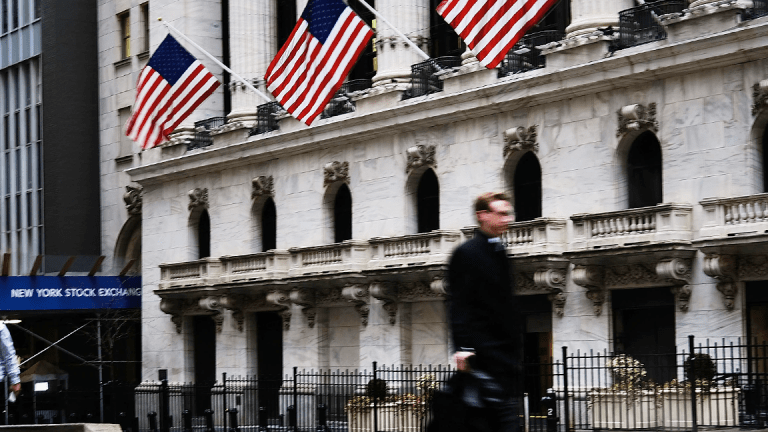 Facebook, Sears, Delta, Nike and AMC - 5 Things You Must Know
U.S. stock futures rise Thursday as worries about a full-blown trade war between the U.S. and China ease; 87 million Facebook users may have had their personal data accessed by Cambridge Analytica; Sears and Delta hit by cyber security breach at a tech firm.
Here are five things you must know for Thursday, April 5:  
1. -- Stocks Rise Amid Cooling of Trade War Fears
U.S. stock futures were higher on Thursday, April 5, as worries about a full-blown trade war between the U.S. and China eased with the focus now turning to negotiations.
Contracts tied to the Dow Jones Industrial Average rose 62 points, while those linked to the broader S&P 500 gained 11 points. Futures for the Nasdaq rose 37 points.
Stocks rose on Wednesday, April 4, after spending most of the day in negative territory after China said it would slap reciprocal 25% tariffs on 106 U.S. products including soybeans, cars, planes, whiskey, and chemicals.
The Dow Jones Industrial Average undefined  jumped 230 points, or 0.96%, to 24,264; at its session low the Dow fell 510 points. The S&P 500 undefined  rose 1.16% and the Nasdaq undefined closed up 1.45%.
The Wall Street Journal reported Thursday that the U.S. and China will now follow a timeline stretching over the next half year, during which the two sides will seek to negotiate.
"It'll be a couple months before tariffs on either side would go into effect," said White House press secretary Sarah Huckabee Sanders. "I would anticipate that if there are no changes to the behavior of China and they don't stop the unfair trade practices, then we would move forward."
The U.S. economic calendar on Thursday includes weekly Jobless Claims at 8:30 a.m. ET, and International Trade for February at 8:30 a.m. 
Earnings reports are expected Thursday from Monsanto Co. (MON) , Schnitzer Steel Industries Inc. (SCHN) - Get Free Report and WD-40 Co. (WDFC) - Get Free Report .
If you'd like to receive the free "5 Things You Must Know" newsletter, please register here.
2. -- 87 Million Facebook Users May Have Had Data Accessed by Cambridge Analytica
Facebook Inc. (FB) - Get Free Report CEO Mark Zuckerberg made it clear on a rare conference call with reporters Wednesday that he was taking personal responsibility for the data handling issues that have beset his company and battered its stock price in recent weeks. 
Zuckerberg said the company was about "a year into a three-year push" to solving the social network's problems with data security and fake news. 
The company estimated that as many as 87 million users may have had personal data accessed by Cambridge Analytica, not the 50 million that previously was reported. Zuckerberg said the number was calculated within the last few days.
Reporters asked Zuckerberg whether he felt he was the best person to lead the company and whether there has been talk of him stepping down as CEO or chairman. He said users should hold him accountable for learning from and fixing mistakes that the company was bound to make, adding that no one has been fired yet from the Cambridge Analytica data misuse. 
"At the end of the day, this is my responsibility," he said. "I'm not looking to throw anyone else under the bus."
Separately, Australian authorities said they were investigating whether Facebook breached the country's privacy law when personal information of more than 300,000 Australian users was obtained by Cambridge Analytica without their authorization, the Associated Press reported.
Facebook shares were rising 2.5% in premarket trading on Thursday.
Facebook is a holding in Jim Cramer's Action Alerts PLUS Charitable Trust Portfolio. Want to be alerted before Cramer buys or sells the stock? Learn more now.
Retirement is coming. It's never too early -- or too late -- to plan, save and invest for the retirement you want and deserve. Let TheStreet's new premium subscription newsletter, Retirement Daily, give you the insider's edge on how to maximize and protect your most important investment, your retirement savings. Learn more about Retirement Daily and get a free trial subscription.
3. -- Sears, Delta Hit by Data Breach at Tech Firm
Sears Holding Corp. (SHLD) and Delta Air Lines Inc. (DAL) - Get Free Report said some of their customer payment information may have been exposed in a cyber security breach at software service provider [ 24]7.ai, Reuters reported.
Sears said it was notified of the incident in mid-March and the incident led to unauthorized access to the credit card information of under 100,000 of its customers.
Technology firm [ 24]7.ai found that a cyber security incident affected online customer payment information of its clients. The incident happened on or after Sept. 26, 2017, and was found and resolved on Oct. 12.
Delta said personal details related to passport, government identification, security and SkyMiles information weren't impacted, Reuters reported.
4. -- HR Chief Admits Nike Fails to Promote Enough Women, Minorities
Nike Inc.'s (NKE) - Get Free Report human resources chief, Monique Matheson, told employees Wednesday the sports apparel and sneaker giant "has failed to gain traction" in hiring and promoting women and minorities, weeks after complaints of inappropriate workplace behavior led to a leadership shake-up.
In a memo to staff reviewed by The Wall Street Journal, Matheson wrote Nike wants "to create a culture of true inclusion. As part of our plan, we need to improve representation of women and people of color."
"While we've spoken about this many times, and tried different ways to achieve change, we have failed to gain traction - and our hiring and promotion decisions are not changing senior-level representation as quickly as we have wanted," she wrote, the Journal reported.
Matheson disclosed that 29% of the company's vice presidents were women, even though the company's global workforce was evenly split between men and women. In the U.S., 16% of vice presidents are non-white, she wrote. 
5. -- AMC to Open Movie Theater in Saudi Arabia
AMC Entertainment Holding Inc. (AMC) - Get Free Report will open Saudi Arabia's first movie theater in decades in Riyadh on April 18. 
Plans call for up to 100 theaters in about 25 Saudi cities by 2030 as the country looks to boost the growth of its entertainment sector.
(This article has been updated with fresh stock market prices).