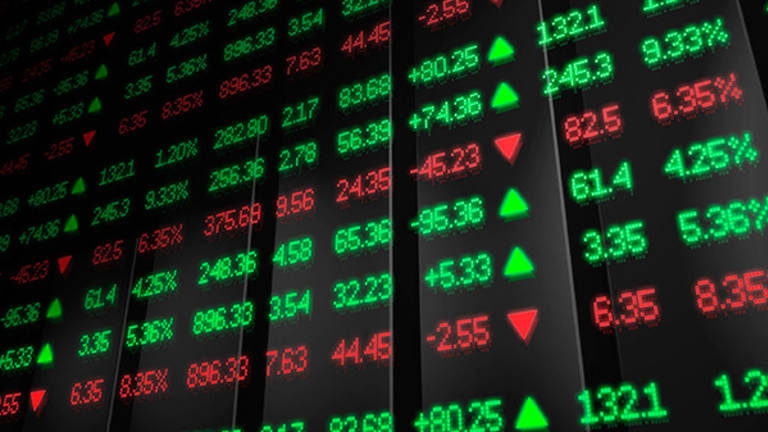 Publish date:
European Stocks Mixed After Earnings Reports as Pound Plunges
The U.K. currency falls to its lowest intra-day level since the Oct. 7 'flash crash' before testimony from Bank of England Governor Mark Carney.
The U.K. currency falls to its lowest intra-day level since the Oct. 7 'flash crash' before testimony from Bank of England Governor Mark Carney.
European stocks were mixed on Tuesday following the release of robust business sentiment data from Germany and a flurry of earnings announcements. The pound fell more than 1% against the U.S. dollar.
The FTSE 100 rose 0.45% to 7,017.64, while the DAX slid 0.04% to 10,757.31 and the CAC 40 dropped 0.26% to 4,540.84.
The pound slid to as low as 1.2082 against the greenback, the lowest intraday level since the so-called flash crash of Oct. 7 that saw the beleaguered currency fall more than 6% in less than two minutes of trading in Asia markets.
The pound recently traded down 0.7% at 1.2157 against the dollar, and was down 0.7% at 1.1169 against the euro just before Bank of England Governor Mark Carney began a testimony to the House of Lords.
In Germany, Ifo said its business climate index rose to 110.5 in October from 109.5, putting the index at its highest point since April 2014 and defying expectations for the barometer to stagnate or rise only marginally.
The Ifo index of business expectations rose to 106.1 from 104.5, compared with expectations for a flat reading. And businesses' assessment of the current situation also rose more than expected, to 115 from 114.7.
Anglo American (NGLOY) rose 4.9%, pulling the FTSE 100 higher after a production report. Rio Tinto (RIO) - Get Report advanced 2.4%, while BHP Billiton (BHP) - Get Report climbed 0.4%.
Earnings gainers included French telecom Orange (ORAN) - Get Report , which advanced 4.1%, making it the top gainer among the CAC 40 constituents. Staffing agency Randstad (RANJF) , rose more than 3% after beating third-quarter forecasts.
Meanwhile, Monte dei Paschi di Siena see-sawed to end downnearly 15% after unveiling a €5 billion ($5.44 billion) capital increase and an agreement to sell €27.6 billion of nonperforming loans for €9.1 billion as the centerpieces of a turnaround plan designed to secure the bank's future.
In Zurich, chip maker AMS (AMS) - Get Report fell nearly 13% as it predicted a "negative development" in revenue and earnings in the fourth quarter and said it had "production yield" issues. The company also said it would pay up to $919 million to buy Singaporean optical packaging maker Heptagon.
Novartis (NVS) - Get Report fell 3.5% in Zurich despite beating third-quarter earnings expectations as quarterly sales from a new heart drug disappointed.
In Milan, Fiat Chrysler Automobiles (FCA) - Get Report advanced nearly 1% after the owner of the Maserati luxury brand announced record third-quarter results and revised its full-year guidance upwards.
But the U.K. owner of coffee shops and restaurants, Whitbread,  (WTBCY) fell 3.8% in London after same-store sales growth came in marginally below expectations in the first half.
Deutsche Bank (DB) - Get Report,Credit Suisse (CS) - Get Report and Barclays (BCS) - Get Report fell after Sky News reported that the Department of Justice wants to strike an "omnibus" agreement with all three banks over over charges they missold mortgage-backed securities before the credit crisis. But the Department of Justice reportedly will delay the settlement until after the elections and potentially until January, when the new administration arrives. Meanwhile, Royal Bank of Scotland (RBS) - Get Report , which is also embroiled in a probe over similar allegations, saw shares advance 1.4%.
Fertilizers maker Syngenta (SYT) rose 1.4% after it said it was still confident its $43 billion takeover by ChemChina will close, even though it said it now expects this to happen in the first quarter rather than by year end.
Brent crude was recently down 0.7 % at $50.81, while West Texas intermediate was down 0.6% at $49.93 per barrel.