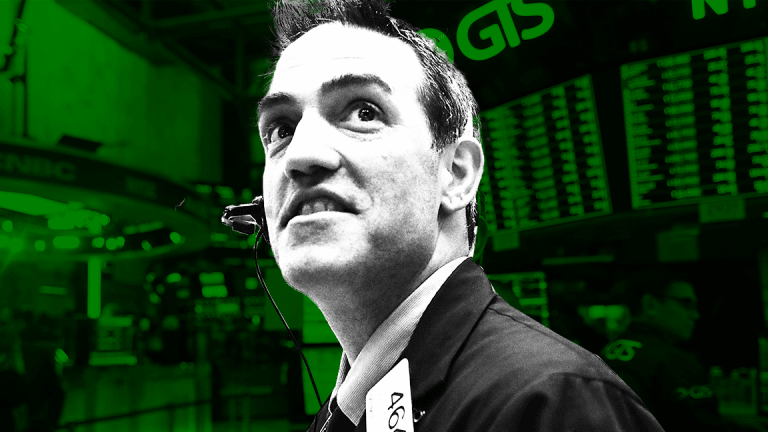 Dow Futures Are Plunging Again
Wall Street futures were down Tuesday as the dollar saw modest losses against most major currencies.
European markets and Wall Street futures were under pressure Tuesday, Feb. 13, despite a firmer session in Asia.
Wall Street futures were down Tuesday as the dollar saw modest losses against most major currencies. The implied open for Dow Jones Industrial Average was  127 points to the downside at 7:39 am Eastern time while S&P 500 mini futures had lost 0.44% and the Nasdaq also looked set to open down.
The Dow Jones Industrial Average on Monday, Feb. 12, rose 410 points, or 1.7%. The S&P 500 gained 1.39% on and the Nasdaq jumped 1.56%, following the session on Friday, Feb. 9, that saw wild market swings driven by worries related to faster inflation and a rise in interest rates.
Investors are awaiting Wednesday's U.S. inflation data, with fears that a stronger-than-expected could trigger another sell off. The consumer price index is expected to come in at 1.9% for January down from 2.1% last year.
The 10-year Treasury note yield edged back to 2.849% after rising on Monday to a four-year high of 2.902%. The dollar index, which measures the greenback against a basket of six major currencies, dipped 0.25% to 89.987.
AmerisourceBergen Corp. (ABC) spiked in premarket trading, gaining 13.85%, on reports that the drug distributor had been approached about a takeover by Walgreens Boots Alliance Inc. (WBA) . Walgreens shares were down 1.8% in the premarket.
The Wall Street Journal reported that representatives of Walgreens CEO Stefano Pessina reached out several weeks ago to representatives of AmerisourceBergen CEO Steven Collis. They discussed the possibility of Walgreens buying the portion of AmerisourceBergen it doesn't already own, though there isn't an offer on the table, according to people familiar with the matter.
GNC Holdings Inc. (GNC) shares were up 35.71% in premarket trading after the retailer said it had reached an agreement with China's Harbin Pharmaceutical Group Holding Co. Ltd, known as Hayao, to invest $300 million in GNC, becoming GNC's biggest shareholder. The deal will also see GNC and Hayao form a joint venture for the manufacturing, marketing, sale and distribution of GNC-branded products in China.
GNC also reported same-store sales increased by 5.7% in the domestic company-owned stores in the fourth quarter, while franchise store like-for-like sales were down 2%.
Under Armour Inc. (UAA) surged 10.8% in premarket trading Tuesday, after it reported sales that topped estimates bolstered by international sales. Total revenue in the fourth quarter rose by 5% to $1.37 billion, above the $1.31 billion expected by analysts. Sales in international markets grew 47% and represented 23% of total sales.
PepsiCo Inc. (PEP) shares were marginally up in premarket, gaining just 0.06%, after reporting a better than expected fourth quarter on strong snack sales but swung to a loss for the three months to the end of December due to an estimated $2.5 billion tax hit as a result of U.S. tax reform.
The soda maker's stock has been under pressure since Keurig's $21 billion acquisition of Dr Pepper Snapple, losing 6.66% since the beginning of the year.
European markets remained on edge and were marginally down Tuesday, after gaining on Monday, with France's Cac 40 was down 0.43% to 5,118.21 and the Dax was down 0.43% to 12,229.
U.K. inflation unexpectedly held steady in January, coming in above estimates. The FTSE 100 was up 0.14% to 7,186.91.
The U.K.'s consumer price index for January came in at 3%, compared with 2.9% forecast by economist. The Bank of England last week said that interest rates would have to rise sooner and by somewhat more than expected to get inflation back in to its 2% target within two years, rather than the three years previously indicated.
The pound was 0.50% up against the greenback at $1.39036.
Asian markets took the lead from a strong Monday session on Wall Street. Hong Kong's Hang Seng was up 1.21% and China's Shanghai Composite index was up 1.17% ahead of this week's Lunar New Year. Hong Kong markets will be closed for the Lunar New Year holiday from the midday close of trade on Thursday to the following Tuesday. Markets in Shenzhen and Shanghai will be closed for a week, from Thursday, Feb. 15 to Thursday, Feb. 22.
Gold rose 0.2% to $1,325.54 an ounce.