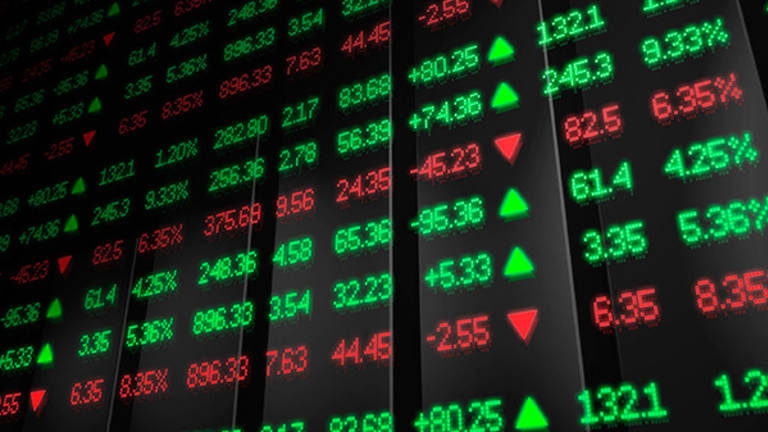 European Markets Close Down; Banks Pull Down Indices
Department of Justice fines weigh on Deutsche Bank and Volkswagen.
Department of Justice fines weigh on Deutsche Bank and Volkswagen.
European markets closed down on Tuesday, paring early gains from the "Clinton Bump."
Markets opened strong this morning after Democratic candidate Hillary Clinton was the perceived winner of last night's first presidential debate. However, they quickly turned into the red as banks fell into a further rut.
In London, the FTSE 100 closed 0.15% down at 6,807.67.
In Frankfurt, the Dax fell 0.31% to 10,361.48 and the Cac 40 closed 0.21% down at 4,398.68.
Banking woes weighed on European indices. The Euro Stoxx bank index, the SX7E, ended the day 0.82% down at 90.63.
Standard Chartered (SCBFF) lost 3.14% in London after the Wall Street Journal reported the Department of Justice was investigating a company controlled by the bank paid bribes to win contracts.
Royal Bank of Scotland (RBS) - Get Report lost 2.07% after CEO Ross McEwan said at a London conference that the bank was having to think of "what ifs" in the event that it cannot sell Williams & Glyn by the end of this year. The state-backed bank must offload the branches by the end of this year to satisfy European Commission rules for receiving a bailout during the financial crisis.
Credit Suisse (CS) - Get Report lost 3.28% today after its CEO said that it was considering further cost cutting.
Commerzbank (CRZBY) closed 1.42% down after it was reported that it would cut its dividend and cut workforce by 9,000.
Monte dei Paschi (BMDPY) bucked the trend today, closing 1.78% up at €0.19. The bank announced on Monday after markets closed that it is now considering a debt-for-equity swap as part of its third rescue package. It also said that, with new CEO Marc Morelli now on board, the bank expects to announce a firm plan and timetable for its rescue on Oct. 24.
A debt-for-equity swap means Monte dei Paschi would likely alter plans to sell up to €5 billion ($5.6 billion) of new stock, which is nine times more than its current market value.
Volkswagen (VLKAY) shares closed 2.58% down after Bloomberg reported that the Department of Justice was looking at how big a fine it will impose on the car maker over its emissions-cheating scandal.
Bloomberg reports that the government and Volkswagen are trying to reach a resettlement by January before a new administration comes into office.
The Department of Justice earlier this month started negotiations with Deutsche Bank (DB) - Get Report at $14 billion over charges related to the selling of mortgage-backed securities in the run up to the financial crisis. The possible hefty fine has sent the bank's stock into a tail spin.
Shares were down more than 3% today, but closed where they started the day at €10.55, their lowest ever level. DB lost more than 7% yesterday after reports emerged that the bank was refused German state aid. Both DB and the government have vehemently denied the reports.