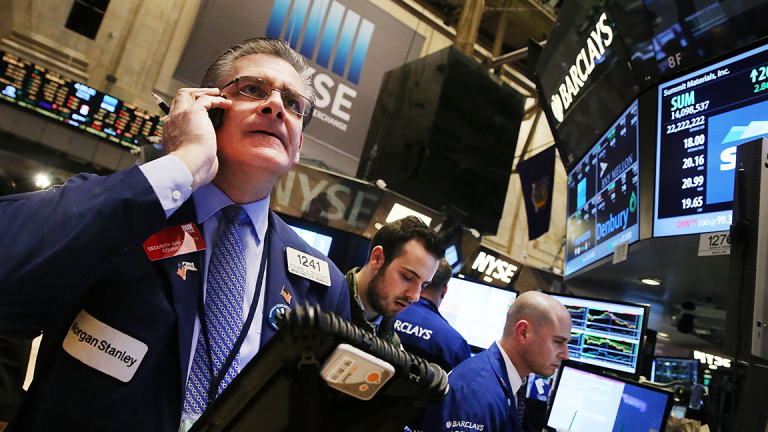 Dow Finishes With Small Gains; S&P 500 and Nasdaq Decline
The S&P 500 was on the verge of setting a new record, but fell short at the end.
The Dow Jones Industrial Average and S&P 500 fell short of closing records in their return from the Thanksgiving weekend after a slump in crude dragged on the energy sector. 
The Dow rose 22 points and ended just 10 points from an all-time closing high set on Tuesday, Nov. 21. The S&P 500 was down 1 point -- any gain would have put the index at a new closing record. The Nasdaq dipped 10 points.
Oil prices fell Monday, backing off of two-year highs, ahead of an OPEC meeting on Thursday, Nov. 30. OPEC and producers including Russia will meet to discuss extending cuts beyond their March 2018 expiration date. OPEC and non-OPEC countries reduced production by 1.8 million barrels per day at the beginning of the year. Traders hope that the oil cartel and other countries can agree upon an extension, though Russia is widely considered a wild card at this point.
West Texas Intermediate crude was down 1.4% to $58.11 a barrel on Monday.
Energy continued to lag the broader market as oil prices declined. The Energy Select Sector SPDR ETF (XLE) dipped 1%. Exxon Mobil Corp. (XOM) , Chevron Corp. (CSX) , and Valero Energy Corp. (VLO) declined.
Chipmaker stocks were sharply lower, dragging on the Nasdaq on Monday, after Morgan Stanley reduced its rating on the sector. In a note, analyst Shawn Kim said "now is the time to reduce exposure to NAND [flash memory] and Asian semiconductor names as the industry has benefitted from sizeable demand tailwinds and unprecedented pricing power, which we see reversing soon." Continuing, Kim said the sector needs to recognize price pressures and slowing growth momentum.
Western Digital Corp. (WDC) , Seagate Technologies PLC (STX) , Micron Technology Inc. (MU) and Intel Corp. (INTC) were lower, while the S&P Semiconductor SPDR ETF (XSD) fell more than 1%.
Signs of a successful Cyber Monday sent Amazon.com Inc. (AMZN) shares up nearly 1%. Amazon is expected to capture 50% of all online sales growth Monday, according to Bain & Co. E-commerce company eBay Inc. (EBAY) also was higher.
After a Black Friday that skewed heavily toward online shopping, Cyber Monday could break new records this year. Sales are forecast to total about $6.6 billion, which would make Monday the largest U.S. online shopping day in history, according to Adobe Analytics. Last week, Black Friday and Thanksgiving Day online sales jumped to a record $7.9 billion, or a 17.9% increase over the same period a year earlier. For the first time, smartphone and tablet traffic for online shopping this year was expected to top desktop traffic.
Brick-and-mortar retailers were left out of the retail rally. Macy's Inc. (M) stock fell following reports on Black Friday that the retailer's credit card machines were down. Target Corp (TGT)  , Walmart Stores Inc. (WMT) , Fred's Inc. undefined , and Dollar General Corp. (DG) were also lower. The SPDR S&P Retail ETF (XRT)   rose less than 1%.
New home sales for October unexpectedly rose Monday, up 6.2% to 685,000 -- the highest October level in 10 years, according to the Commerce Department. October was the third consecutive month new home sales increased.
The SPDR S&P Homebuilders ETF (XHB)  dropped Monday and individual names didn't fare well on the news. Lennar Corp. (LEN) , Hovnanian Enterprises (HOV) , KB Home (KBH)  and D.R. Horton Inc. (DHI)  were all lower.
In deal news, Meredith Corp. (MDP) , the owner of Better Homes & Gardens, reached a deal to acquire Time Inc. (TIME) for $18.50 a share in an all-cash transaction valued at $2.8 billion. The deal, which is expected to close in the first quarter, represents a 46% premium over the closing price of Time Inc. on Nov 15, the date when media reports surfaced of Meredith's interest.
Meredith estimated that, had the merger happened in 2016, the combined company would have had sales of $4.8 billion and adjusted earnings before interest, taxes, depreciation and amortization of $700 million. Meredith said it believes it could wring out $400 million to $500 million in synergies within the first two years of operations likely through staff consolidation.
In addition to securing $3.55 billion in new financing from a consortium of RBC Capital Markets, Credit Suisse, Barclays and Citigroup, Meredith scored a $650 million preferred equity commitment from Koch Equity Development, an investment fund backed by conservative-leaning billionaires Charles and David Koch.
Meredith said KED won't have a seat on its board and won't have influence on its editorial or managerial operations. For the Koch Brothers, buying into a combined Meredith-Time would mark their first major move into the media business. Meredith stock rose 10% and Time Inc. stock jumped 9% Monday.
Investors will look for more direction on tax reform when the Senate votes on its version of the bill later this week. Republicans in Congress are pushing to get a bill to President Donald Trump's desk by the end of the year. After the House GOP passed its tax overhaul bill ahead of Thanksgiving, Senate GOP leaders will aim to follow suit this week despite dealing with a considerably smaller margin for error -- while the House GOP could manage 20 defections and still pass a bill, the Senate GOP can only afford two.
Lowe's Co. (LOW) stock rose Monday after Raymond James upgraded the company's shares to outperform from market perform following strong third-quarter earnings. Raymond James said Lowe's is now more attractive than the competition in both its home improvement retail sector and the broader market.
Ciena Corp. (CIEN) spiked 2% on Monday after Bank of America upgraded its rating on the stock to buy from neutral. Its $28 price target represents a nearly 30% increase from Monday's levels. Analysts pointed to valuation and also said the company is set to overcome temporary spending headwinds. 
A December interest rate hike looks more likely after Dallas Federal Reserve President Rob Kaplan said Monday he backed another increase sooner rather than later. Kaplan, more dovish than other members, said in an essay that it would be "appropriate, in the near future, to take the next step in the process of removing monetary accommodation."
The Fed is set to meet on Dec. 12-13. The market is confident the Federal Open Market Committee will agree to a 25-basis-point rate hike at that meeting. Chances of an increase sit at 93%, according to CME Group fed funds futures.  
More of What's Trending on TheStreet: