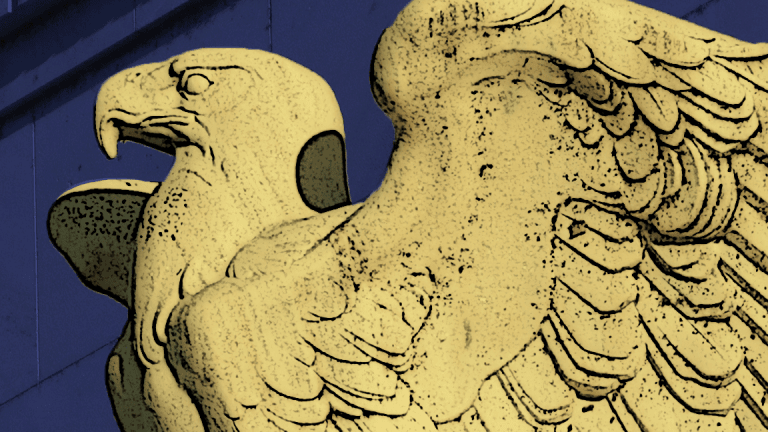 Dow, S&P 500 Set Records as Powell Says He Sees Rates Rising 'Somewhat Further'
Stocks rise on Tuesday, pushing the Dow Jones Industrial Average and S&P 500 to intraday record highs.
Stocks rose on Tuesday, Nov. 28, pushing the Dow Jones Industrial Average and S&P 500 to trade at intraday record highs. 
The Dow increased 75 points on Tuesday, the S&P 500 gained 7 points, and the Nasdaq rose 8 points. A day earlier, the Dow closed just 10 points from its all-time closing high set on Tuesday, Nov. 21, while the S&P 500 missed out on recording back-to-back records after falling into the red.  
Jerome Powell, Donald Trump's pick to serve as chairman of the Federal Reserve, has begun giving testimony before the U.S. Senate Committee on Banking, Housing, and Urban Affairs in his confirmation hearing Tuesday. Trump picked Powell to replace Fed Chair Janet Yellen when her term ends in February.
In a statement released Monday, Nov. 27, Powell said, "We expect interest rates to rise somewhat further and the size of our balance sheet to gradually shrink."
Powell was careful to walk the line between dove and hawk, though: "While we endeavor to make the path of policy as predictable as possible, the future cannot be known with certainty. We must retain the flexibility to adjust our policies in response to economic developments."
In comments to Congress, Powell said he expects to shrink the balance sheet, though expects the sum to remain greater than before the financial crisis. Powell expects to reduce the total over the next three to four years to roughly $2.5 trillion to $3 trillion, down from its current $4.5 trillion. 
Markets barely reacted to news of Powell's nomination in early November. Most analysts and economists expect Powell to continue on the path of steady tightening that Yellen has set up in the past couple years. 
The Fed is set to meet on Dec. 12-13. The market is confident the Federal Open Market Committee will agree to a 25-basis-point rate hike at that meeting. Chances of an increase sit at 93%, according to CME Group fed funds futures.
Markets were also looking ahead to an expected Senate vote on the GOP's tax bill on Thursday. The fate of the Republicans' bill still looks tenuous with a number of holdouts, including Sen. Ron Johnson, Sen. Steve Daines, and Sen. Bob Corker. Concerns include that it does not do enough for pass-through entities and that it adds too much to the deficit. The Congressional Budget Office has calculated that the Senate's tax plan increases the federal deficit by more than $1.4 trillion through to 2027.
The Senate GOP can only afford two nay votes from its own party. The Senate Budget Committee is expected to vote on the bill later in the day before it reaches the Senate floor later in the week.
The trade deficit widened at a faster pace than anticipated in October. The deficit came in at $68.3 billion last month, according to the Census Bureau, after a reading of $64.1 billion in September. Analysts anticipated a deficit of $64.8 billion.
Home prices rose at their fastest pace since June 2014, according to the S&P/Case-Shiller national index. The measure increased by 0.7% on a seasonally adjusted pace over the three months to September. On a 12-month basis, prices increased by 6.2%. 
Consumer confidence in November again strengthened, a surprise to analysts looking for a slight dip this month. The Conference Board's measure rose to 129.5, up from 125.9 in October. Analysts expected the measure to fall to 124. Confidence has risen for five straight months and sits at its best level since November 2000. 
Oil prices continued their retreat on Tuesday ahead of a meeting of Organization of Petroleum Exporting Countries on Thursday, Nov. 30. OPEC and non-OPEC producers will meet to discuss extending cuts beyond their March 2018 expiration date. Traders hope that the oil cartel and other countries can agree upon an extension, though Russia is widely considered a wild card at this point.
"We believe that the outcome of this meeting is much more uncertain than usual," Goldman Sachs analysts wrote in a note. However, the firm is optimistic a deal can be reached: "We view risks to oil prices as skewed to the downside this week as we believe that current prices, time spreads and positioning already reflect a high probability of a nine-month extension."
West Texas Intermediate crude was down 0.8% to $57.65 a barrel on Tuesday after falling by more than 1% on Monday.
Buffalo Wild Wings Inc. (BWLD) rose by more than 6% after Roark Capital-backed Arby's agreed to buy the wings chain in a deal worth $2.9 billion, including debt. Roark offered $157 a share. The deal is expected to close in the first quarter of next year. 
In other deal news, Emerson Electric Corp. (EMR) has withdrawn an unsolicited bid to purchase Rockwell Automation Corp. (ROK) after the latter showed "continued unwillingness" to engage in deal talks. Emerson had offered $225 a share for Rockwell, an offer it rejected as presenting "significant long-term risk for Rockwell Automation's shareowners." Emerson now plans to invest in share buybacks.  
Nike Inc. (NKE) fell roughly 1% on Tuesday after HSBC downgraded the stock to hold from buy. Analysts held their price target at $62. The firm based its decision on valuation concerns. 
Updated from 9:42 a.m. ET, Nov. 28.
More of What's Trending on TheStreet: