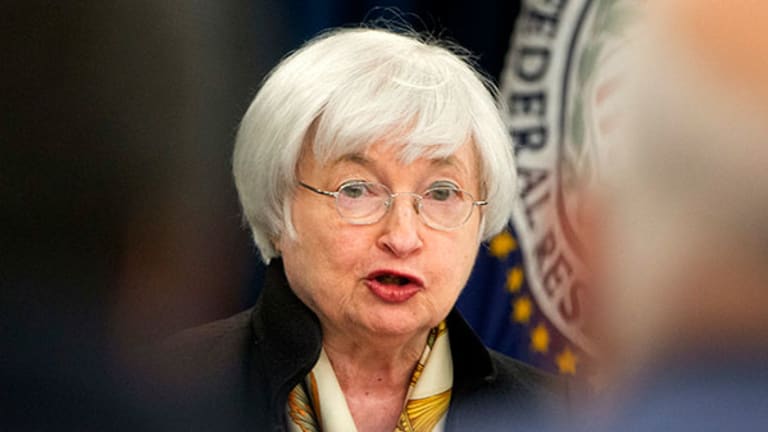 Dow Snaps Seven-Day Win Streak After Fed Ups Expected 2017 Rate Hikes
Stocks retreat from records on Wednesday after the Federal Reserve increases its forecasts for next year's rate hikes.
Stocks retreated from records on Wednesday after the Federal Reserve upped its forecasts for the rate of hikes next year.
The S&P 500 was down 0.81%, the Dow Jones Industrial Average slid 0.59%, and the Nasdaq tumbled 0.50%. The Dow snapped a seven-day streak of record closes, while the S&P 500 and Nasdaq retreated from their own records set a day earlier. 
Technical analyst Helene Meisler of Real Money, our premium site for active traders, believes stocks are close to hitting both a short- and intermediate-term overbought condition. "In fact, the more we rally, the more the overbought reading (becomes clear)," Meisler wrote in her latest analysis. (Click here to read Meisler's full take).
The Fed raised its forecasts to show three likely rate hikes in 2017, up from two previously predicted. The Fed kept its forecast for three hikes in both 2018 and 2019.
The hike "is significant because it gives further weight to the considered argument that the era of very low inflation and interest rates may be ending," said Nigel Green, CEO of deVere Group. "Despite the Fed appearing to want to proceed cautiously, and not threaten a constant rise in rates during 2017, many investors believe there are more hikes to come due to the strength of the U.S. economy and the likely policies of a Trump presidency."
The central bank also opted to hike interest rates by 25 basis points, putting the fed funds rate at 0.5% to 0.75%. The decision was unanimous. The Fed said the near-term risks to its economic outlook appear "roughly balanced."
"My colleagues and I are recognizing the considerable progress the economy has made toward our dual objectives," Fed Chair Janet Yellen said in a press conference following the meeting.
Economists had forecast a rate hike in December following more hawkish commentary from Fed members in recent months and economic data that supported a shift to policy normalization. The likelihood of a rate hike when the Fed sat at 95% before the announcement, according to CME Group fed funds futures.
The central bank raised its benchmark interest rate by a quarter-percent to a range of 0.25% to 0.5% last December, the first time it has made a move higher since June 2006. The vote was unanimous.
U.S. retail sales in November rose at a slower rate than expected as a drop in auto sales dragged on the headline number. Sales increased 0.1% in November, the slowest increase in three months and a third of the pace anticipated. Auto sales declined by 0.5%, the largest decline in eight months. Excluding autos and gas, sales increased 0.2%.
"Given anecdotal evidence and the rise in consumer confidence, etc, we suspect the November figures could get revised higher or will be followed by a much improved performance," Michelle Girard, chief U.S. economist at RBS Securities, wrote in a note. "In any case, as they stand today, these data imply a downward revision to four-quarter growth forecasts (in contrast to the direction we think the economy is headed)."
Fourth-quarter U.S GDP estimates fell to 1.9% from 2% following the weaker retail report, according to a separate note from Barclays analysts.
Industrial production in November declined for the third time in four months. Activity in the U.S. declined by 0.4%, double the drop anticipated, after growth of 0.1% in October. The decline was the largest since March.
Producer prices in the U.S. rose at a faster pace than expected in November, moving closer to the Fed's 2% target. Producer prices rose 0.4% last month, up from a flat reading in October, and higher than 0.1% growth expected by economists surveyed by FactSet. Core prices increased 0.2%, in-line with consensus. Core prices over the past 12 months increased 1.8%.
Business inventories in the U.S. declined 0.2% in October, the Census Bureau said Wednesday. Analysts had anticipated the measure to remain flat in October after holding unchanged in September.
Wall Street scored another trifecta of record closes on Tuesday as a rally in the energy and tech sectors drove gains across the benchmark indexes. The Dow ended with its 16th record close since Election Day and settled within range of the psychologically important and never-been-seen 20,000 level. The blue-chip index has moved higher since President-elect Donald Trump began to pick candidates for cabinet positions that many presumed would be friendly to Wall Street, including ExxonMobil (XOM) - Get Free Report CEO Rex Tillerson for secretary of state.
Crude oil prices remained lower even after weekly inventories showed a decline. The Energy Information Administration reported a decline of 2.6 million barrels in the past week, a welcome drop given current oversupply.
Prices remained lower, though, pulling back from gains achieved after major oil-producing nations agreed to limit output to correct a supply glut. The Organization of Petroleum Exporting Countries, which agreed to reduce output at a late November meeting, reiterated that it would need non-OPEC cooperation to push crude prices higher.
"OPEC production adjustment alone wouldn't be enough to clear the total overhang" of 300 million barrels in inventories, the bloc said in a monthly report. "This clearly emphasizes the importance of non-OPEC producers' contribution to the production adjustment in support of market rebalancing."
Non-OPEC members, including Russia, agreed to cut production by 558,000 barrels a day at a meeting over the weekend. OPEC restrictions go into effect in January.
West Texas Intermediate crude settled down 3.7% at $51.04 a barrel on Wednesday.
The energy sector was the worst performer on markets Wednesday. Major oilers including Exxon Mobil, Chevron (CVX) - Get Free Report , Chesapeake (CHK) - Get Free Report , Shell (RDS.A) and BP (BP) - Get Free Report moved lower, while the Energy Select Sector SPDR ETF (XLE) - Get Free Report slid 2%. 
Express Scripts (ESRX)  moved lower despite guiding for profit to come in as expected. The pharmacy benefit manager said it anticipates adjusted 2016 profit between $6.36 and $6.42 a share, in line with consensus estimates of $6.39 a share. Express targets 2017 adjusted profit between of $6.82 and $7.02 a share. Analysts forecast 2017 earnings of $6.93 a share.
Neustar (NSR) rocketed 20% higher after agreeing to be taken private by Golden Gate Capital. The ad tech company will receive $33.50 a share, a 21% premium to its Tuesday close, putting the total value of the deal at roughly $1.8 billion, or $2.9 billion including debt.
IBM (IBM) - Get Free Report inched higher after CEO Ginni Rometty outlined plans to hire 25,000 new workers over the next four years, 6,000 of which are expected next year. Rometty also said the company would invest $1 billion in training and development of U.S. employees over the same period.
Goldman Sachs (GS) - Get Free Report named Chief Financial Officer Harvey Schwartz and investment banking executive David Solomon as co-chief operating officers after Gary Cohn, a longtime ally of CEO Lloyd Blankfein, took an economic post with President-elect Donald Trump's administration. The move is the firm's first major management shake-up since before the financial crisis.