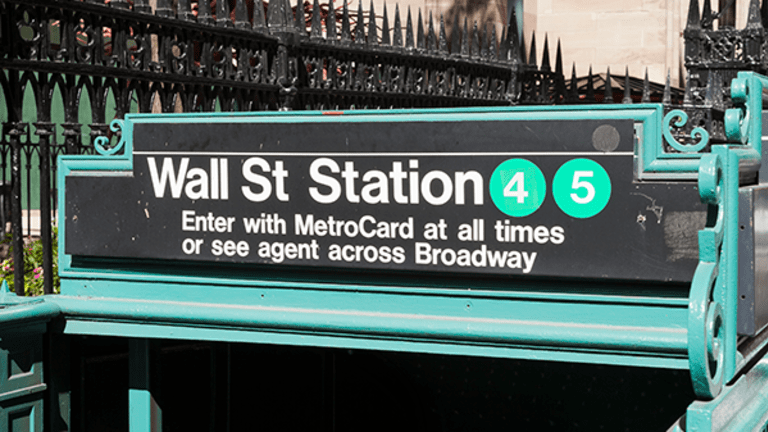 Dow, S&P 500 Brush Aside Earlier Jitters to Close at Fresh Records
Wall Street smashed new records with just slight gains on Monday, recovering from what had been nervous trading for most of the session.
Wall Street smashed new records with just slight gains on Monday, recovering from what had been nervous trading for most of the session. Investors appeared cautious in wait for more detail on changes to the federal budget and the tax code. 
The S&P 500 climbed 0.10% to close above Friday's record of 2,367. The Dow Jones Industrial Average ended with records for its twelfth session in a row, gaining 0.08% to rise above Friday's record of 20,821. The Nasdaq added 0.28% to finish at 5,861, just below its record close of 5,865 set on Feb. 21.  
Markets hope Donald Trump will provide further details on his tax plans and other policy positions in a speech to a joint session of Congress on Tuesday. White House Press Secretary Sean Spicer said, "The address will particularly focus on public safety including defense, increased border security, taking care of veterans, and then economic opportunity including education, job training, health care reform, jobs and tax and regulatory reform."
"We expect they will be only modestly disappointed by a general restatement of Trump's priorities," said TD Securities analysts. "Comments suggesting close cooperation with Congressional Republicans would be positive for markets; emphasis on populist measures or a strident, antagonistic tone would be negative."
Trump offered some detail about his incoming budget, including a massive bump in defense spending. Trump on Monday said he had proposed an "historic increase" in defense spending, which would be offset with cuts elsewhere. Non-defense spending will be cut by $54 billion with a budget blueprint to be offered in early March, according to an official from the Office of Management and Budget. Most agencies will see spending cuts, according to the official.
Health care stocks were on watch after Trump met with health care CEOs on Monday. Trump said he had a "fantastic plan" to be announced "fairly soon" and said this year would be a disaster for the Affordable Care Act. The Health Care SPDR ETF (XLV) - Get Health Care Select Sector SPDR Fund Report rose 0.47%. 
Markets have been characterized by small moves and a lack of volatility in recent sessions as investors seek out the next catalyst for direction, argued James "Rev Shark" Deporre on RealMoney, our premium site for investors. 
"While the uptrend since Nov. 7 has been amazingly strong, what is more notable about the action is the lack of volatility," Deporre wrote in his column on Monday. "The DJIA hasn't had a move of over 1% in a day for 53 days now. That hasn't occurred in over 10 years. The S&P 500 has set records for lack of volatility also, but the upside progress has been steady as a rock."
The Dow extended its record-breaking streak on Friday with a nail-biting end to the trading day. The blue-chip index turned positive with just seconds to go after spending most of the day sharply lower. The Dow began its long stretch of records 11 sessions earlier on optimism over Trump's forthcoming tax plan, reforms the president again touted on Friday. 
Pending home sales in January fell to their lowest level in a year as lower inventory failed to meet high demand. The number of sales wherein a contract has been signed but a deal not yet closed fell by 2.8% in January. Economists had expected sales to rise by 1.1%. 
Durable goods orders rose in January thanks to higher demand for airplanes. Orders for long-lasted U.S. goods increased 1.8% last month. Durable orders, excluding transportation, declined by 0.2%, while core capital goods orders slid 0.4%. 
Sotheby's (BID) - Get Sotheby's Report  rose 15% after besting quarterly earnings and revenue estimates. The auction house earned an adjusted $1.35 a share, higher than consensus of $1.17. Revenue fell to $308.7 million from $335.8 million a year earlier, though exceeded estimates of $269 million. 
Shutterstock (SSTK) - Get Shutterstock, Inc. Report sank 16% on Monday after missing profit and sales estimates in its recent quarter. The stock image database earned an adjusted 42 cents a share, 3 cents shy of consensus. Revenue of $130.2 million came in under expectations of $135.3 million. Shutterstock also guided for full-year sales no higher than $560 million, below a target of $578.2 million. 
Apple (AAPL) - Get Apple Inc. Report inched slightly higher on Monday after billionaire investor Warren Buffett raised his stake in Apple to 133 million shares worth around $17 billion, nearly double his previous position. Buffett told  CNBC that he likes the "incredible stickiness" of Apple's consumer products. 
The last batch of economic data with Barack Obama as president will come out in the next few weeks with the coming sessions looking particularly busy. The second estimate of fourth-quarter GDP, international trade for January, Chicago PMI and consumer confidence for February is set for Tuesday; personal income and outlays for January, the ISM Manufacturing Index for February, and the Beige Book are due for release on Wednesday; and the ISM Non-Manufacturing Index for February is scheduled for Friday.