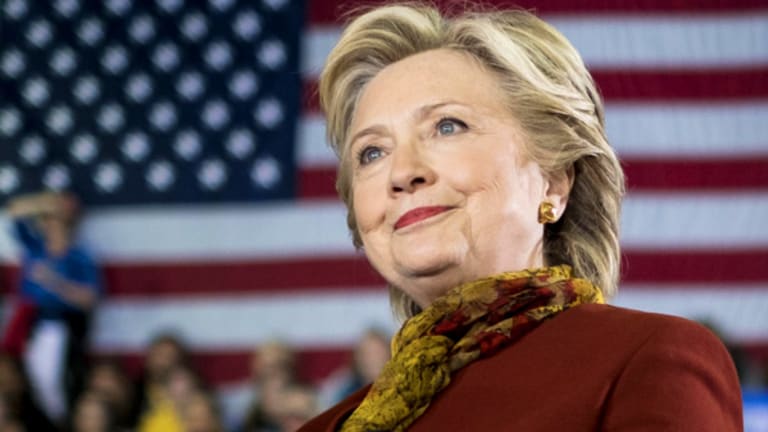 Stocks Hold Big Gains as Polls Forecast a Clinton Win, Crude Climbs
U.S. stocks maintain big gains mid-afternoon Monday as election polls stabilize and forecast a win for Hillary Clinton in Tuesday's presidential election.
U.S. stocks maintained big gains mid-afternoon Monday as election polls stabilized and forecast a win for Hillary Clinton in Tuesday's presidential election.
The Dow Jones Industrial Average climbed 1.9%, up nearly 350 points and on track to close above its 50-day moving average for the first time in two months. The S&P 500 was up 2.1%, and the Nasdaq jumped 2.3%. Stocks had previously fallen for nine straight sessions with the S&P 500 suffering through its longest losing streak in more than 35 years.
FBI Director James Comey updated Congress on Sunday that a new investigation into emails tied to Democratic presidential candidate Clinton would not bring any charges. Wall Street had been on edge for the past week after Comey announced the new investigation, making the results of the U.S. presidential election more of an uncertainty.
Republican presidential candidate Donald Trump's poll numbers had crept higher throughout the week before plateauing at around a 32% chance of winning the presidency, according to FiveThirtyEight. Separate national polls give Clinton a 48% chance to win to Trump's 44%.
Nearly 42 million Americans have already cast their ballots in early voting, a record number which has skewed toward Democrats. Voters head to the polls on Tuesday when election sites officially open.
"Financial markets are going to stay febrile as we enter the last throes of the campaign," Luke Hickmore, senior fixed income fund manager at Aberdeen Asset Management, wrote in a note. "Investors were largely concluding that Hillary would win before the FBI announced it was looking at the new emails last week. With that issue now out of the way, financial markets will probably double down on Hillary winning."
The Mexican peso, seen as a measure for Trump's chances of winning, surged 1.7% against the U.S. dollar. The peso has fallen when Trump's chances have risen as investors worried over the state of trade relations between the two countries under a Trump administration.
Safe-haven assets such as gold fell on Monday. Gold prices for December delivery settled 1.9% lower at $1,279.40 a barrel after rallying above $1,300 last week. The decline was its largest one-day percentage loss in five weeks. 
Crude oil prices rose on Monday on renewed hopes of a production freeze agreement from some of the world's largest oil producers. Mohammed Barkindo, secretary-general of the Organization of Petroleum Exporting Countries, said the bloc was still committed to an accord struck in September. OPEC is set to meet in Vienna at the end of the month, though record production from Saudi Arabia and others had deflated hopes of a deal.
"There is still time for an agreement to come together for the November 30 OPEC summit in Vienna, but we think the differences still in evidence suggest that compromise will translate into a weaker deal rather than a stronger one," Tim Evans, energy futures specialist at Citi, wrote in a note. 
West Texas Intermediate crude was closed 1.9% higher at $44.89 a barrel on Monday.
Berskhire Hathaway (BRK.A)  climbed 2.8% despite reporting a double-digit decline in profits in its recent quarter. Warren's Buffett's investment group said net income declined 24% in its September-ended quarter as profit from its investments and insurance-underwriting business declined. Profit came in higher than expected, though, reaching $4,379 a share, above an anticipated $3,058 a share.
Sotheby's (BID) posted a wider-than-expected loss in its recent quarter. The auction house reported a loss of 99 cents a share in its third quarter, far deeper than 26 cents a share in the year-ago quarter. An adjusted ss of 78 cents a share was worse than an anticipated loss of 57 cents. Sotheby's had expected a weak quarter, partly tied to a shit in the timing of summer Contemporary Art sales in London to the second quarter instead of third.
Sysco (SYY) increased 9% after reporting a 33% jump in quarterly net income. The food distributor earned an adjusted 63 cents a share, up from 52 cents a year earlier. Sales moved 11% higher, driven by its acquisition of Brakes Group.
LendingClub (LC) surged 15% after besting analysts' estimates in its third quarter. The peer-to-peer lender reported an adjusted loss of 4 cents a share, narrower than an expected loss of 7 cents. LendingClub endured a rough bout earlier this year after losing CEO Renaud Laplanche after an investigation into a number of loans.
MGM Resorts (MGM) climbed 3% after reporting better-than-expected profit and sales in its third quarter. Net income increased to 93 cents a share from 12 cents in the year-ago quarter. Analysts anticipated earnings of 14 cents a share. Sales jumped 8% to $2.7 billion, above consensus of $2.4 billion.
Tesla (TSLA) added more than 1% after announcing that its Supercharge facilities will soon come with a cost. The accelerated charging stations, which enable long-distance travel, will soon come with a small fee for vehicles ordered after Jan. 1. The vehicles will include annual credits worth roughly 1,000 miles, after which a fee will be added.
Blue Nile (NILE) jumped 34% after agreeing to be taken private for $500 million in an all-cash deal. An investor group consisting of Bain Capital Private Equity and Bow Street, among others, agreed to purchase the jewelry retailer for a 34% premium to its Friday close. 
Windstream Holdings (WIN) moved slightly higher after agreeing to buy telecom company EarthLink Holdings (ELNK) in a deal worth $1.1 billion. The acquisition will help the company cut costs in an increasingly competitive field.