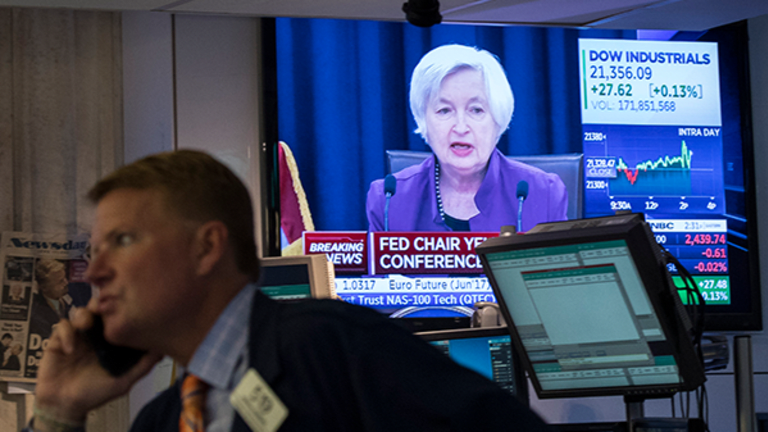 Stocks on Track for Records Even as Trump Goes After North Korea
Here's where U.S. markets were trading midway through Tuesday.
Wall Street was higher on Tuesday, Sept. 19, with investors shaking off increasingly bellicose talk from President Donald Trump. 
The Dow Jones Industrial Average was up 0.24% while the S&P 500 added 0.14%, and any gains retained by the close of regular trading would set records. The Nasdaq climbed 0.14%.
Trump beat the drum for nationalism in an address to the U.N. General Assembly on Tuesday, telling leaders that he would "always put America first." He also said that now is a time of "immense promise and great peril."
On North Korea, Trump said leader Kim Jong-un was head of a "depraved" regime and that the U.S. was "ready, willing and able" to use military force against the nation. He also said he would "destroy" the country if the U.S. was forced to act. 
"It is time for North Korea to realize that its de-nuclearization is its only responsible future," Trump said.
The authoritarian country has conducted a number of missile tests in recent weeks, with two of the devices flying over Japan, and has threatened to bomb U.S. territory Guam. The face-off has unsettled markets since it returned to headlines in early August.
A generally upbeat mood propelled stocks upward the day before, pushing the S&P 500 and Dow Jones Industrial Average to new heights. The S&P 500 traded above a record level of 2,500 and set a new high for the second day in a row, while the Dow settled at a record for the fifth day. 
The monetary-policy arm of the U.S. central bank, the Federal Open Market Committee, is in the middle of a two-day meeting that will conclude with an announcement on Wednesday afternoon, followed by Chair Janet Yellen's press conference.
Markets have priced in a zero chance of change to U.S. interest rates, but near-certainty to the Fed beginning to unwind its $4.5 trillion balance sheet, a process it previously said it would begin "relatively soon."
"If the signals are right, then this week should mark the point when the ... Fed finally begins the long-overdue process of unwinding its bloated balance sheet," said Aberdeen Standard investment manager James Athey. "That would make it a milestone in the post-crisis monetary experiment."
Moving out of "this parallel universe of endless liquidity is going to be a fraught process," he added. "No one's done it before, so no one can credibly claim to know what will happen. We are very early on in the process but, so far, financial markets have largely remained unmoved and unencumbered by the prospect of falling, as opposed to endless, liquidity."
Fed funds futures are currently pricing in a nearly 61% chance of a 25-basis-point increase at the December meeting, putting the federal funds rate at 1.25% to 1.5%.
If you'd like to receive the free "5 Things You Must Know" newsletter, please register here.
In other economic news, housing starts declined by 0.8% to a seasonally adjusted rate of 1.18 million in August. That decrease matched estimates. Building permits rose by 5.7% to a rate of 1.3 million, slightly higher than an expected 1.22 million. 
"The consensus for this month -- only slightly higher than last month and prior-year results -- reflects tempered expectations driven by the impacts of hurricanes Harvey and Irma along with heightened concern that the hurricanes will exacerbate an already tight labor market, resulting in the slowing of permits, starts and completions in the short term," Scott Volling, principal at PwC, said in a note. 
Import and export prices moved higher in August, according to the Bureau of Labor Statistics. Import prices increased by 0.6%, higher than an expected 0.4%. Excluding fuel, prices rose 0.3%. Export prices rose by 0.6%, triple the expected increase. 
AutoZone Inc. (AZO)  cut back its gains even after a better-than-expected fourth quarter. The car-parts retailer earned $15.27 a share over the three-month period, up from $14.30 a year earlier. Adjusted earnings of $5.18 a share beat estimates by 7 cents. Revenue increased by 3.3% to $3.51 billion, edging out estimates of $3.49 billion. Domestic same-store sales increased 1%, falling short of an expected 1.6%. 
Steelcase Inc. (SCS) added more than 4% after exceeding Wall Street's earnings consensus over its recent quarter. Second-quarter net income was flat at 31 cents a share, but beat estimates of 23 cents. Revenue increased just over 2% to $775.6 million, but missed expectations of $757.4 million. Third-quarter guidance also came in lower than estimated -- the company anticipates 21 cents to 25 cents a share, below a projected 28 cents. 
Synchronoss Technologies Inc. (SNCR) moved sharply lower after its largest shareholder, Siris Capital Group, backed off of previous interest in an all-cash acquisition. Siris said it could potentially pursue other deals with the company, and Synchronoss said "active discussions" are ongoing. 
Best Buy Co. Inc. (BBY) targets $43 billion in full-year revenue by fiscal 2021, a roughly 9% increase from $39.4 billion in fiscal 2017, the company said before its investor presentation slated for 2 p.m. ET on Tuesday. The electronics retailer also hopes to eliminate $600 million in cost savings by the end of fiscal 2021. 
But largely below-consensus earnings guidance sent shares lower. Best Buy anticipates operating income of $1.9 billion to $2 billion, a disappointing growth outlook compared to Goldman Sachs' current-year forecast of $1.93 billion. Adjusted earnings targets of $4.75 to $5 a share also came in on the weak side compared to Thomson Reuters consensus of $4.97 a share. 
Best Buy shares tumbled more than 6%. Other retailers such as Macy's Inc. (M) , J.C. Penney Co. (JCP) , Sears Holding Corp. (SHLD) , and Dillard's Inc. (DDS) were lower in sympathy. The S&P Retail SPDR ETF (XRT) declined 1%. 
Nike Inc. (NKE) moved more than 1% lower, the biggest laggard on the Dow, after Susquehanna Financial downgraded its rating to neutral from positive and cut its price target by $10 to $54. Analyst Sam Poser said in a note that oversupply of its basketball line will likely pull sales and margins lower.   
Morgan Stanley reiterated a bullish stance on Apple Inc. (AAPL) following last week's iPhone X reveal. Analyst Katy Huberty expects customer loyalty and a weaker U.S. dollar to allow for higher pricing without chipping away at demand. The firm reiterated an overweight rating and boosted its price target to $194 from $182. 
Apple is a holding in Jim Cramer's Action Alerts PLUS charitable trust portfolio. Want to be alerted before Cramer and the AAP team buy or sell the stock? Learn more now.
Beleaguered consumer-credit provider Equifax Inc. (EFX)  took another blow when Bloomberg reported that the company learned about a major breach of its computer systems in March, almost five months before the date of a breach it has publicly disclosed.
Equifax said the March intrusion wasn't related to the later hack that exposed the personal and financial data on 143 million consumers in the U.S., but one of the people told Bloomberg the breaches involved the same intruders.
T-Mobile USA (TMUS) and Sprint Corp. (S)  rose on Tuesday on reports the two had engaged in serious merger talks. T-Mobile parent company Deutsche Telecom (DTEGY) would emerge as the majority owner if the United States' third- and fourth-largest mobile carriers did complete a deal, according to CNBC sources.
Sprint shares surged more than 9%, while T-Mobile added nearly 5%.
Other telecoms were on the rise, too, including AT&T Inc. (T) , Verizon Communications Inc. (VZ) , Vodafone Group PLC (VOD) , and Telefonica S.A. (TEF) . The iShares Dow Jones U.S. Telecom ETF (IYZ) added more than 2%.
Updated from 1:17 p.m. ET, Sept. 19. 
More of What's Trending on TheStreet: