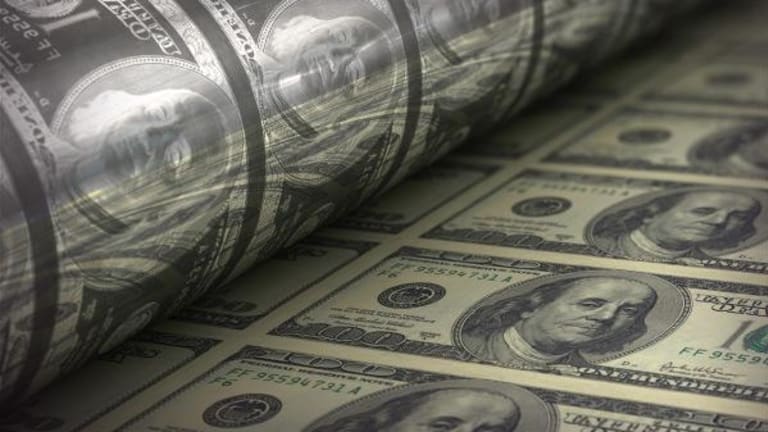 Boeing, United Tech Lead Dow to Records but Rest of Market Flounders
The Dow rises but the rest of the market falters Thursday. Here's where stocks are trading by midday.
The Dow rises but the rest of the market falters Thursday. Here's where stocks are trading by midday.
Aerospace and defense stocks lifted the Dow Jones Industrial Average to new records on Thursday, Sept. 14, though the latest U.S. inflation data kept overall trading shaky. 
The Dow was up 0.2%, falling back after hitting an intraday record of 22,212. The S&P 500 fell 0.1%, and the Nasdaq declined 0.36%. 
Boeing Co. (BA) - Get Report and United Technologies Corp. gave rise to the Dow. Boeing shares added to gains seen a day earlier after CEO Dennis Muilenburg provided a pleasingly upbeat outlook. The company  said it will increase its production of the 787 Dreamliner jet to 14 a month by 2019. Cowen analysts reiterated an outperform rating and also raised earnings estimates. 
Pfizer Inc. (PFE) - Get Report  also boosted the Dow, rising 2%, after announcing one of its cancer drugs had met a primary endpoint in a late-stage clinical trial. Cancer drug Xtandi, when combined with prostate cancer therapy, improved metastasis-free survival in patients with non-metastatic castration-resistant prostate cancer. The trial was conducted with Astellas Pharma Inc. (ALPMF) . The drug is already approved by the Food and Drug Administration for metastatic castration-resistant prostate cancer.
Crude oil prices continued to climb on Thursday after settling at their highest level in five weeks a day earlier. Wednesday's rally kicked off on signs of reduced global production. Global oil supplies have hit a snag in recent weeks as Hurricane Harvey limited output in the U.S. and declining activity in the Middle East helped the Organization of Petroleum Exporting Countries keep to a previous deal to limit production.
Also helping prices, demand for oil increased in the second quarter, largely driven by Germany and the U.S., according to the International Energy Agency. The IEA anticipates oil demand to increase 1.6 million barrels per day in 2017 and 1.4 million barrels next year. 
West Texas Intermediate crude was up 1.2% to $49.89 a barrel on Thursday, trading above $50 for the first time since Aug. 10 earlier in the session. 
Major oil producers were mostly higher on Thursday. Exxon Mobil Corp. (XOM) - Get Report , Royal Dutch Shell PLC (RDS.A) , Chevron Corp. (CVX) - Get Report , BP PLC (BP) - Get Report and Statoil ASA (STO)  posted gains. The Energy Select Sector SPDR ETF (XLE) - Get Report was up 0.4%.
However, continued softness in inflation data brought the Federal Reserve's possible plans into focus. The inflation rate has struggled to reach the Fed's 2% target. Recent weak readings on inflation have been characterized by Fed members as "transitory." Producer and consumer prices for August, as with all data, will play a part in the Fed's next policy decision. 
U.S. consumer prices for August rose at a slightly faster pace than expected. The Consumer Price Index, released Thursday, increased by 0.4%, four times the pace in July, and 10 basis points higher than expected. Prices increased at their fastest monthly since January. Core prices, excluding food and gas, climbed 0.2% and met consensus. Core prices over the past 12 months increased 1.7%, their fourth straight month holding at that growth rate. 
U.S. producer prices, released a day earlier, rose at a slower pace than anticipated with a large bulk of the rise attributed to higher gas prices.
"There is no momentum there, there is no sign of it picking up," Lee Ferridge, head of macro strategy, North America at State Street, said in a call. "Data on the real economy is mixed. I think for most [Fed members] they feel no need to really rush. They've hiked a couple of times already this year and if they don't hike in December, I think for a lot of Fed members that won't be the end of the world."
The Federal Open Market Committee, the decision-making branch of the central bank, will meet for two days beginning on Tuesday, Sept. 19. An announcement and updated forecasts will be released on Wednesday, Sept. 20, followed by press comments from Fed Chair Janet Yellen.
The number of new claims for unemployment benefits in the U.S. fell in the past week, though the four-week average spiked. Initial weekly jobless claims fell by 13,000 to 284,000. The less volatile four-week average increased 13,000 to 263,250. Jobless claims data is often erratic in the aftermath of hurricanes and other natural disasters that disrupt employment.
If you'd like to receive our daily "5 Things You Must Know" newsletter, please register here.
Economic data picks up on Friday, Sept. 15. Retail sales and industrial production for August, the Empire State Manufacturing Survey for September, a preliminary reading for consumer sentiment for September, and business inventories for July will be released throughout Friday morning.
Equifax Inc. (EFX) - Get Report has blamed a bug in its web-server software for allowing hackers to access a massive chunk of sensitive data. Last week, Equifax disclosed that a security breach had compromised millions of people's private data with estimates that more than 143 million people had had their names, Social Security numbers, birth dates and drivers license numbers exposed. The credit-reporting agency said it has been "intensely investigating the scope of the intrusion" since it became aware of the problem. The stock fell 3%.
Shares of Tenet Healthcare Corp. (THC) - Get Report  rose 4% on Thursday after a report said the Dallas-based healthcare services company was exploring options related to its future, including the possible sale of the company. Tenet announced last month that it would replace Chairman and CEO Trevor Fetter as director and CEO amid pressure from Glenview Capital Management, an activist investor who owns a 17.8% stake in the company. 
Tenet, one of the largest hospital companies in the U.S., has hired banking advisers to consider a number of possibilities, The Wall Street Journal reported. The process was still in an early phase, and there was no guarantee a deal would come about, according to the Journal.
President Donald Trump on Wednesday issued an order blocking Canyon Bridge Capital Partners LLP's $1.3 billion plan to acquire Lattice Semiconductor Corp. (LSCC) - Get Report . Canyon Bridge is a private-equity fund backed by China Venture Capital Fund Corp. Ltd., a Chinese corporation owned by Chinese state-owned entities that manages industrial investments and venture capital. Trump's decision follows the recommendation of the Committee on Foreign Investment in the U.S.
The White House said the national-security risk posed by the transaction includes "the potential transfer of intellectual property to the foreign acquirer, the Chinese government's role in supporting this transaction, the importance of semiconductor supply chain integrity to the United States Government, and the use of Lattice products by the United States Government."
Tesla Inc. (TSLA) - Get Report  is set to unveil its "unreal" semi-trailer truck in late October, Elon Musk said. Musk tweeted late Wednesday night that the much-anticipated truck may be unveiled and test driven on Oct. 26 in Hawthrone. "Worth seeing this beast in person. It's unreal," the Tesla CEO tweeted.
Updated from 12:42 p.m. ET, Sept. 14. 
More of What's Trending on TheStreet:
John McAfee and Global Bitcoin Fans Challenge Jamie Dimon's 'Fraud' Comments