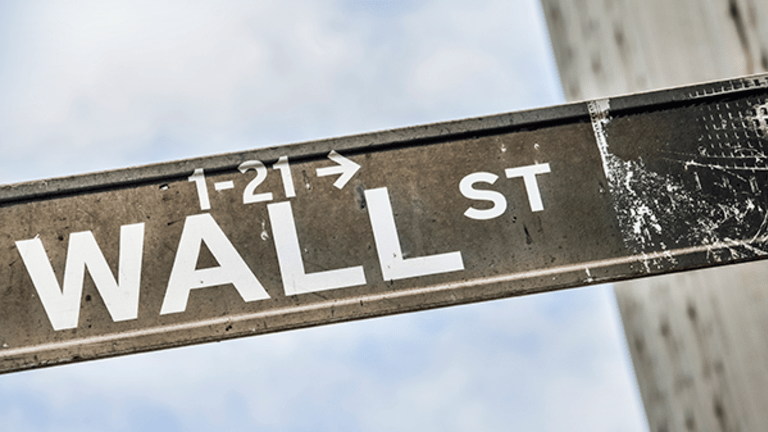 Stock Futures Retreat as Wall Street Awaits Details of Trump's Tax Plan
Stock futures, including the Dow Jones Industrial Average, move away from recent records as Wall Street awaits tax and spending details from the White House.
Stock futures, including the Dow Jones Industrial Average, moved away from recent records on Monday as Wall Street awaits tax and spending details from the White House. 
S&P 500 futures were down 0.11%, Dow futures dipped 0.11%, and Nasdaq futures fell 0.22%. 
The Dow extended its record-breaking streak on Friday with a nail-biting end to the trading day. The blue-chip index turned positive with just seconds to go after spending most of the day sharply lower. The Dow began its long stretch of records 11 sessions earlier on optimism over a forthcoming tax plan from Donald Trump, reforms that he again touted on Friday. 
The Trump administration will send its budget proposal to federal departments on Monday in what reports indicate will have dramatic cuts to non-military operations. The budget proposal reportedly will curtail spending at the Environmental Protection Agency, while defense spending will see sharp increases. 
Markets also hope Trump will provide further details on his tax plans and other policy positions in a speech to a joint session of Congress on Tuesday. White House Press Secretary Sean Spicer said, "The address will particularly focus on public safety including defense, increased border security, taking care of veterans, and then economic opportunity including education, job training, health care reform, jobs and tax and regulatory reform."
"We expect they will be only modestly disappointed by a general restatement of Trump's priorities," said TD Securities analysts. "Comments suggesting close cooperation with Congressional Republicans would be positive for markets; emphasis on populist measures or a strident, antagonistic tone would be negative." 
Durable goods orders rose in January thanks to higher demand for airplanes. Orders for long-lasted U.S. goods increased 1.8% last month. Durable orders, excluding transportation, declined by 0.2%, while core capital goods orders slid 0.4%. 
Sotheby's (BID) - Get Sotheby's Report was on watch after besting quarterly earnings and revenue estimates. The auction house earned an adjusted $1.35 a share, higher than consensus of $1.17. Revenue fell to $308.7 million from $335.8 million a year earlier, though exceeded estimates of $269 million. 
Apple (AAPL) - Get Apple Inc. (AAPL) Report inched higher on Monday after billionaire investor Warren Buffett raised his stake in Apple to 133 million shares worth around $17 billion, nearly double his previous position. Buffett told CNBC that he likes the "incredible stickiness" of Apple's consumer products. 
La Jolla Pharmaceuticals (LJPC) - Get La Jolla Pharmaceutical Company Report  roared higher on Monday after announcing that significantly more shock patients with critically low blood pressure responded to treatment with its experimental drug LJPC-501 compared to placebo. The results achieved the main goal of a phase III clinical trial. The drugmaker will submit a marketing application to the U.S. Food and Drug Administration in the second half of this year. 
Tesla (TSLA) - Get Tesla Inc Report was downgraded to sell from neutral at Goldman Sachs. The Model 3 launch will likely be delayed, leading to higher free cash flow burn, Goldman said.
Under Armour (UAA) - Get Under Armour, Inc. Class A Report was downgraded to reduce from neutral at Nomura. Analysts said the valuation is unattractive as growth is maturing. Urban Outfitters (URBN) - Get Urban Outfitters, Inc. Report was downgraded to sell at MKM Partners. The firm warned of deteriorating sales and margins at Anthropologie.
The last batch of economic data with Barack Obama as president will come out in the next few weeks with the coming sessions looking particularly busy. The second estimate of fourth-quarter GDP, international trade for January, Chicago PMI and consumer confidence for February is set for Tuesday; personal income and outlays for January, the ISM Manufacturing Index for February, and the Beige Book are due for release on Wednesday; and the ISM Non-Manufacturing Index for February is scheduled for Friday.