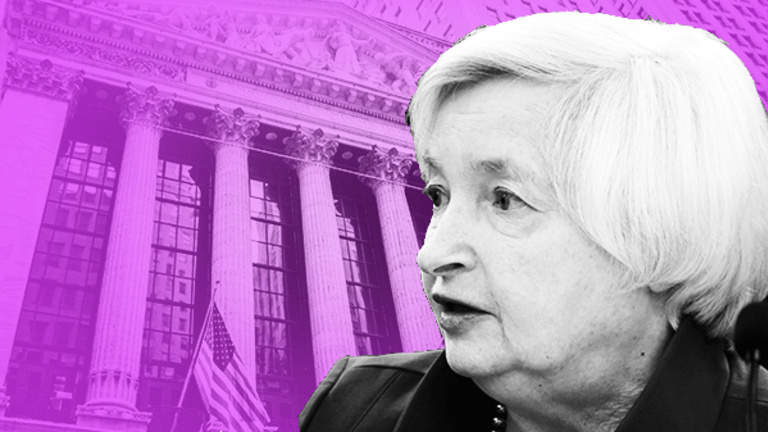 Dow and S&P 500 Reach New Intraday Highs With Markets in Good Mood Ahead of Fed
Stocks aim for new records. Here's where stocks are trading at the market open on Monday.
Stocks aimed for new records on Monday, Sept. 18, with markets in a generally upbeat mood ahead of a decision on interest rates from the Federal Reserve this week. 
The Dow Jones Industrial Average was up 0.28%, the S&P 500 added 0.27%, and the Nasdaq increased 0.4%. The Dow has risen for the past seven sessions, while the S&P 500 and Nasdaq have gained for five of the last six. Gains were broad with investors particularly favoring basic materials and consumer staples. 
The Dow and S&P 500 closed at record highs on Friday, Sept. 15, brushing aside geopolitical worries to end a week filled with new all-time levels. A rebound in Apple Inc. (AAPL) - Get Apple Inc. Report shares led the tech sector higher on Friday, while the rest of markets quickly overcame a terrorist incident in London and another missile launch from North Korea. 
The Federal Open Market Committee, the decision-making arm of the Fed, will convene on Tuesday, Sept. 19, for a two-day meeting culminating in an announcement on Wednesday, Sept. 20. Investors are pretty confident in what's to come. Markets have given a near-zero chance of a change to U.S. interest rates, but near-certainty to the Fed beginning to unwind its balance sheet.
The chances the Fed holds rates unchanged at its September meeting sit at more than 98%, according to the CME Group. Fed funds futures are currently pricing in a nearly 51% chance of a 25-basis-point increase at the December meeting, putting the federal funds rate at 1.25% to 1.5%.
"The Fed has been very transparent to market participants like us about their forward guidance and our viewpoint is that if they were to do something [with rates] it would probably be in December as opposed to now," Eric Freedman, chief investment officer at U.S. Bank Wealth Management, told TheStreet, aligning with what the majority of economists expect. "I think the big thing next week will be more about the balance sheet than it will be about rates."
The Fed had previously said it would begin unwinding its $4.5 trillion balance sheet "relatively soon" should the economy continue to grow at the pace expected, a signal many took to mean September. Reducing the balance sheet tightens market conditions in much the same way as an interest rate hike.
If you'd like to receive the free "5 Things You Must Know" newsletter, please register here.
President Donald Trump will take the stage at the U.N. General Assembly on Tuesday morning to discuss how to deal with an increasingly-aggressive North Korea. The rogue nation has set off a number of missile tests in recent weeks, including two that flew over Japan. National Security Adviser H.R. McMaster said on Friday, "This is not an issue between the United States and North Korea. This is an issue between the world and North Korea." Tuesday marks the first time Trump has addressed the U.N. 
Confidence among homebuilders fell back in September as worries increased that Hurricane Harvey and Irma might cause difficulty in finding labor and increasing the costs of materials. The National Association of Home Builders' housing market index decreased by three points to 64. The group expects confidence to return in spring once rebuilding in Florida and Texas is underway. 
Northrop Grumman Corp. (NOC) - Get Northrop Grumman Corporation Report agreed to buy Orbital ATK Inc. (OA) , a merger that brings together two major U.S. defense contractors, for about $7.8 billion in cash. The deal also includes the assumption of $1.4 billion in net debt. Orbital ATK shareholders will receive all-cash consideration of $134.50 a share. The companies expect the transaction to close in the first half of 2018.
It's already been a busy month for M&A in the defense sector. United Technologies Corp. (UTX) - Get n.a. Report announced that it would acquire Rockwell Collins Inc. (COL) for around $23 billion earlier in September. 
Teva Pharmaceutical Industries Ltd. (TEVA) - Get Teva Pharmaceutical Industries Ltd. Report agreed to sell its women's health business on Monday, an arm that includes contraception and fertility products, for $1.38 billion. Teva will sell its women's health portfolio to QVC Capital for $703 million and its emergency contraception products to Foundation Consumer Healthcare for $675 million. The drug company will use the funds raised to pay down its debt. 
U.S. oil prices fell below $50 a barrel again on Monday amid reports that Royal Dutch Shell (RDS.A) is re-starting a key Houston refinery that was shuttered by Hurricane Harvey three weeks ago. Refineries in the region are slowly beginning to come back online, meaning that mushrooming crude stockpiles can begin to be sorted through. 
Houston-based energy services firm Baker Hughes reported on Friday that U.S. oil and gas producers took eight rigs offline during the past week, bringing the Houston oilfield services provider's total count to 936, the lowest since June. They also indicated that the oil rig count decreased by seven week over week to 749, while the natural gas rig count fell by one to 186 and the U.S. offshore rig count rose marginally from the previous week.
West Texas Intermediate crude was down 0.1% to $49.83 a barrel on Monday morning. 
Dollar Tree Inc. (DLTR) - Get Dollar Tree, Inc. Report announced Monday that Gary Philbin will replace Bob Sasser as CEO of the discount retail chain, effective immediately. Sasser, who had led the company as CEO for 13 years, will move to executive chairman of the board. Sasser started at Dollar Tree in 1999 and was promoted to president and operating chief in 2001. In 2004, he assumed the CEO role.
Updated from 9:34 a.m. ET, Monday, Sept. 18. 
More of What's Trending on TheStreet: