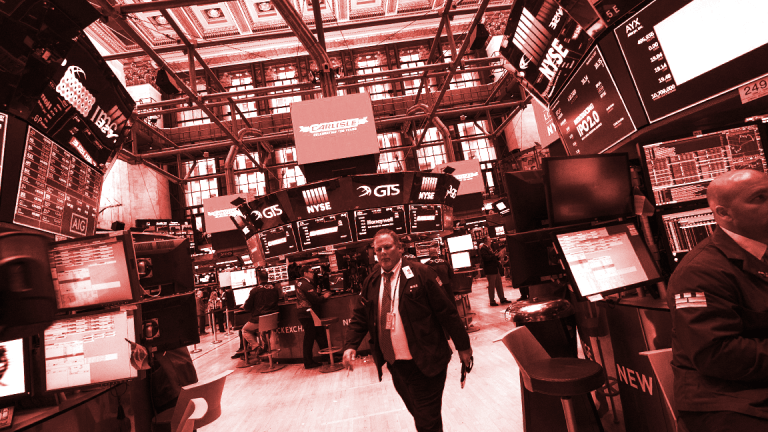 Dow Aims for 24,000, Bitcoin Blows Past $10,000 - 5 Things You Must Know
U.S. stock futures suggest more records for Wall Street on Wednesday.
Here are five things you must know for Wednesday, Nov. 29:
1. -- U.S. stock futures suggested more records for Wall Street and European equities traded mostly higher on Wednesday, Nov. 29, as the Senate GOP's tax plan progressed toward a vote on the floor and investors shrugged off the latest launch of a ballistic missile by North Korea.
The Dow Jones Industrial Average rose almost 256 points on Tuesday, Nov. 28, to 23,836.71, surpassing the previous record close set a week earlier. The S&P 500 added nearly 26 points to 2,627.04 and the Nasdaq increased more than 33 points to 6912.36. Both indexes set new records. 
The chances of the Senate tax bill's passage looked a little more certain after Donald Trump met with Republicans to try to push for uniformity across the party. Shortly after, the Senate Budget Committee voted to advance the bill to a Senate floor later in the week -- two holdouts on the committee, Sens. Bob Corker and Ron Johnson, flipped their votes in time for the bill to proceed.
"If there is not adequate support for passage, we would expect the vote to be delayed," said Goldman Sachs analysts in a note. "However, it's much more likely in our view that the vote on Friday will be successful."
Also boosting sentiment was Senate testimony on Tuesday from Jerome Powell, Trump's pick to serve as chairman of the Federal Reserve, who indicated he would continue upon the path of monetary policy normalization. 
In comments to Congress during his confirmation hearing, Powell said he expects to shrink the balance sheet, though he expects the sum to remain greater than before the financial crisis. Powell expects to reduce the total over the next three to four years to roughly $2.5 trillion to $3 trillion, down from its current $4.5 trillion.
Markets in Asia ended Wednesday's session mixed.
"Initially, the news about another missile test (from North Korea) created some uncertainty in the market, but it was short lived due to the fact that the reaction from the U.S. was muted," said Naeem Aslam of Think Markets UK Ltd. in a commentary. 
As for the U.S. on Wednesday, the  economic calendar includes the second estimate for third-quarter Gross Domestic Product at 8:30 a.m. ET, Oil Inventories for the week ended Nov. 24, at 10:30 a.m., and the Federal Reserve's "Beige Book" at 2 p.m.
Federal Reserve Chair Janet Yellen will testify on the economic outlook before the Congressional Joint Economic Committee in Washington at 10 a.m.
If you'd like to receive the free "5 Things You Must Know" newsletter, please register here.
2. -- Bitcoin prices could test further highs on Wednesday, just hours after breaking through $10,000 for the first time, as the value of the world's benchmark cryptocurrency tops some of the most well-knows companies in U.S. history.
Bitcoins were currently at $10,732 each, up 8.9% on the day. The high for the day was $10,890. The cryptocurrency breached $9,000 just two days ago. The jump extends bitcoin's year-to-date advance past 950% and means the digital currency now trades at 8.3 times the price of gold, after having traded $200 below the bullion on Jan. 1.
The moves also put bitcoin's "market cap," the theoretical value based on 16.7 million coins that have been verified by blockchain miners, at $180.7 billion, a figure that would place it 14th in the ranking of valuations on the Dow Jones Industrial Average, ahead of Walt Disney Co. (DIS) ($156 billion), International Business Machines Corp.  (IBM) ($141 billion), McDonald's Corp. (MCD) ($149 billion) and just below Verizon Communications (VZ) ($199 billion).
3. -- Cineworld Group PLC said it's in advanced discussions with Regal Entertainment Group (RGC) over a possible $3.6 billion takeover bid.
The London-based cinema chain said that it was finalizing due diligence in relation to a possible all-cash offer for the second-largest cinema chain in the U.S.
Cineworld said it was considering a possible bid to buy 100% of Regal's outstanding shares at $23 each. The $3.6 billion takeover bid is almost double Cineworld's market cap of £1.63 billion ($2.18 billion).
Shares of Regal Entertainment rose 4.3% to $20.48 in premarket trading on Wednesday.
4. -- AT&T Inc. (T) and Time Warner Inc. (TWX) argued on Tuesday that their proposed $85.4 billion merger was "pro-competitive" and "pro-consumer," Reuters reported, as the two companies sought to refute U.S. Justice Department allegations that the deal breaks antitrust law.
In a joint court filing, the companies focused on rebutting government efforts to show that AT&T, which owns pay-TV provider DirecTV, would raise rates for rival pay-TV companies to use Time Warner's movies and TV shows, Reuters reported.
On Tuesday, AT&T and Time Warner elected to extend the deadline, or "termination date," to finalize their merger agreement to April 22, 2018.
5. -- Tiffany & Co. (TIF) posted third-quarter earnings of 80 cents a share, 4 cents ahead of forecasts. Same-store sales fell 1% in the quarter, wider than estimates.
Earnings reports are also expected Wednesday from Workday Inc. (WDAY) , PVH Corp. (PVH) and Jack in the Box Inc. (JACK) .
This story has been updated from 6:11 a.m. ET.
More of What's Trending on TheStreet: