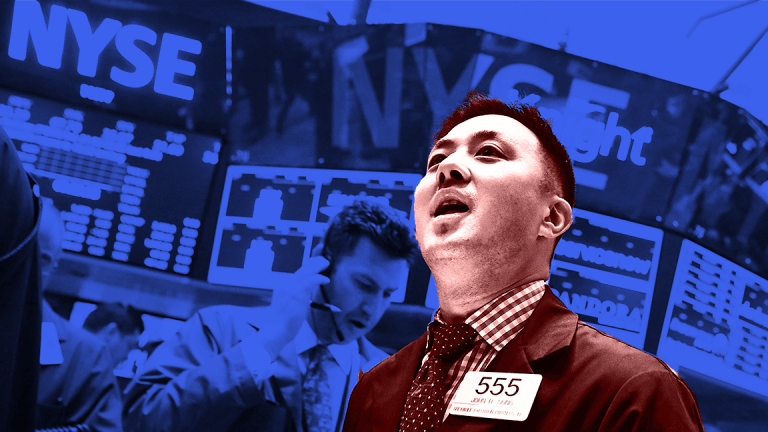 Davos, Caterpillar, Intel, Ford and Kroger - 5 Things You Must Know
U.S. stock futures rise as the dollar plunges to a fresh three-year low. Caterpillar, Intel and 3M leading the earnings calendar.
Here are five things you must know for Thursday, Jan. 25:
U.S. stock futures rose on Thursday, Jan. 25, as the dollar plunged to a fresh three-year low amid an increasing intense debate over global trade rules ahead of Donald Trump's address to the World Economic Forum in Davos, Switzerland.
1. -- U.S. Dollar Is the Driver
The session's biggest driver is likely to come from the dollar, which extended declines despite Treasury Secretary Steve Mnuchin's attempts to clarify comments he made on Wednesday, Jan. 24, to reporters in Davos as he arrived at the World Economic Forum. Munchin said his views on the greenback were "clear" and "consistent" but again noted that he wasn't concerned where the dollar was trading in the short-term.
"I thought my comment on the dollar was actually quite clear (Wednesday)," Mnuchin said. "I thought it was actually balanced and consistent with what I've said before, which is, we are not concerned with where the dollar is in the short-term. And it's a very very liquid market."
Mnuchin also addressed the issue of global trade, telling a panel in Davos that "we're not looking to get into trade wars. On the other hand we are looking to defend America's interests."
That helped push the dollar index, a measure of the greenback against a basket of six global currencies, to a fresh three-year low earlier Thursday of 89.01. At last check the dollar index was down 0.15% to 89.11.
Stocks finished mixed on Wednesday with the Dow Jones Industrial Average scoring a new record close, while the S&P 500 and Nasdaq ended lower. The Dow gained 0.16% to finish at 26,252. The S&P 500 declined 0.06% and the Nasdaq dropped 0.61%. 
The economic calendar in the U.S. on Thursday includes International Trade in Goods for December at 8:30 a.m. ET, weekly Jobless Claims at 8:30 a.m., and New Home Sales for December at 10 a.m.
If you'd like to receive the free "5 Things You Must Know" newsletter, please register here.
2. -- Caterpillar and Intel Lead the Earnings Calendar
3M Co. (MMM) - Get Report  posted adjusted earnings in the fourth quarter of $2.10 a share, above estimates of $2.03. The company also raised its 2018 outlook and boosted its dividend. 3M shares rose 2% in premarket trading.
Caterpillar Inc. (CAT) - Get Report  said Thursday fourth-quarter adjusted profit was $2.16, topping Wall Street forecasts of $1.77. The stock rose more than 3% after Caterpillar said its full-year 2018 forecast for adjusted earnings was $8.25 to $9.25 a share, above forecasts of $8.15.
Celgene Corp. (CELG) - Get Report  posted fourth-quarter adjusted profit of $2 a share, 3 cents ahead of estimates. Shares rose 2.5%.
Biogen Inc. (BIIB) - Get Report  rose 3.3% after it reported fourth-quarter adjusted earnings of $5.26 a share, below Wall Street forecasts of $5.46, but said it expects adjusted earnings in 2018 of $24.20 to $25.20, higher than analysts' estimates.
Earnings are expected after the closing bell from Intel Corp. (INTC) - Get Report , Starbucks Corp. (SBUX) - Get Report and Western Digital Corp. (WDC) - Get Report .
3. -- Ford Sees Tough 2018
Ford Motor Co. (F) - Get Report   fell 1.1% in premarket trading on Thursday after the second-largest U.S. automaker reported fourth-quarter earnings that missed analysts' expectations and warned that 2018 will be a tough year.
Ford reported fourth-quarter adjusted earnings of 39 cents a share, 4 cents below estimates. Revenue of $41.3 billion beat estimates of $36.3 billion.
Ford said it earned $1.78 a share on an adjusted basis in 2017 on $156.8 billion in revenue. Analysts were calling for profit of $1.79 a share on revenue of about $144 billion.
The automaker expects to earn between $1.45 and $1.70 a share in 2018, and said sales will be equal to or slightly better than revenue in 2017. Ford also said operating cash flow in 2018 will decline, largely because of higher commodity costs.
4. -- Kroger Explores Alliance With Alibaba
Supermarket giant Kroger Co. (KR) - Get Report has been exploring an alliance with Alibaba Group Holding Ltd. (BABA) - Get Report , the Chinese e-commerce giant, the New York Post reported. 
Senior Kroger executives met with senior Alibaba officials last month in China, according to multiple sources.
The precise topics discussed at the meeting couldn't be learned, but one report said the two companies already have teamed up on a deal spanning online and off-line sales, according to the Post
"Alibaba has teamed up with Kroger ... to speed up the integration of online and off-line sales," a report in a Chinese government press release said last week.
The talks come as Amazon.com Inc. (AMZN) - Get Report  has moved aggressively into groceries with the purchase last year of Whole Foods Market.
Kroger rose 3.8% in premarket trading on Thursday. 
5. -- LG to Raise Prices on Washing Machines 
LG Electronics Inc. told retailers it plans to raise prices on its laundry appliances following Donald Trump's approval this week of steep tariffs on imported washing machines, The Wall Street Journal reported.
"As a result of the trade situation, we will be initiating pricing actions, which will be sent under separate cover shortly," Thomas Yoon, an executive at the South Korean manufacturer, told retailers in a memo dated Wednesday and reviewed by the Journal.
Industry experts said they expect LG will raise published retail prices on at least some of its washer and dryer models by about $50, the Journal reported.
The Trump administration earlier this week slapped tariffs on foreign-made washing machines.
This article has been updated to include earnings from Caterpillar, Celgene and 3M.
Subscribe to TheStreet on Youtube and enjoy these Editor Picks!
More of What's Trending on TheStreet: