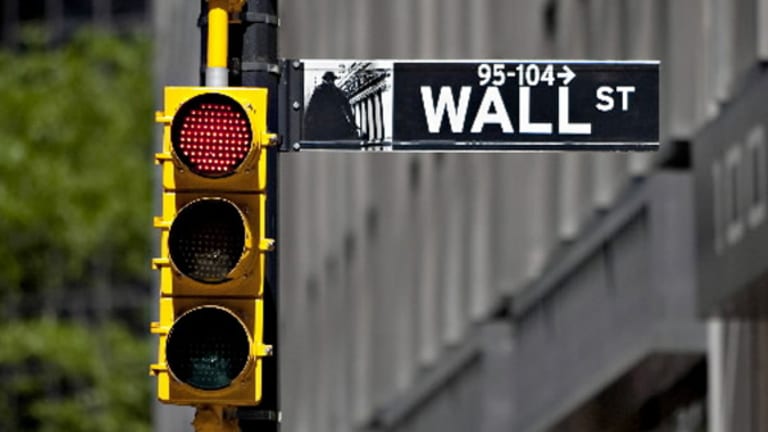 Crude Oil, Health Care Team Up to Pull Wall Street Lower
A selloff in crude oil and health care stocks led Wall Street into the red on Wednesday.
Stock losses grew heavier as the afternoon progressed on Wednesday with a selloff in crude oil and health care stocks leading Wall Street into the red. 
The S&P 500 was 0.52% lower, the Dow Jones Industrial Average fell 0.35%, and the Nasdaq slid 0.81%.
Crude oil pulled lower after a weekly reading on U.S. oil inventories showed a build. The Energy Information Administration showed an increase of 2.5 million barrels of crude to stockpiles over the past week. Analysts had expected an increase of just 200,000 barrels.
West Texas Intermediate crude oil fell 2.77% to $46.77 a barrel on Wednesday, settling at a one-week low.
Health care stocks sold off in late-afternoon trading after harsh comments from Democratic presidential candidate Hillary Clinton over Mylan's (MYL) pricing of its EpiPen. The drug company has quintupled the price of the life-saving allergy medication since 2007. 
"This is outrageous -- and it's just the latest troubling example of a company taking advantage of its customers," Clinton said in a statement. "I am calling on Mylan to immediately reduce the price of EpiPens."
Other health care stocks such as Valeant Pharmaceuticals (VRX) , Pfizer (PFE) and Bristol-Myers Squibb (BMY) fell, while the Health Care SPDR ETF (XLV) slid 1.6%.
Wall Street has seen jittery trading so far this week as investors opt to sit on the sidelines until the kickoff to the Federal Reserve's annual Monetary Policy Symposium in Jackson Hole, Wyo., on Thursday.
"One issue that is likely to garner considerable attention during the symposium is the outlook for the neutral fed funds rate," Deutsche Bank analysts wrote in a note. "Having fallen to -- and remaining persistently near -- record low levels, the neutral rate has drawn intensifying scrutiny from key Fed officials. Its outlook has pivotal implications for both the likely future path of the fed funds rate and the way in which monetary policy is conducted in the future."
Yellen will cap off the week with a speech at the summit which will provide important context to the markets' outlook for rates. Yellen's comments will likely remain dovish and conservative, pushing data dependency for any future rate moves.
The chances of a September rate hike currently sit at 18%, according to CME Group fed funds futures. A rate hike in November has better chances at 41%.
Sales of previously owned homes in the U.S. fell 3.2% in July to a seasonally adjusted annual rate of 5.39 million, according to the National Association of Realtors. Tight inventory has choked some of the demand in recent months, leading to higher prices across the board. Economists expected a pace of 5.48 million.
In earnings news, Express (EXPR) tanked 25% after missing quarterly estimates and issuing a disappointing outlook. The apparel retailer earned 13 cents a share over the quarter, down from 25 cents a year earlier and below consensus of 17 cents. Same-store sales tumbled 8%, sharper than an expected 4.6% drop. Current-quarter earnings guidance between 9 cents and 15 cents a share fell well below expectations of 32 cents. The company blamed "challenging store traffic" as reason for a poor second quarter.
Pfizer (PFE) extended its spending spree on Wednesday, purchasing the commercialization and development rights to AstraZeneca's (AZN) late-stage small molecule antibiotics business outside the U.S. in a deal that that could be valued at more than $1.5 billion. The deal is expected to close in the fourth quarter of 2016. Pfizer agreed to purchase cancer specialist Medivation at the beginning of the week.