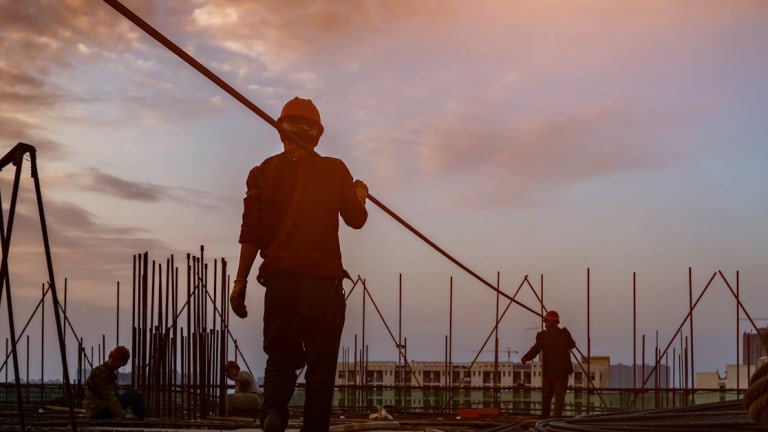 From Lumber to Steel, Construction Materials Following Unpredictable Path
A fall in wholesale lumber prices has not been fully passed on to consumers heading into the end of 2021.
The pandemic era has left many industries in a state of unpredictability with few reliable indicators to lean on. With drastic shifts in material supply and demand over the last 18 months, construction may lead the pack in this regard.
Despite wholesale cash prices coming down several months ago on several construction-related commodities, such as lumber, consumer-level retail prices have not necessarily seen the same drops.
Lumber prices have been volatile since the start of the covid-19 pandemic, and implied volatility has climbed to staggering levels during 2020 and 2021. During the spring and summer, cash prices of lumber from sawmills – reflected in the chart below by the Random Length Lumber futures contract – skyrocketed from an average of around $400 per thousand board feet (mbf) to over $1600 per mbf. 
This price jump was caused by diminished production and capacity at the mill level coupled with increased demand from consumers looking to buy or renovate homes during the pandemic. 
Mills increased production as much as possible during the high price environment, and demand fell drastically as non-essential home purchases and improvements were put on hold.
Lumber futures returned to relatively normal levels during the fall, settling around an average of $500 per mbf, as demand decreased. However, this significant drop in prices has not been completely reflected in retail pricing. Retail-level pricing has remained inflated for several reasons, including the fact that wholesalers and warehouses paid the record prices for their inventory several months ago, and need to sell the wood for the highest possible price to mitigate monetary losses.
The consumers that held off on lumber-intensive projects at the height of the market are now creating some demand, especially in areas where winter weather is not an issue. This resurgence in demand coupled with government interference and logistical supply issues – mainly transportation and labor shortages – mean retail sellers had little need to drop their prices to completely reflect the downwards wholesale trend seen last quarter. In fact, experts believe retail prices could continue to rise.
Copper, Steel, and Aluminum
Industrial metals' prices have also risen since mid-2020. Copper, steel, and aluminum, all of which are instrumental to home construction, have each shown significant price growth since global economies were shut down, to combat the spread of Covid-19. Disruptions to supply chains, renewed demand, and the focus on preserving the environment have made it increasingly difficult for production to keep up with consumer demand.
Early in the Covid-19 pandemic, many industries, including the metals industry, were forced to reduce in-person staff or completely shut down. These temporary measures were either because of reduced demand or to prevent the spread of the virus at their own facilities. The result of implementing these measures was a slowdown or decrease in production.
China, the largest consumer of copper, aluminum, and steel, was the first economy to begin reopening, and stimulating infrastructure and construction growth, while others were still shutting down. News that China's State Reserve Bureau (SRB) had begun stockpiling aluminum and copper, put a charge into base metals' prices. By the end of September 2020, China had already imported more refined copper than it had in all of 2019, and imports of aluminum in 2020 and 2021 have dwarfed previous years.
However, by May of 2021, China announced they would begin releasing state stockpiles of copper, aluminum, and zinc which quickly put a damper on the COMEX Copper (HG) straight-line rally.
COMEX Aluminum (ALI) futures and COMEX U.S. Midwest Domestic Hot-Rolled Coil Steel (CRU) Index (HRC) have had similar price trajectories as copper, posting gains of over 55% and over 200%, respectively, since the start of 2020. These gains were ignited in the U.S. by Section 232 tariffs of 10% on Aluminum imports and 25% on Steel imports from almost all countries.
More recently in Aluminum, smelters in China have been ordered to cut production in an attempt to reduce carbon emissions. As the largest producer and consumer of aluminum in the world, the reduction in production is being offset by large increases in imports.
Domestic production shutdowns, coupled with massive government stimulus to rescue the economy have also impacted markets. With increased capital available for home improvements and production not fully available to satisfy the demand, prices have reacted accordingly.
Shipping Container Shortage
An unforeseen price catalyst, yet just as vital to the overall price of industrial metals, is the availability of shipping containers. Also affected by Covid-19, the shipping container industry had been slowed as well. As China has recovered faster than most nations, their usage of shipping containers increased for use in exports, yet the processing in other countries has been delayed. This delay in processing has caused shortages, which have resulted in increased freight and shipping costs.
The Covid-19 pandemic and subsequent shutdowns have wreaked havoc on the prices of construction vital materials such as lumber, copper, aluminum, and steel. As economies begin to reopen, and supply chains start to normalize, uncertainty around the direction of these important commodities remains.