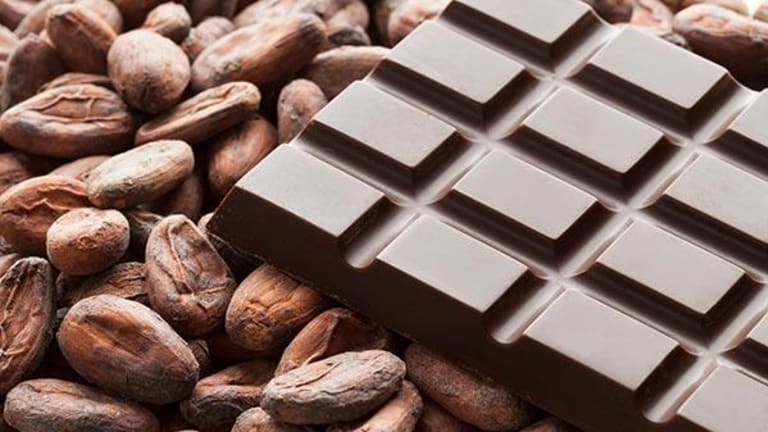 Cocoa Futures Are Trending Up After Weak 2016
2016 was a down year for cocoa prices. But 2017 could be a different story. Talk about hot cocoa...
Globex March cocoa futures continue their upward climb this week, clocking in at 2,201 in mid-Wednesday trading.
That's good news for cocoa investors, who in 2016 endured the worst performance in 17 years after weaker production in West Africa, the largest producer of cocoa in the world. This year, weather conditions appear more favorable for ideal cocoa growth and that, plus rising demand, may explain cocoa's bounce back in early 2017, states Netherlands-based Rabobank.
"Demand had been lackluster through 2016," Rabobank states in a recent research note. "However the volume sales of chocolate are stabilizing in Europe and especially in the U.S. In addition, we believe that sales of chocolate and chocolate-flavored products may be doing rather well in Asia."
Rabobank sees cocoa prices in New York rising to $2,620 per ton by the end of 2017.
Market watchers were also buoyed by positive news from Swiss chocolate maker Barry Callebaut, which recently issued a positive earnings forecast stating cocoa volumes would grow by 4% 6% in 2017 to 2018. "We have good visibility on volume growth and expect acceleration in the second half of the fiscal year," stated company CEO Antoine de Saint-Affrique.
In a company statement this week, Barry Callebaut pointed to an upswing in "combined ratio" - the value of cocoa butter and powder in relation to unprocessed cocoa beans, as defined by Agrimoney.com.
"The combined ratio is heading in the right direction, though volatility remains high," the company stated. "After a significant recovery at the end of October 2016, the combined cocoa ratio again experienced a downturn; however, it is still at a higher level compared to the prior year."
For U.S. investors, cocoa continues to be an exotic, yet volatile, agricultural play.
"Cocoa is interesting for many reasons," says Howard Marella, CEO of Icon Alternatives, a commodities investment firm in Chicago. "Cocoa is grown in places like Ghana, Cote d'Ivoire, Indonesia, Dominican Republic, India and Brazil. All of them are within the narrow band where cocoa trees can thrive: 20 degrees north and south of the equator. In most of these countries, 90% of world's cocoa is produced on small farms."
That production scenario, plus dicey weather patterns in the above growing regions, explains a good portion of that volatility. Workforce and technology patterns should calm some of that volatility down, Marella says.
"Lately the development and maturity of the market have undergone a change for the better," he states. "For instance, cocoa-growing communities have just recently received motorized pruners, sprayers and training to empower women in cocoa farming. Harvesting and pruning are the two most burdensome activities in the cultivation of cocoa. From now on these women will be able to perform those activities by themselves increasing the yield from their farms. That is one of the reasons cocoa prices have plummeted since August of last year."
Demand from major economic powerhouses like the U.S. and China should propel cocoa growth going forward, as will more flexible free trade arrangements coming from the Trump administration.
"The United States is basically just a huge consumer of cocoa, and we have a need for it," Marella adds. "Americans feel that free trade is necessary and although there will undoubtedly be adjustments, particularly with the TPP and NAFTA," he notes. "Whether it's imported from the Ivory Coast, (which always has shipping issues because of unrest in the region, or from South America, the cocoa industry may dodge a bullet simply because it is a product that the U.S. must import."
It will be interesting to watch how the growth in supply, created by the development of the industry, keeps up with demand during renegotiations of trade, Marella concludes.
"When it's time to come to the table, I know I'd want to be the one holding the cocoa card," he said.