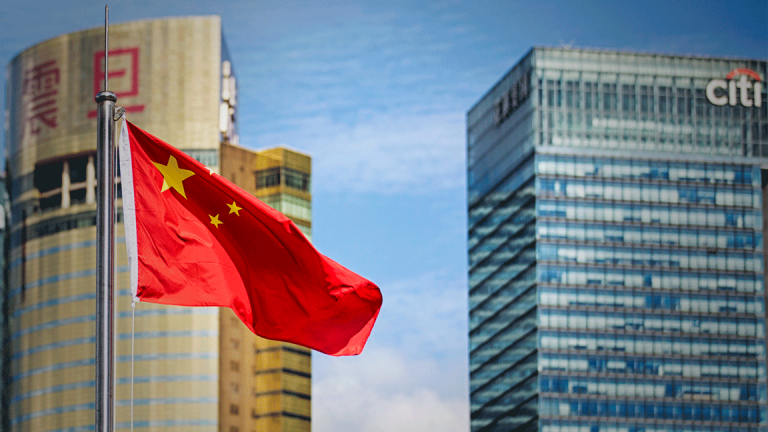 China Tariffs, Walmart and Humana, Saks Breach, Tesla - 5 Things You Must Know
U.S. stock futures are lower; China announces new tariffs on U.S. products; Walmart reportedly in early stage merger talks with Humana; Saks and Lord & Taylor stores hit with data breach.
Here are five things you must know for Monday, April 2:  
1. -- China Hits U.S. With Tariffs
U.S. stock futures were lower Monday, April 2, the first trading day of the second quarter, after China's Ministry of Finance announced new tariffs of up to 25% on U.S. products such as pork, fruit, nuts and wine.
Contracts tied to the Dow Jones Industrial Average fell 122 points, while those linked to the broader S&P 500 declined 12.25 points. Futures for the Nasdaq slumped 61.50 points.
China's Finance Ministry said it was responding to U.S. tariffs on aluminum and steel that went into effect on March 23.
The tariffs from China come amid trade war rumblings between Washington and Beijing.
"Even though China and the U.S. have not publicly said they are in a trade war, the sparks of such a war have already started to fly," read an editorial in the Chinese tabloid Global Times, Reuters noted.
Asian stocks finished the session mixed. Japan's Nikkei 225 and the Shanghai Composite Index in China closed lower after erasing earlier gains.
Markets in the U.K., France, Germany were closed Monday for Easter.
The U.S. economic calendar on Monday includes the ISM Manufacturing Index for March at 10 a.m. ET.
If you'd like to receive the free "5 Things You Must Know" newsletter, please register here.
2. -- Walmart and Humana Are in Talks
Walmart Inc. (WMT) - Get Free Report , the world's largest retailer, reportedly has begun early stage talks to buy health insurer Humana Inc. (HUM) - Get Free Report , The Wall Street Journal reported on Thursday, March 29.
A Walmart spokesman said via email the company doesn't comment on rumors and speculation. 
Walmart has been wheeling and dealing under CEO Doug McMillon, who moved quickly to buy online retailer Jet.com for $3.3 billion in 2016. Since then, McMillon has scooped up online apparel brands to help build out Walmart's assortment. But with a flurry of vertical deals in retail such as CVS Health Corp. (CVS) - Get Free Report buying Aetna Inc. (AET) , McMillon may be tweaking his strategy a bit.
"We are trying to mostly build the assortment, a customer is looking to us for not just value but they want to have a wide selection," McMillon told TheStreet in an interview last November when asked about his M&A strategy. "We are focused on busy families, so moms are important. We want to make every day easier for busy families."
With U.S. stock markets closed on Friday, Monday was the first day traders could assess the news. Walmart fell 1.4% in premarket trading on Monday, while Humana shares spiked 7.1% after jumping 10.7% in after-hours trading on Thursday after the report was published.
3. -- Saks, Lord & Taylor Suffer Data Breach
Saks Fifth Avenue and Lord & Taylor suffered data breaches, with information stolen for more than 5 million credit and debit cards used at the department stores.
The chains' parent company, Canada-based Hudson's Bay Co. (HBAYF) , announced the breach of its store payment systems on Sunday, April 1. The company said it "identified the issue, and has taken steps to contain it."
"Once the company has more clarity around the facts, it will notify customers quickly and will offer those impacted free identity protection services, including credit and web monitoring," Hudson's Bay said in a statement.
The disclosure came after New York-based security firm Gemini Advisory LLC revealed on Sunday that a hacking group known as JokerStash or Fin7 began boasting on dark websites last week that it was putting up for sale up to 5 million stolen credit and debit cards, the Associated Press reported. The hackers named their stash BIGBADABOOM-2. While the extent of its holdings remains unclear, about 125,000 records were immediately released for sale.
The security firm confirmed with several banks that many of the compromised records came from Saks and Lord & Taylor customers.
4. -- NTSB 'Unhappy' With Tesla
Tesla Inc. (TSLA) - Get Free Report confirmed Friday that the Model X's Autopilot system was engaged before a fatal crash last month in California, and added that the car's driver "had received several visual and one audible hands-on [warnings] earlier in the drive and the driver's hands were not detected on the wheel for six seconds prior to the collision."
A local media report indicated the driver previously had complained about Autopilot working improperly on the stretch of road where the crash occurred.
The National Transportation Safety Board expressed displeasure with the disclosure from Tesla that its semiautonomous driving system was activated before the crash on March 23.
The agency, which dispatched a team last week to investigate the crash, said Sunday it was "unhappy" that Tesla revealed detailed information it had gleaned from vehicle logs about the collision, including its suggestion that the driver had time to put his hands on the wheel and react, The Wall Street Journal reported.
Tesla declined to comment Sunday for the Journal about the NTSB statement.
Tesla shares fell 4.9% in premarket trading.
5. -- FirstEnergy Unit Files for Bankruptcy
A subsidiary that runs FirstEnergy Corp.'s (FE) - Get Free Report nuclear and coal-fired power plants filed for bankruptcy after the utility said earlier that it planned to close its three nuclear plants in Ohio and Pennsylvania.
The move announced by FirstEnergy Solutions late Saturday signaled the parent company's plan to get out of the power producing business and concentrate on supplying electricity, the Associated Press noted.
The subsidiary, which has been saddled by mounting debt, said in a statement that it was seeking bankruptcy protection to "facilitate an orderly financial restructuring" and believes the filing was in the best interests of the company and creditors.
The filing for bankruptcy protection includes FirstEnergy Solutions, along with all FES subsidiaries and FirstEnergy Nuclear Operating Co., according to the statement.
FirstEnergy Corp., parent of FirstEnergy Solutions and the FirstEnergy Nuclear Operating Co., wasn't part of the filing.
This article has been updated with fresh stock market prices.