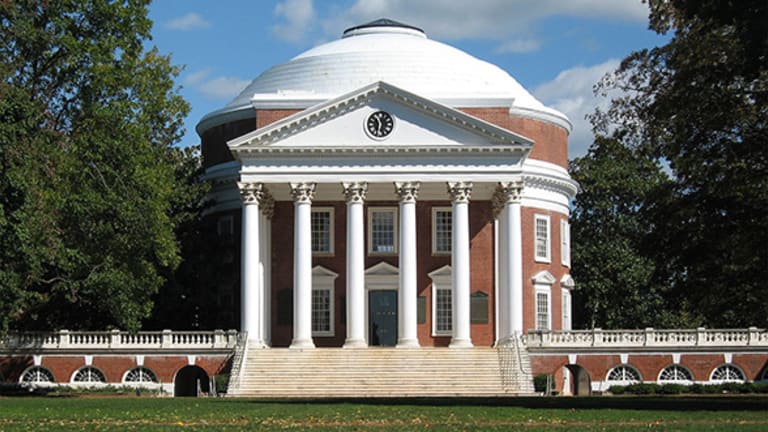 Charlottesville, Barcelona Attack and More White House Turmoil -- Week in Review
White Supremacist violence and the White House's controversial response kept Wall Street on its toes.
White Supremacist violence and the White House's controversial response kept Wall Street on its toes. Here's how it ended the week.
1. Where Markets Stand
Small losses on Friday, Aug. 18, followed a major selloff a day earlier that handed the Dow Jones Industrial Average its worst performance in three months.
The Dow, S&P 500 and Nasdaq ended Friday with weekly losses. The Dow declined by 0.84% during the week, the S&P 500 dropped by 0.65% and the Nasdaq shed 0.54%
The Dow has spent the majority of the week under its 22,000 level, closing higher than that mark only once in the past five days. The blue-chip index first closed above that level on Aug. 2. The Dow is now more than 300 points from its all-time closing high of 22,118 set on Aug. 7. The S&P 500 is nearly 50 points from its own closing record set on the same day.
2. Controversy Surrounds Trump
Markets have grown pessimistic over crises that have pulled attention away from Trump's tax-cutting agenda. First, there were increasingly aggressive exchanges between North Korea, which is developing a nuclear arsenal, and U.S., and later, rising racial tensions at home.
A white supremacist and neo-Nazi rally in Charlottesville on Saturday, Aug. 12, escalated into violence as protesters and counter-protesters clashed, culminating in an intentional hit-and-run that killed one and injured at least 19 others. James Alex Fields Jr. has been charged with second-degree murder in the death of 32-year-old Heather Heyer.
Trump caused outrage in his response to the tragedy, appearing reluctant to call out the white supremacists who gathered in Charlottesville and instead blaming violence on "both sides."
His moral equivalence earned him near-universal condemnation, including from many members of his own party and a number of prominent business leaders including Apple CEO Tim Cook. Resignations from his manufacturing council forced his hand in disbanding both that council and the Strategic and Policy forum on Wednesday afternoon.
"Growing political turmoil in Washington ... has raised serious doubts over [Trump's] ability to push through fiscal stimulus measures," said Fawad Razaqzada, market analyst at Forex.com.
Thursday's selloff "is in part the unwinding of the Trump rally that began after he won the Presidential election last year. We are still significantly above those levels, which means the potential for a deeper pullback in there."
News broke Friday afternoon that chief strategist Steve Bannon is leaving the White House. The New York Times reported that Trump insisted that Bannon resign and the adviser submitted his formal notice on Aug. 7. His departure was delayed by the violence at a right-wing rally in Charlottesville, Ga., and its aftermath.
Bannon's appointment as chairman of the Trump campaign in August last year was met with resistance. He had previously been an executive chair of Breitbart News, a controversial alt-right publication.
3. Terror in Barcelona
Concerns over global terrorism spiked in the back half of the week after attacks in Spain on Thursday, Aug. 17.
Police shot dead five suspected terrorists in Cambrils, hours after a van slammed into a crowd in Barcelona.
The five people had attempted to drive a car into tourists on the Cambrils seafront, south of the city targeted in the earlier attack, but the vehicle overturned and the occupants instead accosted bystanders with knives, according to Reuters. Explosive belts found at the scene have been determined to be fake.
The Barcelona attack, on the the tourist-heavy Las Ramblas avenue, killed 13 people and injured more than 100 others. One women died from her injuries in Cambrils, bringing the total number of victims to 14. ISIS claimed credit for the incidents.
4. Retail in the Spotlight
World's largest retailer Walmart Stores Inc. (WMT) - Get Walmart Inc. Report headlined a week full of retail earnings. The company reported a dip in quarterly earnings, though adjusted profit came in higher than expected. Earnings declined to 96 cents a share over the second quarter compared with $1.21 a share in the year-ago quarter. Adjusted earnings of $1.08 a share topped consensus by a penny.
Revenue increased 2.1% to $123.4 billion and exceeded estimates of $122.8 billion. Same-store sales climbed 1.8%. Sales at its membership-only Sam's Club stores rose by 2.3%, while traffic ticked up 2.1%.
The retailer anticipates third-quarter earnings between 90 cents and 98 cents a share. The low-end of full-year adjusted earnings was raised to $4.30 from $4.20 a share. Walmart now anticipates full-year adjusted earnings between $4.30 and $4.40 a share. Analysts had expected third-quarter profit of 97 cents a share and full-year profit of $4.36 a share.
Foot Locker Inc. (FL) - Get Foot Locker, Inc. Report was one of the worst performers in the retail space, losing roughly one-quarter of its value on Friday, after weaker-than-expected earnings and sales. Second-quarter net income fell to 39 cents a share, much less than 94 cents a share a year earlier. Adjusted earnings of 62 cents a share came in below consensus of 90 cents. Revenue declined by 4.4% to $1.7 billion, below expectations of $1.8 billion. Same-store sales unexpectedly fell 6%, a surprise to analysts looking for a 0.8% gain.
CEO Richard Johnson said "sales of some recent top styles fell well short of our expectations" and that the company was "affected by the limited availability of innovative new products in the market." Johnson expects those trends to persist through the rest of the year. Full-year comparable store sales are expected to fall 3% to 4%.
Gap Inc. (GPS) - Get Gap, Inc. (GPS) Report reported quarterly earnings more than double a year earlier. The casual clothing retailer earned 68 cents a share over its quarter ended July 29, far better than 31 cents a share a year earlier and higher than estimates of 52 cents.
Sales declined by 1.4% to $3.8 billion, but also exceeded estimates. Analysts anticipated $3.77 billion. The company's lower-priced Old Navy line, which has bolstered the stock in recent quarters, reported same-store sales increasing 5%. The Gap and Banana Republic brands' same-store sales fell 1% and 5%, respectively. It was an improvement on the same quarter a year earlier when Old Navy same-store sales came in flat, Gap fell 3%, and Banana Republic declined by 9%.
Target Corp. (TGT) - Get Target Corporation Report reported better-than-expected earnings and a sunny outlook. Net income rose to $1.22 a share over its quarter ended July 29, higher than $1.16 a share a year earlier. Adjusted earnings of $1.23 a share beat estimates by 4 cents. Revenue increased 1.6% to $16.4 billion, edging out consensus by $130 million. Same-store sales gained 1.3%, smashing targets of 0.3% growth. Target also raised its full-year adjusted earnings guidance to $4.34 to $4.54 a share, higher than a previous range of $3.80 to $4.20.
Around 92% of S&P 500 companies have reported earnings so far this season. Of those, 73.7% have exceeded earnings estimates, above the historical average of 64%, according to Thomson Reuters data. More than 68% have topped revenue consensus, also above an average of 59%.
5. The Fed is Ready
Investors continued to digest signs the Federal Reserve could begin to unwind its balance sheet as soon as its next meeting, a move that would have tightening effects similar to a rate hike.
In minutes from its July meeting out on Wednesday, Aug. 16, members of the Fed's monetary policy committee said they wanted to wait for an "upcoming" meeting to begin debt reduction. Several members were ready to announce a start date at the July meeting, indicating a willingness to take the first step soon, possibly in September as many economists anticipate.
The Fed had previously said it would implement changes to its balance sheet "relatively soon," provided the economy expands as expected. The central bank currently holds $4.5 trillion in Treasuries and mortgage-related bonds, purchased to buoy U.S. growth after the financial crisis.
Fed members also discussed concerns over inflation trends. Members said they could "afford to be patient ... in deciding when to increase the federal funds rate further" and that it was imperative to wait until "incoming information confirmed that the recent low readings on inflation were not likely to persist."
The central bank left the federal funds rate at 1% to 1.25% at that meeting, as widely expected. Another rate hike is not anticipated until at least December. Even then, chances of a year-end increase are only at 49.2%, according to CME Group fed funds futures.
"We know the Fed has a rate destination in mind, and a stated goal of three this year, but what remains to be seen is if they deliver this year or next," said Mike Loewengart, vice president of investment strategy at E*TRADE. "Many will be keeping a watchful eye on inflation. If we see improvement on that front, there's a good chance we'll see more action in 2017."
More of What's Trending on TheStreet: