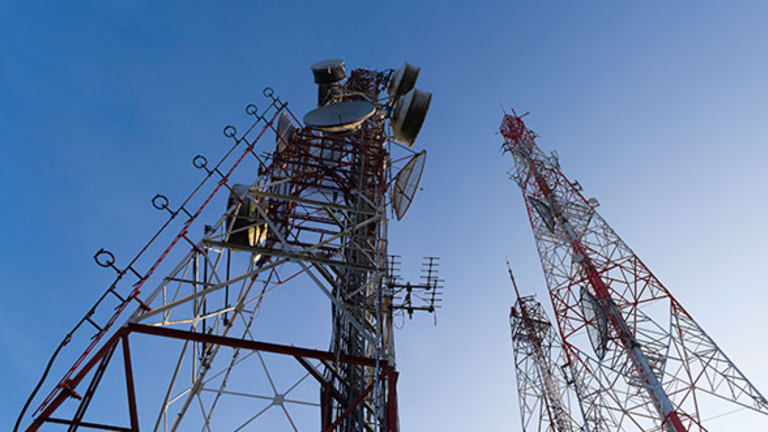 AT&T and Verizon to Lead Charge in Groundbreaking FCC Wireless Spectrum Auction
TV stations have the chance to cash out of their broadcast licenses in a billion-dollar auction.
Updated with additional details and analysis.
AT&T (T) - Get Free Report , Verizon (VZ) - Get Free Report , T-Mobile (TMUS) - Get Free Report , Comcast (CMCSA) - Get Free Report , Dish (DISH) - Get Free Report  and others started bidding Tuesday for the most appealing wireless spectrum left in the government's portfolio.
The Federal Communications Commission opens the second phase of a groundbreaking auction -- the first of its kind in the world -- that allows wireless carriers and others to buy licenses to the wavelengths that TV stations use to broadcast their programs.
FCC Chairman Tom Wheeler has compared the licenses to "beachfront" property because of the spectrum's ability to efficiently cover large areas, among other factors that make it appealing. While telecoms are eager to boost capacity, they also have other bills to pay that may hamper spending.
The FCC concluded the first part of the auction last month, asking station owners how much they would take to sell. The government made a series of descending bids, starting with high offers and reducing the payment until it reached the lowest amount at which enough TV station owners in each market would sell.
Broadcasters settled on $86 billion in June, but the final payout will likely be less than half that sum. If wireless carriers and other spectrum suitors will not pay that much, which is nearly certain, the FCC will go back to broadcasters for a second round of bidding.
Analyst John Hodulik of UBShas noted that $86 billion is more than twice the entire industry's free cash flow for 2017.
Carriers and other bidders might spend $30 billion to $40 billion in the auction, Hodulik suggests, with AT&T paying $10 billion, T-Mobile spending $8 billion and Verizon coughing up $6 billion. Elevated debt levels and other factors could limit how much they will spend.
Sprint (S) - Get Free Report is sitting out the auction, but pay-TV companies Comcast and Dish have registered. NBC and Telemundo parent Comcast could also sell stations. Hodulik projects that Comcast will bid $5 billion to $6 billion, or $3 billion to $5 billion net of stations sold, and Dish could fork over $2 billion.
Comcast is a holding in Jim Cramer's Action Alerts PLUS Charitable Trust Portfolio. Want to be alerted before Cramer buys or sells CMCSA? Learn more now.
The wireless market has fascinated cable operators, who have strong positions in broadband but have failed to build out wireless networks that their telecom rivals own.
Dish has amassed a portfolio of wireless licenses over the last decade. Chairman Charlie Ergen was early to see the handicap of the company's satellite TV network, which can beam programs to satellite dishes but cannot provide broadband service.
The auction has attracted several groups affiliated with wealthy individuals, Hodulik noted, with media investor Mario Gabelli and international telecom mogul Carlos Slim Helú registering entities to participate in the sale.
Broadcasters can sell a license outright and take a station off the air, move to a different frequency or share a signal with another station.
Spanish language broadcaster Univision has 23 stations that could figure into the auction, S&P Global Market Intelligence estimated earlier this year. Comcast, Twenty-First Century Fox (FOXA) - Get Free Report , CBS (CBA) , Sinclair Broadcast Group (SBGI) - Get Free Report and others could also profit by selling.
The television broadcast spectrum is in the 600-megahertz band, which is a low range of frequencies. Spectrums with lower frequencies have longer wavelengths, and can travel greater distances between towers. By spacing out towers, carriers can reduce the number of transmitters and other infrastructure, and the cut costs of building networks over large areas.
Shrewd financial players such as Michael Dell's MSD Capital, Blackstone Group (BX) - Get Free Report and Fortress Investment Groupundefined have bought struggling stations in large markets with an eye to flipping them in the auction.
Streaming video and other data-intensive apps are increasingly important in wireless marketing, and underscore the importance of network capacity. The current auction provides an opportunity to strengthen their spectrum portfolios and bandwidth.
Despite the economic appeal of the licenses, the wireless industry has plenty of obligations to finance already. Carriers and others spent more than $40 billion in an auction that ended early last year.
AT&T is also on the hook for the purchase of DirecTV for $67 billion, including debt.
Verizon is buying the core business of Yahoo! (YHOO) for $4.4 billion and purchased AOL last year for $4.4 billion. The New York telecom completed the $130 billion purchase of Verizon Wireless in 2014.
The broadcast spectrum is valuable, but as high as your phone bill may be, the wireless carriers won't part with the odd $86 billion. Multiple stages are likely before the carriers and other spectrum suitors get their licenses, and the TV station owners collect their cash.
- This article was originally published by The Deal, a sister publication of TheStreet that offers sophisticated insight and analysis on all types of deals, from inception to integration. Click here for a free trial.