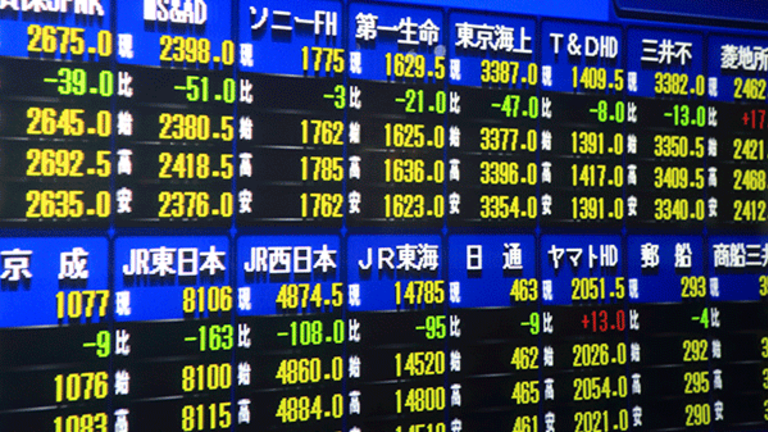 Asian Markets, U.S. Futures Down as Deutsche Bank Fears Smother Financial Stocks
Weak inflation and household spending data from Japan add to the negative sentiment.
Weak inflation and household spending data from Japan add to the negative sentiment.
Asian stocks benchmarks largely ended the week on a sour note on Friday as worries about Deutsche Bank (DB) - Get Report eclipsed enthusiasm about Thursday's OPEC production cut plan.
Deutsche Bank plunged 6.7% in New York on Thursday after news, first reported by Bloomberg, that some hedge funds that do derivatives business with the lender had reduced their exposure. The report dragged down banking stock because of institutions' close ties with Germany's leading lender. That was despite the group's insistence once more that it is well capitalized.
U.S. stock futures were down sharply, with the Dow Jones, S&P 500 and Nasdaq 100 losing 0.30%, 0.31% and 0.39%, respectively.
Japanese indices gave up Thursday's gains and the Nikkei 225 closed down 1.46% at 16,449.84. The Topix fell 1.55% to 1,322.78. Financial shares were among the main decliners, led by Fukuoka Financial and Concordia Financial.
Leading lenders Mitsubishi UFJJ Financial and Sumitomo Mitsui Financial were down 2% and 1.3%, respectively.
The dollar was recently down 0.26% against the yen at ¥100.7700
Sentiment in Japan was also marred by data showing a deeper-than-expected 4.6% plunge in household expenditure last month and price deflation. The headline inflation rate was minus 0.5%, highlighting the Bank of Japan's perennial failure to fan price growth even as it experiments with new tools.
A separate report showed Japanese August industrial output rebounded by an above-forecast 1.5%, following a 0.4% drop in July. But a month-on-month decline of capital goods shipments pointed to a  continued quarterly stagnation of that industry sub-sector in the July to September period, Capital Economics noted.
Chinese stock indices bucked the negative trend, with the CSI 300 up 0.35% at 3,255.88.
The Caixin/IHS Markit purchasing managers' index for the Chinese manufacturing sector came in as expected in September, nudging over the neutral 50 threshold into expansion territory with a reading of 50.1.
In Hong Kong the Hang Seng was down 1.47% at 23,390.69. Bank of Communications was down about 2.8% and Industrial & Commercial Bank of China was down 2%.
In Sydney the S&P/ASX 200 closed down 0.65% at 5,435.898.