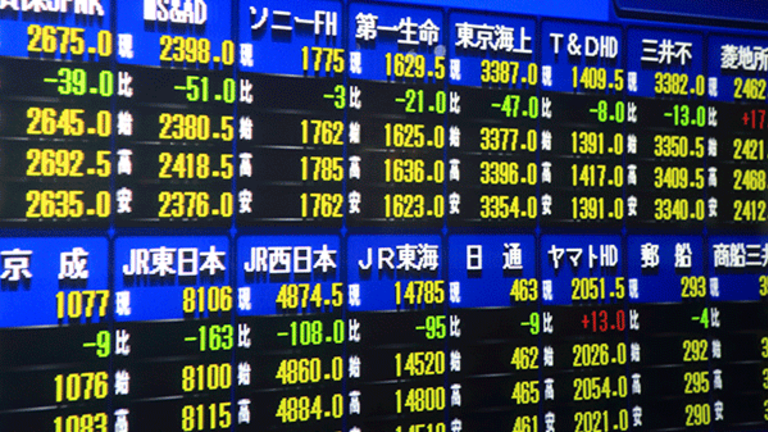 Asian Markets Mostly Rise; Futures Steady
The Nikkei falls in Tokyo despite better-than-expected retail sales data.
Asian markets were mostly up Tuesday and U.S. futures were steady.
Markets in Tokyo did not respond kindly to retail sales data out of Japan, even though the figures were better than expected. The Nikkei was down 0.08% at 16,724.46 and the Topix was up 0.01% at 1,313,31.
Retail sales in Japan showed improvement in July, according to data from the Ministry of Economy.
Retails sales rose 1.4% month-on-month in July, compared with 0.3% growth in June. Economists had been expecting sales to grow by 0.8%.
Year-on-year sales fell by 0.2%, compared with forecasts of a decline of 0.9%. In June, the year-on-year figure was minus 1.3%.
The yen lost 0.2% against the dollar late in the trading day to ¥102.13. Data also show that the unemployment rate fell to 3% in July, hitting the lowest level since May 1995.
The link between stock markets in Hong Kong and mainland China city Shenzhen is expected to start in mid-to-late November, China's markets regulator has said. The link will allow foreign investors greater access to China's financial markets.
The daily limits are expected to be Rmb13 billion ($1.9 billion) for trades going into China and Rmb10.5 billion leaving the country.
In Hong Kong, the Hang Seng gained 0.77% to 22,998.06. On mainland China, the CSI 300 was up 0.24% at 3,315.79.
Samsonite (SMSEY) gained more than 8% in Hong Kong today after the company reported a rise in first-half sales, even though the company warned of challenging conditions. Sales were up 1.1% year-on-year to $1.21 billion.
The luggage company completed its $1.8 billion acquisition of luxury luggage company Tumi on Aug. 1.
In Sydney, the S&P/ASX 100 was up 0.18% at 4,517.
Australian law firm Slater & Gordon lost 15.2% in Sydney after reporting a net loss in its annual results. The group announced a net loss of A$1.017 billion ($768.62 million) for the year ending in June, compared with a net profit of A$62.4 million a year earlier.
The net loss was due in large part to a A$879.5 million impairment charge.
Dow Jones Industrial Average mini futures were up 0.02% and S&P 500 mini futures were unchanged.