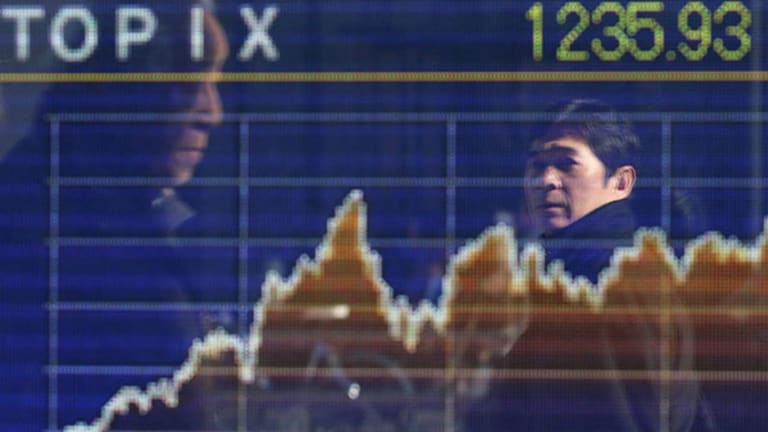 Asian Markets Mixed Before BoJ Meeting; U.S. Futures Rise
Sky Network TV falls in New Zealand on an antitrust hitch with its merger, while Sony rises after firming up a July deal to sell its battery unit.
Asian stocks were mixed on Monday after some disappointing economic data from Japan a day before the country's central bank meets to set rates.
U.S. futures rose. Dow Jones mini was up 0.19%, with S&P 500 mini futures up 0.21% and Nasdaq 100 mini futures up 0.41%.
Brent crude was recently down 0.52% at $49.45 a barrel.
The Nikkei 225 closed down 0.12% at 17,425.02 , while the Topix rose 0.04% to 1,393.02 . Data from Japan on both industrial output and retail sales came in worse than expected, with output stalling in September instead of rising, as expected, while retail sales fell more than forecast. The Bank of Japan will make a monetary policy call on Tuesday and some observers say it could yet cut rates deeper into negative territory after holding firm at its last meeting.  The  Federal Reserve makes its rate decision on Wednesday and the Bank of England on Thursday.
The dollar was recently up 0.14% against the yen at ¥104.9000.
In Hong Kong the Hang Seng rose 0.12% to 2,981.34, while on mainland China the CSI 300 composite index fell 0.12% to 3,336.28.
Sonyundefined rose 1.9%. The company cut its net profit forecast after writing down a battery business that it will to Murata Manufacturing. Sony now expects full-year net profit of ¥60 billion ($571.9 million), down a quarter from its July forecast, and 59% year-on-year. Analysts said the deal with Murata, which followed an agreement in principle in July, was positive since it frees the group from an unprofitable business.
Sky Network Television (SYKWF) fell 3.8% in New Zealand after the Commerce Commission postponed a decision on whether to clear its combination with the local operations of U.K. wireless services company Vodafone. Under the June deal Vodafone would emerge with a 51% stake in the combined company.
In Sydney Australia & New Zealand Banking Group closed up 0.8%. The company is selling retail and wealth-management businesses in five Asian countries to Singapore's DBS Group. ANX wants to focus on institutional banking in the region. DBS was up 0.2%.